PROJECT TIGER MERGES WITH PROJECT ELEPHANT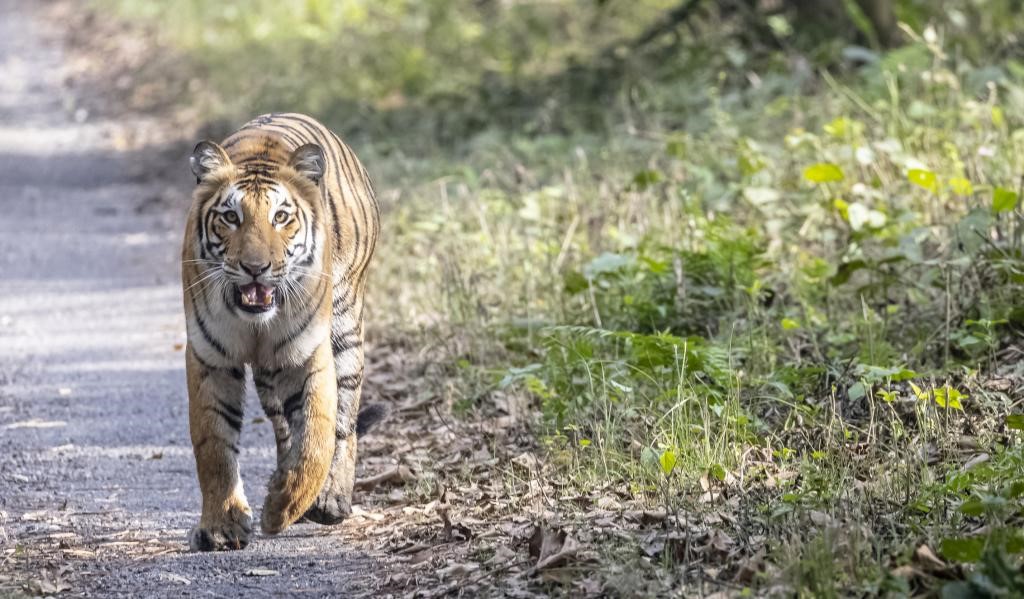 Disclaimer: Copyright infringement not intended.
Context
The official merger of Project Tiger and Project Elephant was announced on June 23, 2023.

New division called 'Project Tiger and Elephant Division' was established under the Ministry of Environment, Forest and Climate Change (MoEFCC).
Details
Rationalizing Funding for Enhanced Conservation
The official reason for the merger is to rationalize funding for both conservation projects.

The new division aims to minimize overlap in conservation areas while maintaining separate administrative setups.
Unprecedented Merger and Confusion
The merger came as a surprise, completed in June 2023.

Wildlife experts, including retired and in-service forest officials, express confusion and uncertainty about the amalgamation's details. Lack of information adds to the confusion about the future direction of conservation efforts.

Existing experience of the National Tiger Conservation Authority overseeing leopards and rhinos cited as a positive example.
History of Similar Proposals
A proposal to merge Project Tiger, Project Elephant, and Integrated Development under Wildlife Habitat was made in 2011 but dropped due to objections.
Potential Setback for Tiger Conservation
Experts are concerned that the merger might adversely affect tiger conservation efforts.

Tigers are a signature species in India, and their conservation is crucial for ecological balance.

Uncertainty about funding allocation and administrative structures may impact tiger conservation negatively.
Dwindling Finances and Budget Analysis
Records show a decline in fund allocation for tiger conservation since 2018-19.

The actual fund release in 2022-23 is much lower than the allocated amount, indicating financial constraints.

The amalgamated budget for 2023-24 stands at Rs 331 crore, a reduction from the previous year's budget.
Uncertainty Surrounding Fund Allocation
Lack of clarity on how funds will be split between tiger and elephant conservation.

Questions were raised about the basis for allocating funds in areas without elephants, such as the Sundarbans.

Confusion may lead to delays in fund allocation, affecting key conservation activities.
Management Effectiveness Evaluation Report
Funding from central and state governments, along with other sources, is among the five poorest performance areas for tiger reserves.

The merger could exacerbate existing funding challenges and hinder effective conservation efforts.
Divergent Challenges of the Projects
Project Tiger and Project Elephant were formulated separately to address different conservation challenges.

The merger might undermine the individual focus needed for the conservation of both species effectively.
Project Tiger
Project Tiger was launched in 1973

with the aim of conserving India's tiger population and their habitats.

It focuses on the protection and management of tiger reserves to ensure the long-term survival of tigers in the wild.

Tiger reserves are designated protected areas where conservation efforts are intensified to provide a safe environment for tigers to thrive.

Over the years, Project Tiger has played a crucial role in increasing tiger numbers and bringing them back from the brink of extinction.

However, challenges remain, such as habitat loss, poaching, human-wildlife conflicts, and ensuring sustainable prey base for tigers.
Project Elephant
Project Elephant was launched in 1992

to protect and conserve India's elephants and their habitats.

The project aims to address issues related to habitat destruction, fragmentation, human-elephant conflicts, and poaching.

Elephants are vital keystone species that play a significant role in maintaining ecosystem balance and biodiversity.

Project Elephant focuses on creating elephant corridors, minimizing human-elephant conflicts, and improving habitat quality.
Strategies for Effective Conservation
It is essential to ensure that the merger does not compromise the specific conservation needs of tigers and elephants.

Clarity is required on how the funds will be allocated based on the requirements of each species and their respective habitats.

Strengthening administrative coordination between the two projects can help streamline conservation efforts and avoid overlapping activities.

Focus on creating and maintaining wildlife corridors is crucial for both species, as it allows them to move freely between fragmented habitats.

Engaging local communities in conservation efforts and addressing their concerns is essential to reduce human-wildlife conflicts and garner support for conservation initiatives.
Analysis
The merger of Project Tiger and Project Elephant raises concerns about the future of conservation efforts and funding allocation. The lack of clarity and details regarding the amalgamation's implementation is causing confusion among experts and officials. Tigers, being a symbol of India's wildlife conservation, are particularly vulnerable to any setback in funding or administrative changes. Delays in fund release and poor funding performance areas in tiger reserves have been longstanding issues that could be further exacerbated by the merger. Effective management and timely allocation of funds are crucial to ensure the continued protection of both iconic species. Clarity from the authorities is needed to address these concerns and safeguard India's wildlife heritage.
PRACTICE QUESTION
Q. The recent merger of Project Tiger and Project Elephant has sparked debates among wildlife experts and officials. Analyze the implications of this merger on conservation efforts and funding allocation for both iconic species. How does the lack of clarity surrounding the merger add to the concerns? Discuss the potential challenges and strategies that need to be considered to ensure the effective conservation of tigers and elephants in India. (Answer in about 250 words)
https://www.downtoearth.org.in/news/wildlife-biodiversity/project-tiger-merges-with-project-elephant-but-questions-on-fund-split-unanswered-90891