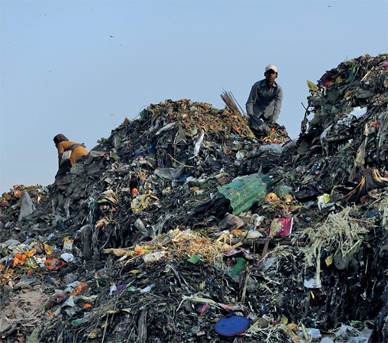 Disclaimer: Copyright infringement not intended.
Context: Engagement of formal waste management system remains low in the cities due to funds crunch, low sectoral development & lack of know-how
Details:
With burgeoning population and even faster urbanisation, there has been an explosion in the generation of municipal solid waste (MSW) in Indian cities.

This has severely damaged the environment and public health, and strained the capacity of urban local bodies to collect, transport, treat and scientifically dispose of solid wastes.

Urban India alone generates nearly 0.15 million tonnes per day of MSW, with per capita generation ranging between 0.30 kg per day to 0.45 kg per day.

The volume of waste is projected to reach 165 million tonnes by 2031 and 436 million tonnes by 2050, if existing policies, programmes and management strategies are not adequately addressed.

It is important to note that the engagement of formal waste management system remains low in the cities, primarily due to insufficient funds, low sectoral development and lack of know-how about sustainable waste management businesses.

Hence, in many developing countries, including India, waste collection and material recycling activities are majorly performed by the informal waste sector
Informal Sector:
The informal sector may refer to individuals, families, and private sector enterprises working in solid waste management services, whose activities are not organised, sponsored, financed, contracted, recognised, managed, taxed or reported upon by governmental authorities.

Informal stakeholders are waste-pickers in dumpsites and at communal waste collection points, informal waste-collectors, itinerant waste-buyers, small junkshop dealers and big waste godown-owners.

According to the Solid Waste Management Rules (SWM), 2016: "informal waste collectors" includes individuals, associations or waste-traders who are involved in sorting, sale and purchase of recyclable materials.

The informal sector is often not officially approved, recognised and acknowledged, besides the fact that they potentially contribute to waste recycling practices of cities by collecting, sorting, processing, storing and trading waste materials in the recycling value chain.

'Role and size of informal sector in waste management — a review', a paper published in Waste and Resource Management in 2013, estimates that the informal waste economy employs about 0.5-2 per cent of the urban population worldwide. Assuming an urbanisation rate of 50 per cent, the world's urban population can be calculated at 2.8 billion people.

Applying the informal sector range of 0.5-2 per cent to the urban population ranges (2.49-2.8 billion people) leads to an estimated size of roughly 12.5-56 million people worldwide working in the informal sector in waste management. Waste-pickers alone account for 0.1 per cent of India's urban workforce.

The informal recycling sector reduces the cost incurred in the treatment and disposal of solid waste by extracting recyclables before the mixed waste is subjected to any specific treatment or haphazardly dumped into the landfills.

The informal sector is the backbone of the recycling industry in the country, contributing a lot in terms of environmental sustainability and circular economy. It also enormously contributes in reducing the economic burden of urban local bodies.

For instance, the Bruhat Bengaluru Mahanagara Palike (BBMP) became the first municipality in the country to register waste-pickers and catalogue scrap dealers. As reported by a 2014 study conducted by Hasiru Dala, a Bengaluru-based non-profit, nearly 4,200 registered waste-pickers save the city about Rs 23 crore annually, which would otherwise have been an addition to the BBMP's budgeted Rs 450 crore.
Concerns:
The informal sector lives in close proximity to dumpsites and works under unhygienic and unhealthy conditions.

Often, the workers have no access to drinking water or public toilets.

They do not have appropriate personal protective equipment (PPE) such as gloves, gumboots and aprons.

Due to the poor living and working conditions, malnutrition, anaemia and tuberculosis are common among them.

Waste-pickers are potentially exposed to a wide range of occupational hazards. Community waste bins and dumpsites act as breeding grounds for various bacterial and viral diseases.

As a result, waste-pickers often face gastrointestinal ailments.

Infections are also caused by their contact with human and animal excreta, bodily fluids and dead animals. They also get cut by sharp objects, ragged metal edges and broken glass in the mixed waste.

Despite their crucial role, informal waste-workers continue to be subjected to systemic marginalisation, economically as well as socially.

They are treated as dirty and unwanted elements of society, and they have to deal with exploitative social behaviour.

Further, child labour is quite prevalent and life expectancy is low. In addition, waste-pickers are not covered under any labour legislation. As a result, they do not benefit from social security and medical insurance schemes. There is a dire need to initiate policy action for their social and economic upliftment.
Case studies:
Bengaluru municipality: a story of change
Bengaluru became the first municipality to set up dry waste collection centres (DWCC)in the country.

DWCCs are an important element of decentralised waste management in Bengaluru, where the recyclable materials are segregated processed, and resold to recycling industries.

Though the concept was modelled after the neighbourhood recycling centres, it is based on the principles of waste hierarchy, to put in practice the three Rs — reduce, recycle and reuse — at the neighbourhood-level.

DWCCs facilitate the collection and buy-back of all dry waste from local residents, contract and waste-workers, and scrap dealers.

They help integrate informal waste-workers into the operations of these centres and encourage or implement extended producers' responsibility (EPR) of packaging materials that are not being recycled currently, thus serving as the cornerstone for the triple bottom line of operations — people, planet and profit.
Pune's women-driven SWaCH model
The Kagad Kach Patra Kashtakari Panchayat (KKPKP) — a trade union of informal waste-pickers and waste-buyers in Pune and Pimpri-Chinchwad was formed in 1993 and got occupational identity in 2007.

SWaCH is a joint project of KKPKP and the Pune Municipal Corporation (PMC) — the first such entity created through municipal action.

Today, KKPKP has over 9,000 members, 80 per cent of whom are women from socially backward and marginalised castes.

SWaCH has over 3,000 worker-members (all women), who provide door-to-door waste collection services (in exchange for fees paid by each household), sort the waste and drop off non-recyclables at city-run feeder points.

They also earn by selling recyclables to local scrap dealers.

SWaCH has become a classic model reflecting direct user fee counting for transparency, accountability, efficiency, relationship with citizens and women empowerment.

About Solid Waste Management Rules, 2016
The Solid Waste Management Rules (SWM), 2016 replaced the Municipal Solid Wastes (Management and Handling) Rules, 2000, which have been in place for the past 16 years.
Salient features of the SWM, 2016:
Segregation Of Waste Is Important:

As per the new rules, all waste generators should start segregating their waste into three categories – Biodegradables, Dry Waste (Plastic, Paper, metal, Wood) and Domestic Hazardous Waste (diapers, napkins, mosquito repellents, cleaning agents) before they hand it over to the collectors.

Collection And Disposal Of Sanitary Napkins

: In order to manage the sanitary waste like diapers and sanitary pads effectively, the new guidelines have made it mandatory for the manufacturers to provide a pouch or wrapper for disposal whenever they sell their products to the customer.

Introduction Of New Things – User Fees And Spot Fines

: Under the new rules, waste generators will have to pay some amount to the waste collectors for activities like collection, disposal, and processing of waste. The local body across India has the authority to decide the 'User Fees.' The rules also stipulate zero tolerance for throwing, burning or burying the solid waste generated on streets, open public spaces, water bodies, "Spot Fines" are also introduced under these new rules which means if someone is found littering or disobeying the guidelines, then local bodies have the authority to fine them.

Collect Back System For Non-biodegradable Packaging Waste

; The new guidelines says that the brand owners who sell or market their products in packaging material which are non‐biodegradable or are not environmental friendly, will have to put a system in place to collect back the packaging waste generated due to their production.

A Bin Is A Must For Street Vendors

: All street vendor should keep suitable containers or bins for storage of the waste generated by them such as food waste, disposable plates, cups, cans, wrappers, coconut shells, leftover food, vegetables, fruits etc. They are also responsible for their own waste and should deposit their waste at a waste storage depot or container or vehicle as notified by the local authority.

Guidelines For The Over-growing Landfills

: No non-recyclable waste having calorific value of 1500 K/cal/kg or more shall be disposed in the landfills. That waste can either be utilised for generating energy or can be used for preparing refuse derived fuel. It can also be used for co-processing in cement or thermal power plants. As per the new rules, the landfill site should be 100 metres away from a river, 200 metres from a pond, 500 metres away from highways, habitations, public parks and water supply wells and 20 km away from airports/airbase.

Waste Processing And Treatment Guidelines

: The new rules advise that the bio-degradable waste should be processed, treated and disposed of through composting or bio-methanation within the premises as far as possible and the residual waste shall be given to the waste collectors or agency as directed by the local authority. The developers of Special Economic Zone, industrial estate, industrial park will also have to earmark at least 5 percent of the total area of the plot or minimum 5 plots/ sheds for recovery and recycling facility.T he rules have also mandated bio‐remediation or capping of old and abandoned dump sites within five years.

Involvement of Ragpickers

: The new rules help in the integration of ragpickers, waste pickers and kabadiwalas from the informal sector to the formal sector by the state government.

Guidelines for Municipal authorities

: All local bodies are required to set up few by-laws regarding waste management, segregation of waste within their society. They are also required to set up a system in place so as the process of waste segregation can be followed smoothly by all waste generators. They are also required to promote the idea of composting, waste segregation and waste management through different educative campaigns.

The Process Of Monitoring

: The government has also established a Central Monitoring Committee under the chairmanship of Secretary, MoEF&CC to monitor the overall implementation of the rules effectively. It is advised that the committee comprising of various stakeholders from the central and state governments will meet once a year to discuss and monitor the implementation of these rules.
Way forward:
There is lack of clear and comprehensive laws and policies to protect the rights of waste-pickers in India. There is an urgent need to frame and implement a uniform waste-picker welfare law that recognises and integrates them into the waste management chain.

The law must include basic provisions related to mandatory identity cards; access to waste for collection, segregation, and sorting; PPE to minimise occupational hazards; right to basic necessities like water, sanitation and facilities for clean living; and health insurance.

The role of waste-pickers could be formalised by permitting them to use the designated collection and compaction stations (transfer stations, material recovery facilities) in a city for the segregation of recyclables.

There is a need to identify, organise, train, and empower the waste-pickers. This can be done by designing an inclusive waste management model to integrate the waste-pickers. For example, involving them in the primary door-to-door collection of waste, or engaging them in material recovery facilities.

There should be provision of enough space for sorting, recycling, trade of recyclables.
https://www.downtoearth.org.in/news/waste/solid-waste-management-why-integrating-informal-sector-is-a-must-83841