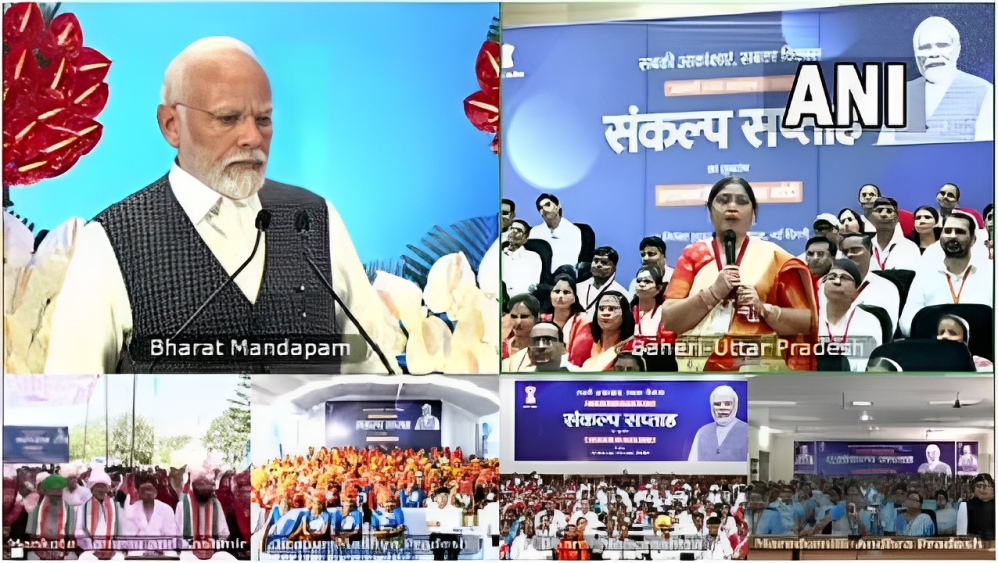 Copyright infringement not intended
Picture Courtesy: www.amarujala.com
Context: The 'Sankalp Saptaah' initiative inaugurated by the Prime Minister on September 30, 2023, at Bharat Mandapam, New Delhi, is a significant program closely aligned with the Aspirational Blocks Programme (ABP).
Key Highlights about 'Sankalp Saptaah'
The primary objective of 'Sankalp Saptaah' is to bring together the collective efforts and strategies developed during chintan shivirs conducted at village and block levels across the nation as part of the Aspirational Blocks Programme.

'Sankalp Saptaah' will last for one week, from October 3rd to October 9th, 2023. Each day during the week will be dedicated to a specific development theme.

The themes for the initial six days are 'Sampoorna Swasthya' (Complete Health), 'Suposhit Pariwaar' (Nutritious Family), 'Swachhta' (Cleanliness), 'Krishi' (Agriculture), 'Shiksha' (Education), and 'Samridhi Diwas' (Prosperity Day).

The final day, October 9, 2023, will be dedicated to celebrating the collective achievements of the entire week and will be marked as 'Sankalp Saptaah – Samavesh Samaroh' (Sankalp Week - Integration Ceremony).

The inaugural event at Bharat Mandapam was attended by approximately 3,000 panchayat and block-level people's representatives and functionaries from across the country. Additionally, about two lakh individuals, including block and panchayat-level functionaries, farmers, and representatives from various walks of life, virtually participated in the program.
Conclusion
The 'Sankalp Saptaah' initiative aims to consolidate the efforts and strategies devised during the chintan shivirs into actionable plans that will further the development and progress of the 500 Aspirational Blocks across India. It represents a significant step towards enhancing governance and improving the quality of life in these areas.
Must Read Articles:
Aspirational Blocks Programme (ABP): https://iasgyan.in/daily-current-affairs/aspirational-block-programme#:~:text=The%20Union%20Government%20will%20soon,her%202022%2D23%20Budget%20speech.
PRACTICE QUESTION
Q. What are the key objectives and strategies of the Aspirational Blocks Programme (ABP), and how is it impacting the development and growth of underprivileged regions?