GS PAPER II: Conservation, environmental pollution and degradation, environmental impact assessment.
Why in news?
For centuries, 'Kovil Kaadugal' or sacred groves looked after and maintained by the local communities residing there, who made use of the age-old traditions and knowledge to conserve them.
However, many sacred groves in the northern region are now fast deteriorating due to rapid urbanisation and land scarcity.
What are sacred groves?
Sacred groves refer to a piece of natural vegetation that is protected by a certain community due to religious reasons.
The area is usually dedicated to a local deity. As a result, local communities tend to take responsibility to protect and nurture the area.
According to these protections, hunting and deforestation in these areas are banned but other activities with a more sustainable process such as honey and deadwood collection are allowed.
The introduction of Wild Life (Protection) Amendment Act, 2002, provides government protection to these lands.
Distribution of Sacred groves in India:
India contains many sacred groves.
A strong concentration of these groves are found in Himachal Pradesh and Kerala. Other places where one can find sacred groves are Rajasthan, Bihar, Meghalaya and Maharashtra.
Himachal Pradesh: The state with the highest number of sacred groves, Himachal Pradesh is meticulous and extremely careful about these natural settings. Shipin is believed to be the largest deodar grove and contains trees that are thousands of years old.
Maharashtra: The groves in Maharashtra are called deorais or devrais and are concentrated in Pune, Ratnagiri, Raigad and Kolhapur.
Bihar: Known as sarnas, the groves in Bihar are fairly small and only consist of 2 to 20 trees.
Rajasthan: The largest area is covered by oraans that provide a different set of biodiversity in distinctive areas.
Meghalaya: Home to some of the richest groves in the country, Khasi hills in Meghalaya have one grove called law kyntangs in almost every village.
These rare and endangered plant species found in sacred groves harbour rich biodiversity and are rich repositories of valuable medicinal plants. The groves also support a wide variety of birds and small mammals.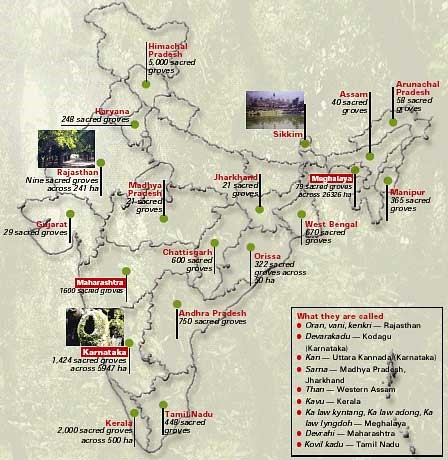 Economic and Ecological benefits:
Traditional uses:
One of the most important traditional uses of sacred groves was that it acted as a repository for various Ayurvedic medicines.
Other uses involved a source of replenishable resources like fruits and honey. However, in most sacred groves it was taboo to hunt or chop wood.
The vegetation cover helps reduce soil erosion and prevents desertification, as in Rajasthan.
The groves are often associated with ponds and streams, and meet water requirements of local communities.
They sometimes help in recharging aquifers as well.
Modern uses:
In modern times, sacred groves have become biodiversity hotspots, as various species seek refuge in the areas due to progressive habitat destruction, and hunting.
Sacred groves often contain plant and animal species that have become extinct in neighboring areas.
They harbor great genetic diversity. Besides this, sacred groves in urban landscapes act as "lungs" to the city as well, providing much needed vegetation cover.
Threats to the grove:
Urbanization, over-exploitation of resources (like overgrazing and excessive firewood collection), and environmental destruction due to religious practices.
Other threats to the sacred groves include invasion by invasive species, like the invasive weeds Chromolaena odorata, Lantana camara and Prosopis juliflora.
https://www.thehindu.com/news/national/tamil-nadu/initiative-to-conserve-sacred-groves/article34686374.ece