Paramparagat Krishi Vikas Yojana and Bharitya Prakratik  Krishi Padhati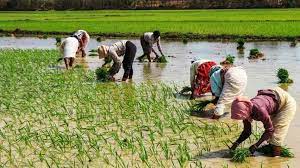 Copyright infringement is not intended
Context: Government is promoting non chemical farming under the names of organic and natural farming through Paramparagat Krishi Vikas Yojana and Bharitya Prakratik Krishi Padhati along the river Ganga .
About PKVY scheme
It is implemented in all the States across the country.
It is an elaborated component of Soil Health Management (SHM) of major project National Mission of Sustainable Agriculture (NMSA).
Under this scheme, farmers are provided financial assistance of Rs 31000/ ha / 3 years for organic inputs such as seeds, bio-fertilisers, bio-pesticides, organic manure, compost/ vermi-compost, botanical extracts etc.
Support is also provided for group/ Farmers Producers Organization (FPO) formation, training, certification, value addition and marketing of their organic produce.
Under Namami Gange Programme total Rs 120.49 crore fund (Rs 67.36 cr from RKVY & Rs 34.20 cr from PKVY) has been released for 6181 clusters and 123620 ha area covered.
Bhartiya Prakritik Krishi Padhati (BPKP)
It was launched as a sub scheme of Paramparagat Krishi Vikas Yojana (PKVY) since 2020-21 for the promotion of traditional indigenous practices.
The scheme mainly emphasizes on exclusion of all synthetic chemical inputs and promotes on-farm biomass recycling with major stress on biomass mulching; use of cow dung-urine formulations; plant-based preparations and time to time working of soil for aeration.
Under BPKP, financial assistance of Rs 12200/ha for 3 years is provided for cluster formation, capacity building and continuous handholding by trained personnel, certification and residue analysis.
https://www.pib.gov.in/PressReleasePage.aspx?PRID=1806181