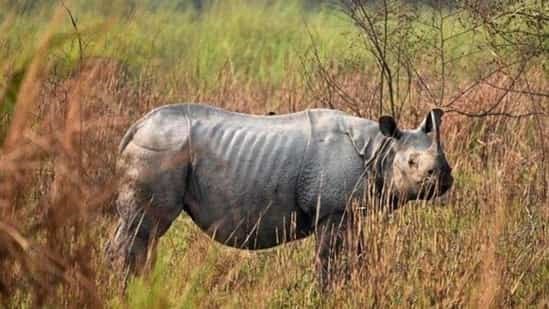 Copyright infringement not intended
Context: The state government has also decided to increase rhino bearing areas in Valmiki Tiger Reserve (VTR) in West Champaran district by five per cent in the next two years.
Details:
The Bihar government has also decided to increase the population of greater one- horned Rhinos by three per cent annually in the state.

Decision to increase the population of greater one-horned Rhinos by three per cent annually was taken at the 3rd Asian Rhino Range Countries Meeting held at Chitwan (Nepal)

.

Five Rhino Range Countries countries - India, Bhutan, Indonesia, Malaysia and Nepal - signed the Chitwan Declaration for Asian Rhinos Conservation (2023)

and agreed on managing the population of the greater one-horned Rhinos, Javan and Sumatran Rhinos with the intention of achieving at least 3 per cent annual growth rate in their population.
About VTR:
The VTR has been selected as one of potential sites under the National Rhino Conservation Strategy.

The VTR occupies a core area of 909.86 sq km of the Valmiki Sanctuary located in the West Champaran district of Bihar.

The VTR was established as the 18th tiger reserve in 1990 and ranked fourth in the density of the tiger population.

The Rivers Gandak and Masan flow through this area.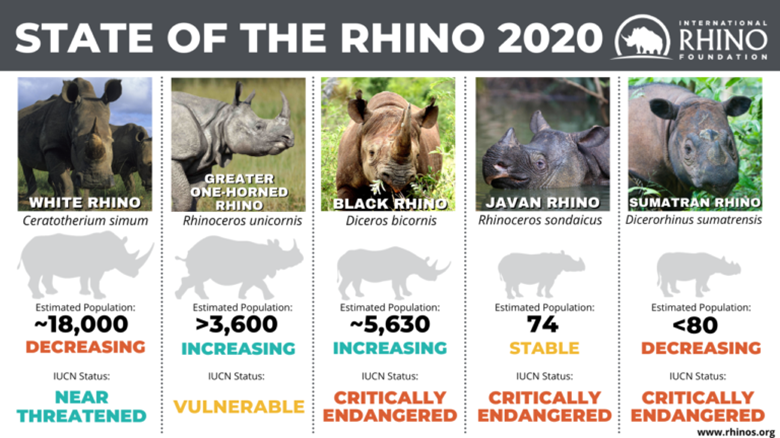 Copyright infringement is not intended
Great Indian rhinoceros:
The Indian rhinoceros also called greater one-horned rhinoceros or great Indian rhinoceros is a rhinoceros species native to the Indian subcontinent.

It is the only large mammal species in Asia to be down-listed from endangered to vulnerable in the International Union for Conservation of Nature, IUCN Red list in 2008.

The extent and quality of the rhino's most important habitat are considered to be in decline due to hunting, agricultural development in tarai region and livestock encroachment.

Indian rhinos once ranged throughout the entire stretch of the Indo-Gangetic Plain has reduced drastically to 11 sites in northern India and southern Nepal.
National Rhino Conservation Strategy for India:
It called for active engagement between India and Nepal to conserve the greater one-horned rhinoceros.

The single population of rhinos in Sukla-Phanta (Nepal), Valmiki tiger reserve (India)and Chitwan National Park (Nepal) and Dudhwa (India)is separated by the political boundary between the two countries.

Instead of managing the two populations differ in the two countries, plan focus on the managing rhino population with the same protocol.

The plan calls for expanding distribution range as occurrence of 90 per cent of the rhino in one protected area is a cause of concern.

It also calls for strengthening protection, having dedicated research and monitoring and strict enforcement.

The objectives include

strengthening protection,

expanding the distribution range,

research and monitoring, and

adequate and sustained funding.

https://www.hindustantimes.com/environment/bihar-to-increase-population-of-greater-one-horned-rhinos-by-3-annually-101676788512821.html