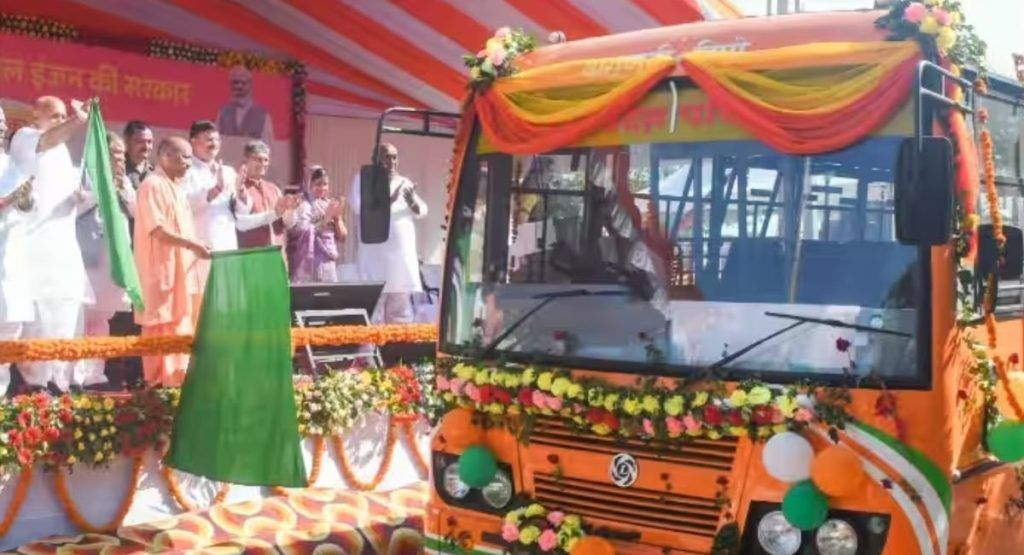 Copyright infringement not intended
Picture Courtesy: india.postsen.com
Context: The Uttar Pradesh government has launched the 'Mission Mahila Sarathi' initiative under the state's Mission Shakti Abhiyan and flagged 51 buses that will be operated exclusively by women as drivers and conductors.
'Mission Mahila Sarathi' initiative
The initiative aims to empower women by providing them with employment opportunities in the public transport sector and ensuring safe and comfortable travel for female passengers.
The 'Mission Mahila Sarathi' initiative is part of the state's Mission Shakti Abhiyan, which was launched in October 2020 to mark the Navratri festival. The Abhiyan aims to provide safety, dignity and empowerment to women and girls in Uttar Pradesh through various schemes and programs.
Key features of the Mission Shakti Abhiyan
Setting up of women help desks in all police stations of the state.

Launching of 'Pink Booths' for women voters in all polling stations.

Establishing 'Pink Patrol' units for patrolling in sensitive areas.

Providing free legal aid to women victims of domestic violence and sexual harassment.

Organizing awareness campaigns on women's rights and laws.

Promoting women's entrepreneurship and self-help groups.

Providing skill development and vocational training to women.

Offering financial assistance and scholarships to meritorious girls
Conclusion
Mission Mahila Sarathi empowers women by providing jobs, boosting confidence, and fostering self-reliance. Enhancing public transport quality and ensuring safety for female passengers, exemplifies the state government's dedication to a gender-equal society, enabling women to achieve their full potential.
PRACTICE QUESTION
Q. What are the major challenges hindering women's empowerment in India, and what specific policies or grassroots initiatives can be adopted to overcome these obstacles and promote gender equality and women's rights in the country?