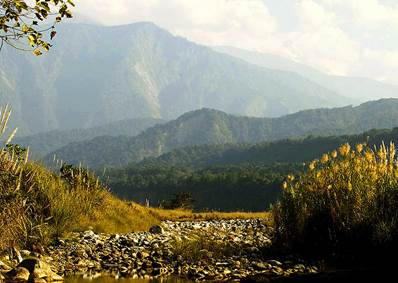 Disclaimer: Copyright infringement not intended.
Context: The Manas Tiger Reserve in Assam has 2.4 tigresses for every tiger, the annual wildlife monitoring results of the trans-boundary wildlife preserve has revealed.
Details:
According to the latest camera trapping assessment stipulated by the National Tiger Conservation Authority (NTCA), the 2,837.31 sq. km reserve with a critical tiger habitat area of 536.22 sq. km has 52 adult tigers along with eight cubs.

Manas Tiger Reserve (MTR) spans across the districts of Kokrajhar, Chirang, Buxa and Udalguri in north-west Assam. To the north, it is separated from the Royal Manas National Park of Bhutan by the River Manas and its tributaries- Beki and Hakua; while to the west, it is separated from the Buxa Tiger Reserve of West Bengal by the River Sankosh.

The area has a unique distinction of being a Natural World Heritage Site, a Tiger Reserve, an Elephant Reserve, a Biosphere Reserve and an Important Bird Area

.

Evolutionarily, it is the entry point of tigers into India. It forms part of a large tiger conservation landscape which includes Buxa-Nameri-Pakke-Namdapha tiger reserves and protected areas of Bhutan and Myanmar.

In general, the vegetation comprises of Sal (Shorea robusta), scrub forests, old plantations (in buffer areas), semi-evergreen and mixed deciduous forests, interspersed with grasslands and riparian vegetation (in core area).

The habitat comprises of Sub-Himalayan High alluvial Semi evergreen forests, Eastern Bhabar Sal type Forests, East Himalayan Moist mixed deciduous forests, Eastern wet alluvial grassland, low alluvial savannah woodlands, Riparian fringing forest and Khair-Sisoo

The habitat supports (IUCN listed) 1 critically endangered, 7 endangered and 10 vulnerable mammals. Besides, there are 5 critically endangered, 2 endangered, 18 vulnerable bird species, alongwith 4 endangered and 9 vulnerable reptiles. The avifauna is diverse with more than 450 bird species.

The rich faunal assemblage in Manas is due to its unique bio-geographical location which is at the confluence of Indo-Malayan, Indo-Chinese and Australasian pathways, thus making it an important refuge for several endemic and charismatic wildlife species.

It also provides an ideal habitat, ranging from high altitude Himalayan dense canopied forests to the sub-tropical woodlands, alluvial floodplain grasslands and riverine ecosystems in the lower elevations.

Managerial Issues: There are several managerial issues which include: field protection, day to day monitoring of tiger and reintroduced rhinos, restoring the protection infrastructure, capacity building of frontline staff, regulating transboundary vehicular traffic, addressing insurgency, providing ecologically viable livelihood options to local people in buffer and close coordination with Bhutan.
Good Practices: Involvement of local communities (especially unemployed youth) for protection and eco-tourism, rebuilding reserve infrastructure and rhino reintroduction.
https://epaper.thehindu.com/Home/ShareArticle?OrgId=G9DA3DSTE.1&imageview=0