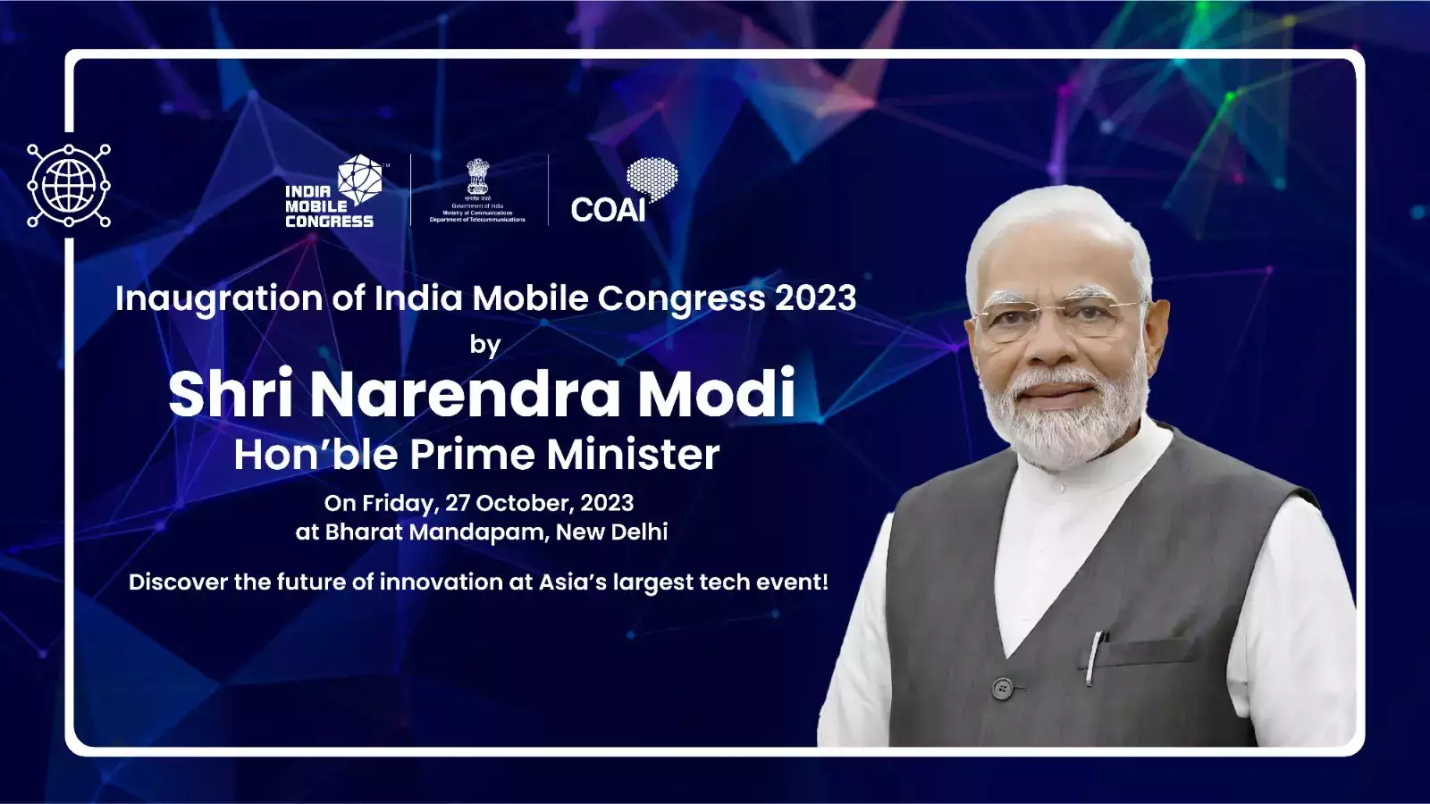 Copyright infringement not intended
Picture Courtesy: economictimes
Context: The 7th Edition of the India Mobile Congress (IMC) 2023, inaugurated by the Prime Minister in New Delhi, centred around the theme 'Global Digital Innovation'.
Key announcements and initiatives made during the event
5G Use Case Labs

●The Prime Minister awarded 100 '5G Use Case Labs' to educational institutions across the country. This initiative aims to encourage the development of 5G applications catering to India's unique needs and global demands, fostering innovation in sectors like education, agriculture, health, power, and transportation.

India's 5G Expansion and 6G Leadership

●India, already a top 3 nation in 5G-enabled technologies with a user base of 125 million, is rapidly expanding its 5G network. Moreover, the country is emphasizing becoming a leader in 6G technology, showcasing its commitment to staying at the forefront of global technological advancements.

Digital Public Infrastructure (DPI)

●The vision of Digital India and Make in India has led to significant advancements in digital infrastructure. Airtel's 5G rollout has covered 5,000 towns and 20,000 villages, with plans to cover the entire country by March 2024.

●India has emerged as a manufacturing nation, especially for digital infrastructure, with various companies involved in manufacturing at a large scale.

Semiconductor Mission

●India's semiconductor mission is progressing with an investment of 80 thousand crore rupees under the PLI (Production-Linked Incentive) scheme. The focus is not only on meeting domestic demands but also on fulfilling global requirements, positioning India as a significant player in the semiconductor industry.

Startup Ecosystem

●India's startup ecosystem has flourished, with the country becoming one of the top 3 startup ecosystems globally. The 'Aspire' program, introduced at IMC 2023, aims to mentor startups and foster collaborations, catalyzing fresh entrepreneurial initiatives.

Technological Democratization

●The government's focus is on democratizing access to capital, resources, and technology. Initiatives like the Mudra scheme, Bharat Net, Atal tinkering labs, and 5G use labs are empowering youth, encouraging innovation, and ensuring the benefits of technology reach every section of society.

Cybersecurity

●Emphasizing the importance of cybersecurity, the Prime Minister highlighted the need for self-reliance in the entire manufacturing value chain, ensuring national control over hardware, software, and connectivity to enhance cybersecurity measures.

Global Thought Leadership

●The Prime Minister stressed that the 21st century is the era of India's thought leadership. He urged thought leaders to create new domains, exemplifying India's prowess in digital payments with UPI, showcasing the nation's potential in leading the world in innovative technologies.
Conclusion
The IMC 2023 showcased India's determination to not only keep pace with global technological advancements but also to lead and innovate in various sectors, further solidifying its position as a global technology powerhouse.
PRACTICE QUESTION
Q. What are the key challenges and opportunities for the telecommunications sector in India as it strives to expand its network infrastructure and keep up with the growing demand for digital connectivity and services?