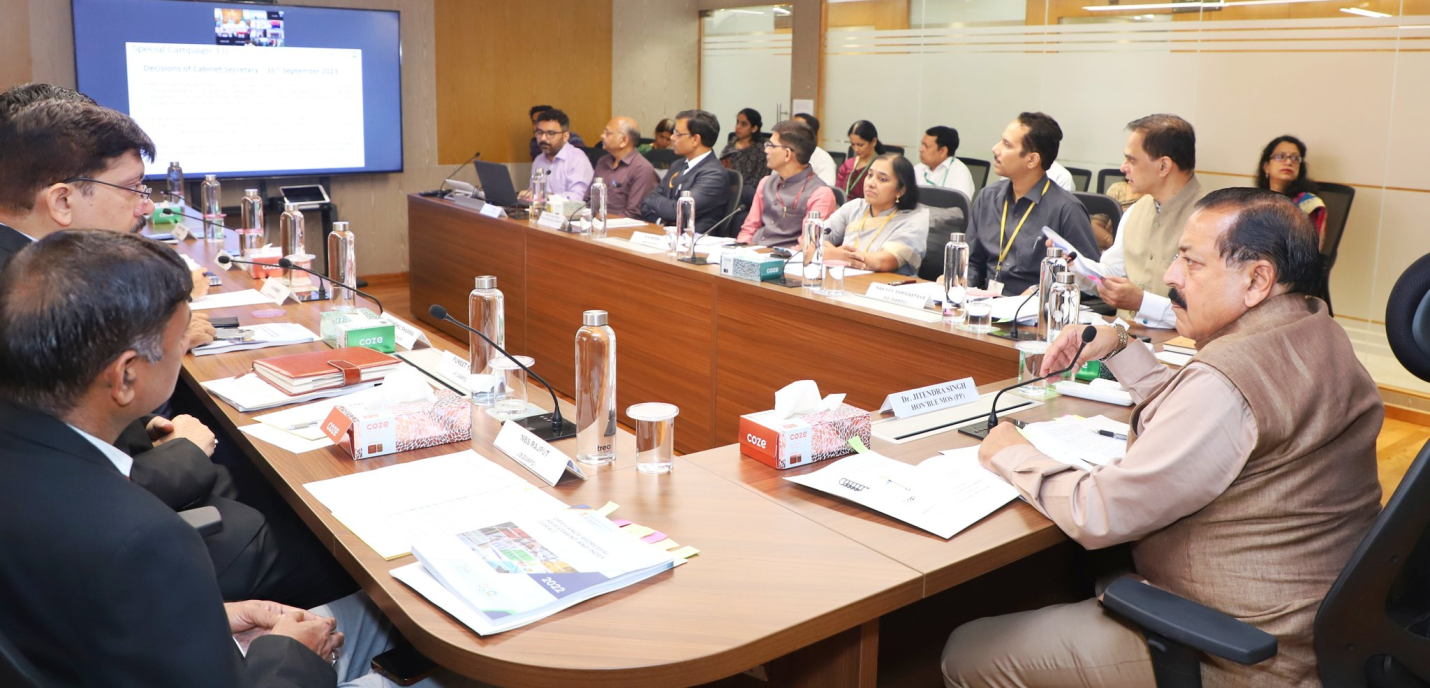 Copyright infringement not intended
Picture Courtesy: twitter.com
Context: The Union Minister of State (Independent Charge) for Science and Technology, Personnel, Public Grievances, Pensions, Atomic Energy, and Space, launched several initiatives related to grievance redressal and administrative reforms.
Key Highlights
IGMS 2.0 Public Grievance Portal

●The Intelligent Grievance Monitoring System (IGMS) 2.0 Dashboard, implemented by IIT Kanpur in collaboration with the Department of Administrative Reforms and Public Grievances (DARPG), was launched.

●his dashboard is an upgraded version of DARPG's CPGRAMS portal with Artificial Intelligence capabilities.

●It offers tabular analysis of grievances filed and disposed of, state-wise and district-wise grievances, and ministry-wise data.

●It will help officials identify the root causes of grievances, improving the grievance redressal process.

Multi-Language Support

●DARPG has made the CPGRAMS portal available in 22 Scheduled languages along with English to ensure accessibility for the common man.

Reduction in Grievance Disposal Time

●Reforms undertaken by DARPG in CPGRAMS have led to a significant reduction in the average disposal time for public grievances by Central Ministries and Departments, from 32 days in 2021 to 18 days in 2023.

Swachhata Special Campaign 3.0

●The Minister launched Swachhata Special Campaign 3.0, which focuses on cleanliness and efficient utilization of office space. During previous campaigns, close to 90 lakh square feet of office space was cleared and put into productive use.

●The government also generated revenue from the disposal of scrap and addressed public grievances.

eOffice Portal Implementation

●DARPG has achieved a completely fileless office with all communication transferred to the eOffice portal, promoting an online work culture. Over 90% of file work has been made available online.

Special Campaign 3.0

●Special Campaign 3.0, starting from October 2, 2023 (Mahatma Gandhi's Birth Anniversary), will focus on field/outstation offices responsible for service delivery or having a public interface, in addition to ministries/departments and their attached/subordinate offices.

●DARPG is the Nodal Department for the implementation of Special Campaign 3.0.
Must Read Articles:
DEPARTMENT OF ADMINISTRATIVE REFORMS AND PUBLIC GRIEVANCES (DARPG): https://www.iasgyan.in/daily-current-affairs/department-of-administrative-reforms-and-public-grievances-darpg
PRACTICE QUESTION
Q. What role does grievance redressal play in ensuring transparency, accountability, and citizen-centric governance, and what strategies can be employed to enhance its effectiveness in government systems?