GLOBAL TALENT COMPETITIVENESS INDEX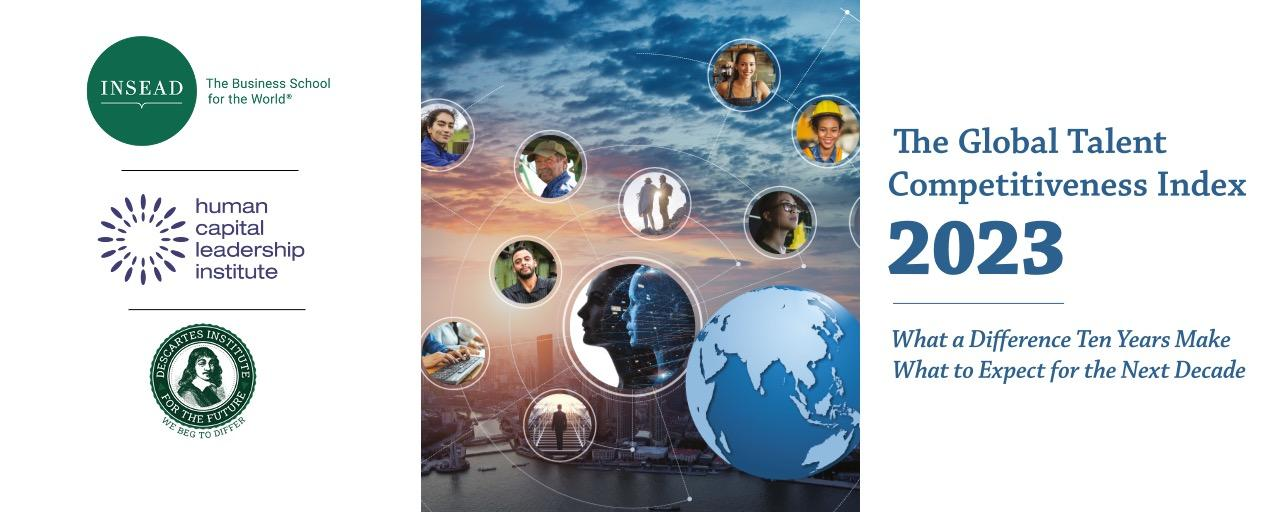 Copyright infringement not intended
Picture Courtesy: www.insead.edu
Context: India's fall from 83 to 103 in the Global Talent Competitiveness Index highlights challenges in fostering an environment conducive to talent attraction, development, and retention.
Details
The Global Talent Competitiveness Index (GTCI) is an annual report published by INSEAD in partnership with The Adecco Group and Tata Communications. It assesses and ranks countries based on their ability to grow, attract, and retain talent.
The GTCI evaluates various factors related to talent competitiveness, including:

Factors such as the regulatory landscape

, education system, and quality of life enable talent growth.

Measures a country's ability to draw talent

from other locations, considering things like openness, lifestyle, and opportunities.

Evaluates the available skills and opportunities

for nurturing and retaining talent within the country.

Look at the quality of life, career opportunities

, and retention strategies available to keep talent within the country.

It provides insights into the strengths and weaknesses of different countries regarding talent competitiveness, offering valuable information for governments, businesses, and organizations aiming to enhance their talent strategies and policies.
India's Ranking and Position:
India has fallen significantly in the GTCI, moving from 83rd place a decade ago to 103rd in the latest rankings among 134 countries.

Among the BRICS nations, India ranks the lowest

, with China leading the group at 40th place, followed by Russia (52), South Africa (68), and Brazil (69).

The dominance of European countries and the decline of Japan in the top 25 rankings, along with the rise of South Korea, demonstrate the shifting dynamics of global talent competitiveness.
Reasons for India's Fall
Business Sentiment Slump:

The report highlights a decline in business sentiment, impacting India's ability to attract talent, both domestically and internationally. This sentiment slump has affected the country's ranking in 'External Openness' (talent from overseas) and 'Internal Openness' (domestic talent).

Skills Mismatch and Employability Issues:

India faces challenges in matching available skills with market demands. This mismatch in skills and job requirements has pushed India down in both 'Employability' and 'Vocational and Technical Skills' categories.

Talent Attraction and Retention:

India's struggle to attract and retain talent, both from within and outside the country, has adversely affected its position in the GTCI. The ability to retain skilled individuals is crucial for sustained economic growth.
Impact and Implications
A decline in talent competitiveness can impact economic growth prospects

. A skilled and talented workforce is crucial for innovation, productivity, and overall economic development.

International rankings like the GTCI often influence global perception and investor confidence

. India's lower rank might affect its attractiveness for foreign investment and collaboration.

This decline may prompt policymakers to focus on initiatives addressing skills development, improving the business environment, and creating policies to attract and retain talent.
India should focus on:
Initiatives to bridge the skills gap and align education with industry needs.

Policies fostering a more conducive environment for business and entrepreneurship.

Strategies to attract and retain both domestic and international talent

through various incentives and support structures.

Learning from countries showing improvement, fostering international collaborations to bolster talent competitiveness.
Conclusion
India's decline in the GTCI calls for a comprehensive reevaluation of its talent strategies. Addressing the identified issues is crucial for India's sustained growth, international competitiveness, and ability to leverage its demographic dividend effectively.
Must Read Articles:
Global Competitiveness Index: https://www.iasgyan.in/daily-current-affairs/global-competitiveness-index
PRACTICE QUESTION
Q. What are the key factors contributing to India's poor performance in the Global Talent Competitiveness Index, and what strategic measures or initiatives can be implemented to enhance India's talent competitiveness on the global stage?