Copyright infringement is not intended
Context: The population of the vulnerable eastern swamp deer, extinct elsewhere in South Asia, has dipped in the Kaziranga National Park and Tiger Reserve.
Recent findings:
During the Eastern Swamp Deer Estimation a decrease from 907 individuals in 2018 to 868 in 2019 and 2020 are found.
Earlier eastern swamp deer was endemic to Kaziranga but now has moved to other areas such as Orang National Park and Laokhowa-Burachapori wildlife sanctuaries.
About Swamp Deer:
The barasingha, also called swamp deer, is a deer species distributed in the Indian subcontinent.
It differs from all other Indian deer species in that the antlers carry more than three tines.
Threats: Poaching for antlers and meat, habitat loss.
Barasingha is the state animal of the Indian states of Madhya Pradesh and Uttar Pradesh.
Three subspecies of swamp deer are:
Western swamp deer is adapted to the flooded tall grassland habitat in the Indo-Gangetic plain and are found in the Sukla Phanta Wildlife Reserve of Nepal.
Southern swamp deer has hard hooves and is adapted to hard ground in open sal forest with a grass understorey survives only in the Kanha National Park. It was reintroduced into Satpura Tiger Reserve.
Eastern swamp deer is only found in Assam i.e. it is endemic to Assam.
Protection Status:
It is listed as Vulnerable in the IUCN Red list.
It is listed on CITES Appendix I.
In India, it is included under Schedule I of the Wildlife Protection Act of 1972.
About KNP:
It is located in
Kaziranga National park's is home to more than 2200 Indian one-horned rhinoceros, approximately 2/3rd of their total world population.
It is located in the edge of the Eastern Himalayan biodiversity hotspots – Golaghat and Nagaon district.
In 1985, it was declared as a World Heritage Site by UNESCO.
It was declared as Tiger Reserve in 2006.
It is recognized as an Important Bird Area by BirdLife International for the conservation of avifaunal species.
Laokhowa-Burachapori wildlife sanctuaries
It is a protected area located in the state of Assam, on the south bank of the Brahmaputra River.
This reserved forest became a sanctuary in 1995.
It forms an integral part of the Laokhowa-Burachapori eco-system and is a notified buffer of the Kaziranga Tiger reserve.
It is considered to be an ideal habitat for the Bengal florican.
Other protected Areas of Assam: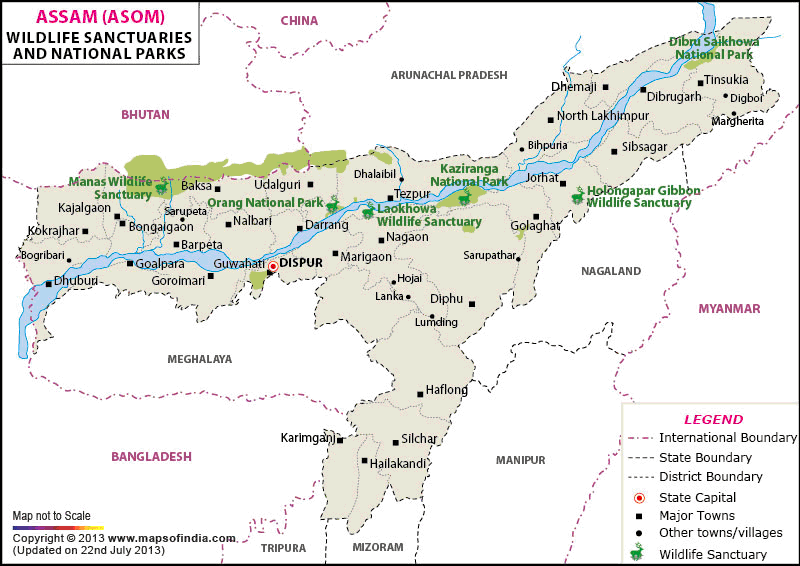 https://www.thehindu.com/news/national/other-states/dip-in-eastern-swamp-deer-population-in-kaziranga/article38291068.ece#:~:text=The%20population%20of%20the%20vulnerable,floods%20in%202019%20and%202020.