Disclaimer: Copyright infringement intended.
Context
Europe's most active volcano Mount Etna erupted May 21, 2023, forcing flights from eastern Sicily's largest city Catania to be grounded due to a lack of visibility.
About
Mount Etna, is an active stratovolcano on the east coast of Sicily, Italy, in the Metropolitan City of Catania, between the cities of Messina and Catania.
It lies above the convergent plate margin between the African Plate and the Eurasian Plate.
It is one of the tallest active volcanoes in Europe.
Etna has also produced pyroclastic flows, ashfalls, and mudflows, but the lava flows are the most immediately hazardous type of activity, especially to the city of Catania.
The volcano has been erupting for the past 500,000 years and is one of the most studied volcanos in the world.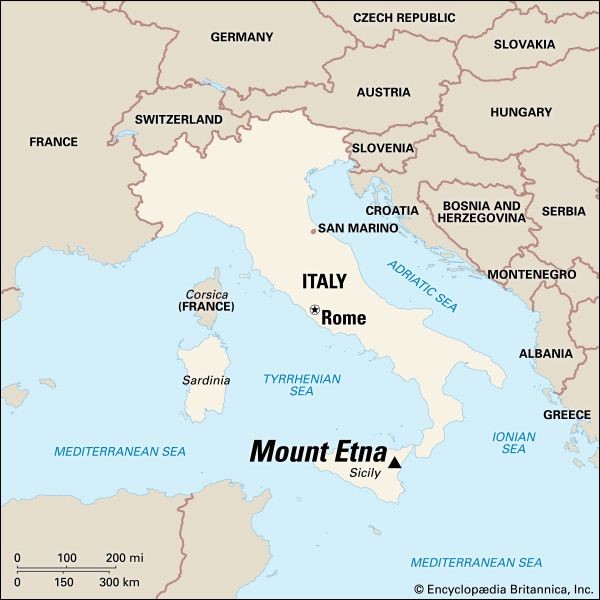 TYPES OF VOLCANOES: https://www.iasgyan.in/blogs/types-of-volcano
PRELIMS PRACTICE QUESTION
Q. Match the following:
1. Mount Etna a. Phillippines
2. Eyjafjallajökull b. Equador
3. Mount Mayon c. Italy
4. Cotopaxi d. Iceland
A. 1-a, 2-d, 3-c, 4-a
B. 1-c, 2-a, 3-d, 4-b
C. 1-c, 2-d, 3-a, 4-b
D. 1-c, 2-a, 3-b, 4-d
Answer: C
https://www.downtoearth.org.in/news/world/italy-s-mount-etna-volcano-erupts-spews-ash-smoke-89492