WORLD ENERGY EMPLOYMENT 2023 REPORT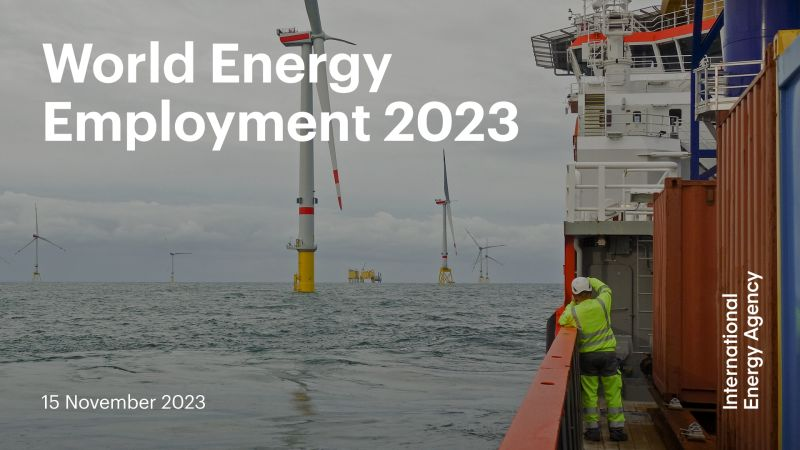 Copyright infringement not intended
Picture Courtesy: www.linkedin.com
Context: The World Energy Employment 2023 report sheds light on crucial developments in the global energy sector, particularly in the context of the COVID-19 pandemic.
Key Highlights of the Report
The World Energy Employment 2023 report, released by the International Energy Association, reveals some interesting trends in the global energy sector.

The report shows how the pandemic affected employment levels in different energy industries and how the recovery has been uneven across regions and sectors.
Overall Employment Trends
The global energy sector showed a net increase in employment, with 67 million people employed in 2022, surpassing pre-pandemic levels by 3.4 million.

The clean energy sectors played a significant role in driving this growth, adding 4.7 million jobs and reaching a total of 35 million. In contrast, the fossil fuel sectors lagged, remaining 1.3 million below their pre-pandemic levels at 32 million.
Regional Variations
India emerged as a positive outlier, experiencing job growth in both clean energy and fossil fuel sectors

compared to 2019. Additionally, India ranked fourth globally in terms of new clean energy jobs created in the past three years.
Resilient Sectors
The report identifies five key sectors that demonstrated resilience and dynamism in terms of job creation post-pandemic: solar PV, wind, electric vehicles (EVs) and battery manufacturing, heat pumps, and critical minerals.

These sectors collectively employed around 9 million workers globally by 2022, with solar PV being the largest employer (4 million jobs). Notably, EVs and battery manufacturing showed the fastest growth, adding 1.8 million jobs
Policy Recommendations
The report not only provides an overview of the current state of global energy employment but also offers policy recommendations. These recommendations aim to support a just and inclusive transition to a low-carbon economy, ensuring the creation of decent jobs and enhancing social welfare.
Implications for the Transition to Clean Energy
The disproportionate growth in clean energy sectors compared to fossil fuels suggests a shift in the global energy landscape. The rise in employment in sectors like solar PV, wind, and electric vehicles underscores the ongoing transition towards sustainable and renewable energy sources.
Global Cooperation and Social Welfare
The emphasis on policy recommendations indicates a recognition of the need for coordinated efforts at the global level to ensure a smooth and inclusive transition. The goal is not only to address environmental concerns but also to promote social welfare and equity in the job market.
Conclusion
The report highlights a changing energy employment landscape, with clean energy sectors leading in job creation. The regional variations and policy recommendations underscore the importance of a balanced and inclusive approach to ensure a just transition to a low-carbon economy.
Must Read Articles:
International Energy Agency: https://www.iasgyan.in/daily-current-affairs/international-energy-agency-28
IEA Summit On Clean Energy Minerals: https://www.iasgyan.in/daily-current-affairs/iea-summit-on-clean-energy-minerals
PRACTICE QUESTION
Q. What role does the International Energy Agency (IEA) play in global energy governance, and how does it contribute to addressing challenges such as energy security, sustainability, and the transition to clean and renewable energy sources?