SECOND VOICE OF GLOBAL SOUTH SUMMIT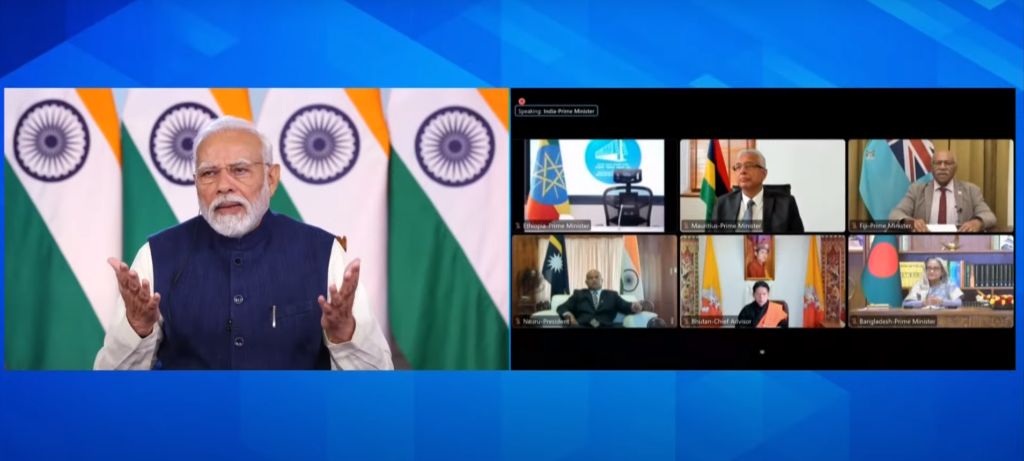 Disclaimer: Copyright infringement not intended.
Context
The second Voice of Global South summit took place in virtual mode.
It was hosted by India.
Background
The inaugural summit, held earlier this year, set a precedent for comprehensive dialogue among 125 countries from the Global South.
Focused on 'Unity of Voice, Unity of Purpose', it successfully influenced the agenda of India's G20 Presidency, indicating the potential impact of the upcoming summit.
Second Voice of Global Summit
This session, is themed as "Together, for Everyone's Growth, with Everyone's Trust".
It underscores the collective effort and trust necessary for global development.
This session will cover a wide range of crucial areas, including Foreign Affairs, Education, Finance, Environment, Energy, Health, and Commerce, showcasing the summit's holistic approach to global issues.
The second Voice of Global South Summit will focus on "sharing with countries of the Global South the key outcomes achieved in various G20 meetings" during India's presidency of the grouping of the world's 20 largest economies.
Significance
The Voice of Global South Summit is a platform to discuss ways to sustain the "momentum generated towards our common aspiration of a more inclusive, representative and progressive world order".
The VOGSS serves not only as a platform to share the outcomes of the G20 meetings with the Global South but also as a venue to foster collective strategies for a more inclusive and representative world order.
The summit delves into pressing global matters, such as regional geopolitical tensions, reflecting its comprehensive and sensitive approach to international relations.
These discussions are crucial for developing a nuanced understanding of the issues facing the Global South and devising collaborative solutions.
SOUTH-SOUTH COOPERATION: https://www.iasgyan.in/daily-current-affairs/south-south-cooperation
PRACTICE QUESTION
Q. In the wake of these developments and shifting geopolitical power positions, the frameworks, forums and institutions of conventional South-South Cooperation are becoming less and less relevant. Do you agree?