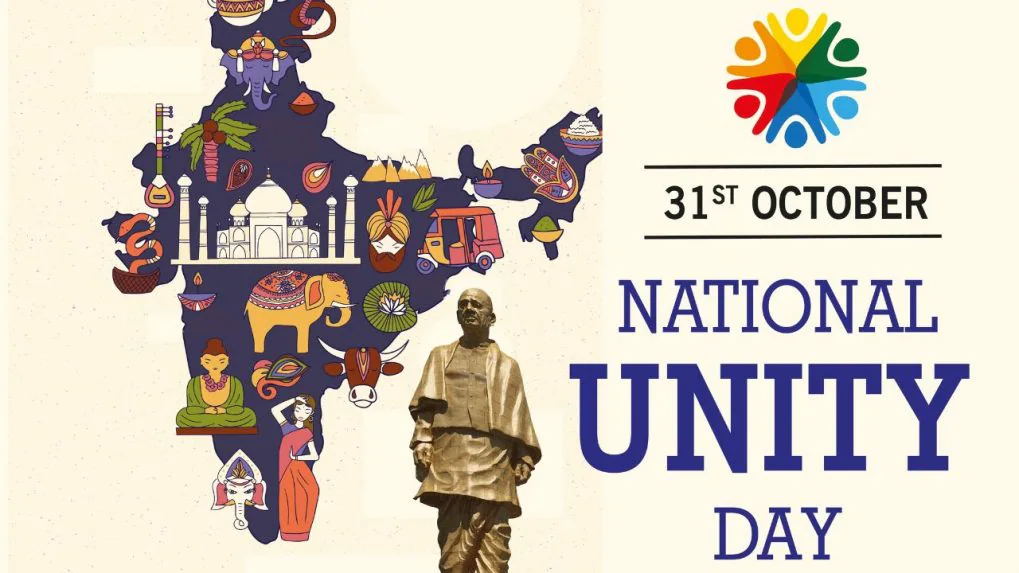 Copyright infringement not intended
Picture Courtesy: www.cnbctv18.com
Context: October 31 is celebrated as National Unity Day or Rashtriya Ekta Diwas to remember and honour Sardar Vallabhbhai Patel, who played a big part in bringing different regions together to make India a united country after it became independent from British rule.
Details
National Unity Day, also known as Rashtriya Ekta Diwas, is celebrated on October 31 each year to honour the birth anniversary of Sardar Vallabhbhai Patel, the country's first home minister.
Patel played a crucial role in India's struggle for independence and later in integrating the princely states into the Union of India.
The Indian government declared in 2014 that Sardar Vallabhbhai Patel's birth anniversary on October 31 would be celebrated as National Unity Day.
Sardar Vallabhbhai Patel
Sardar Vallabhbhai Patel, also known as the Iron Man of India, was one of the most influential leaders of the Indian National Congress and a key figure in the Indian freedom struggle.
He was also the first Deputy Prime Minister and Home Minister of independent India, who played a vital role in integrating more than 560 princely states into the Indian Union.
Early Life and Career
Sardar Patel was born on October 31, 1875, in Nadiad, Gujarat, to a farmer's family. He studied law and became a successful lawyer.
He went England to study law in 1910 and returned as a barrister in 1913.
Entry into Politics
Sardar Patel's political career began when he met Mahatma Gandhi in 1917 and joined his non-violent movement against British rule.
He led the Kheda Satyagraha in 1918, a peasant uprising against oppressive taxation by the British. He also organized relief work during the plague and famine in Kheda.
In 1924, he became the President of the Ahmedabad Municipal Board and improved the sanitation, water supply, and drainage systems of the city.
He participated in the Non-Cooperation Movement, Civil Disobedience Movement, Quit India Movement, and Salt Satyagraha.
In 1928, he led the Bardoli Satyagraha, a massive campaign of tax resistance by farmers in Gujarat. He successfully negotiated with the British authorities and won concessions for the farmers. It was after this campaign that he earned the title of Sardar, meaning leader or chief.
In 1931, he was elected as the President of the Indian National Congress at its Karachi session. He passed a resolution on fundamental rights and economic policy, which included demands for civil liberties, universal adult franchise, minimum wages, abolition of untouchability, and protection of minorities.
Role in Independence and Partition
Sardar Patel was a member of the Congress Working Committee and a close associate of Mahatma Gandhi.
He supported Gandhi's decision to call off the Civil Disobedience Movement in 1934 after the brutal suppression by the British.
He backed Gandhi's proposal to launch the Quit India Movement in 1942, calling for immediate and unconditional independence.
He was one of the leaders who negotiated with the British Cabinet Mission in 1946 for the transfer of power.
He opposed the idea of partition of India on religious grounds but accepted it as a pragmatic solution to avoid civil war. He was also instrumental in persuading Gandhi to give his consent for partition.
He was appointed as the Chairman of the Advisory Committee on Fundamental Rights, Minorities, and Tribal and Excluded Areas by the Constituent Assembly of India.
Integration of Princely States
Sardar Patel's most remarkable achievement was his role in the integration of more than 560 princely states into the Indian Union after independence.
He used diplomacy, persuasion, incentives, and threats to convince the reluctant rulers to accede to India.
He dealt with the complex issues of boundaries, administration, security, and finance that arose from the merger of states.
He faced many challenges and conflicts during this process, such as the annexation of Hyderabad by Indian troops after an armed revolt by Razakars (a militant group loyal to the Nizam), the accession of Junagadh after a plebiscite that favoured India over Pakistan and the integration of Kashmir after an invasion by Pakistani tribesmen.
He also established an all-India civil service known as the Indian Administrative Service (IAS) to replace the British-era Indian Civil Service (ICS). He envisioned the IAS as a professional and impartial bureaucracy that would serve as "the steel frame" of India's governance.
Death and Legacy
Sardar Patel died on December 15, 1950, at the age of 75 due to a heart attack. He was cremated at Sonapur (now Raj Ghat) in Delhi. His death was mourned by millions of Indians who regarded him as a national hero.
Sardar Patel is widely regarded as one of the founding fathers of modern India. His birthday, October 31, is celebrated as National Unity Day or Rashtriya Ekta Diwas to honour his contributions to the nation. He is also remembered for his courage, determination, pragmatism, and statesmanship.
He has been honoured with many awards and recognitions, such as the Bharat Ratna (India's highest civilian award) in 1991, the Sardar Vallabhbhai Patel National Memorial in Ahmedabad, the Sardar Sarovar Dam on the Narmada River, and the Statue of Unity, a 182-meter tall statue of Patel near the Sardar Sarovar Dam, which is the world's tallest statue.
Conclusion
National Unity Day is a tribute to Sardar Vallabhbhai Patel's efforts in integrating India and ensuring its unity after independence. It is observed through the reading of a pledge, emphasizing the importance of preserving the nation's unity, integrity, and security.
Must Read Articles:
SARDAR PATEL: https://www.iasgyan.in/daily-current-affairs/sardar-patel
PRACTICE QUESTION
Q. What was the significant role played by Sardar Vallabhbhai Patel in the Indian freedom struggle, particularly focusing on his efforts in the integration of princely states and his contributions to the independence movement?