INDIA SOUTH AFRICA RELATIONS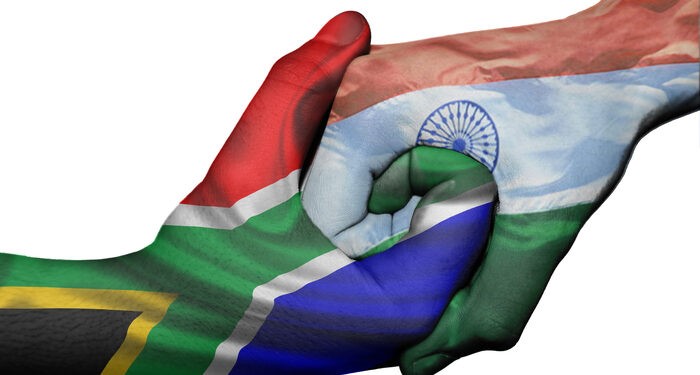 Disclaimer: Copyright infringement not intended.
Context
Prime Minister Narendra Modi had a telephone conversation with His Excellency, President of the Republic of South Africa.
The two leaders positively assessed the progress in bilateral cooperation, including in the context of the thirtieth anniversary of the establishment of bilateral diplomatic relations being celebrated in 2023.
India - South Africa Relations
Introduction and Overview
India's relationship with South Africa is both fundamental and unique, dating back several centuries, and is anchored in common ideals, ideas, interests, and icons – like Mahatma Gandhi and Nelson Mandela.
However, their bilateral relationship remained strained for a long time due to South Africa's apartheid government. Following its independence, India intensified its struggle at multilateral organizations like United Nations (UN), Commonwealth, and Non Aligned Movement (NAM), and was the first country to severe trade relations in 1946, and subsequently imposed political and economic sanctions.
After a gap of four decades, India re-established trade and business ties in 1993, after South Africa ended its institutionalized racial segregation.
In May 1993, a Cultural Center was opened in Johannesburg. In November 1993, diplomatic and consular relations were restored during the visit of then-South African Foreign Minister Pik Botha to India.
The Indian High Commission in Pretoria was opened in May 1994.
In 1996, India opened its permanent Office of High Commission in Cape Town, which was re-designated as Consulate General of India in 2011.
India and South Africa's shared common experiences and collective strength have shaped how they both view the world together. As two nations who have shared their struggle for freedom, the responsibility to improve the lives of others is embedded within India and South Africa's consciousness.
After South Africa achieved democracy in 1994, it was the Red Fort Declaration on Strategic Partnership between India and South Africa, signed in March 1997 by then PM Shri Deve Gowda and Nelson Mandela, which set the parameters for a rekindled relationship.
This Strategic Partnership between the two countries was again re-affirmed in the Tshwane Declaration (October 2006). Both these declarations have been instrumental mechanisms that have contributed in the past to both South Africa and India for achieving their respective national objectives.
Historical Background
India's links with the struggle for freedom and justice in South Africa date back to the period during which Mahatma Gandhi started his Satyagraha movement in South Africa over a century ago.
India was also at the forefront of the international community in its support of the anti-apartheid movement; it was the first country to sever trade relations with the apartheid Government (in 1946) and subsequently imposed a complete - diplomatic, commercial, cultural, and sports - embargo on South Africa.
India worked consistently to put the issue of apartheid on the agenda of the UN, NAM, and other multilateral organizations and for the imposition of comprehensive international sanctions against South Africa.
India actively worked for the AFRICA Fund to sustain the struggle through support to the frontline countries.
Political Relations
India and South Africa established a strategic partnership in March 1997.
Against the background of India's consistent support to the anti-apartheid struggle, there has been a steady consolidation of our close and friendly ties with South Africa, both bilaterally and through BRICS, IBSA and other Fora.
A number of bilateral agreements have been concluded between the two countries since the assumption of diplomatic relations in 1993 in diverse areas ranging from economic and commercial cooperation, defence, culture, heath, human settlements, public administration and science and technology.
India's Technical and Economic Cooperation Programme (ITEC) has been a useful medium of promoting cooperation in development of human resources.
Trade Relations
India is South Africa's fifth-largest export destination, and fourth-largest import origin and is the second-largest trading partner in Asia.
In 2021, bilateral trade between the two countries reached around US$ 17 billion.
South Africa occupies the 35th position in FDI equity inflows into India with a cumulative FDI amount of US$ 589.76 million from April 2000 – September 2022.
In 2022 (January 2022 – November 2022), bilateral trade between India and South Africa reached around US$ 17,981 million.
Around 140 Indian companies have invested close to $4 billion in South Africa, thereby creating direct employment for over 18,000 people.
MAJOR EXPORTED ITEMS FROM INDIA TO SOUTH AFRICA WITH AMOUNT & QUANTITY
India exported 4,873 commodities to South Africa in FY 2021-22.
India's export to South Africa stood at US$ 6.08 billion in FY 2021-22.
Major exported items from India to South Africa include mineral oils & products, bituminous substances, and mineral waxes (US$ 1,420.68 million); followed by road vehicles and parts (US$ 1,318.16 million) in FY 2021-22.
India's export to South Africa stood at US$ 6.06 billion from April-November 2022.
Major exported items from India to South Africa include petroleum products (US$ 2,991 million) followed by motor vehicles (US$ 941 million) etc. from April-November 2022.
MAJOR IMPORTED ITEMS BY INDIA FROM SOUTH AFRICA WITH AMOUNT & QUANTITY
India imported 1,124 commodities from South Africa in FY 2021-22.
India's imports from South Africa stood at US$ 10.9 billion in FY 2021-22.
Major items imported by India from South Africa include pearls, precious or semi-precious stones/metals, and articles thereof; imitation jewelry and coin (US$ 4,318.93 million); followed by minerals fuels, mineral oils & products, bituminous substances, mineral waxes (US$ 3,720.09 million) in FY 2021-22.
India's imports from South Africa stood at US$ 7.6 billion from April-November 2022.
Major items imported by India from South Africa include coal, coke, and briquettes (US$ 2,620 million) followed by gold (US$ 2,582 million), etc.
India-Africa Defence Cooperation
India has actively supported Africa in its cybersecurity, peacekeeping, and anti-terrorism efforts in recent years. However, India's Defence Cooperation with Africa began long ago.
In 1956, following Emperor Haile Selassie's request to Indian Prime Minister Nehru, India decided to open its first-ever overseas training institution in Africa.
The Imperial Military Academy at Harar, Ethiopia, was established and became functional as early as 1958.
Over the years, this institution trained a generation of Ethiopian military officers from several other African countries that were in the process of gaining independence.
Special offers for the training of African military personnel at major Indian institutions such as the NDA, IMA, DSSC and NDC have helped India to build friendships in Africa.
Since the first UN Mission in the Congo, India has been part of UN Peacekeeping Operations (UNPKO) and has participated in almost all the African missions so far.
Today, India is Africa's fourth-largest supplier of troops to PKO. India has contributed around 200,000 soldiers and police forces as part of the blue helmets since its independence.
Currently, 4,483 Indian soldiers serve in peacekeeping missions in five African nations: Congo, Morocco, Sudan, South Sudan, and Somalia.
The Centre for United Nations Peacekeeping in India (CUNPK), New Delhi started the first United Nations Peacekeeping Course for African Partners (UNPCAP-01).
Additionally, India has also established Defence Academies and Colleges in various African countries such as Naval war college in Nigeria, Military Academy in Ethiopia, and the Air Force in Ghana.
Furthermore, India has sent training teams to a number of African countries. These military training units have collaborated with their respective counterparts in Botswana, Lesotho, Zambia, Uganda, Namibia, Tanzania, Mauritius, and Seychelles.
In 2007, India sent an all-female police force to Liberia to be deployed with the United Nations Mission in Liberia (UNMIL). This was the first all-female police unit in the history of UN peacekeeping.
In March 2019, India held its first-ever joint exercise with African countries, Africa-India Field Training Exercise-2019 (AFINDEX-19), in Pune. In total, 17 African countries participated in the inaugural edition of the exercise. The AFINDEX-19 exercise was designed to help participating countries plan and execute humanitarian mine action (HMA) and peacekeeping operations (PKO).
India has firmly developed maritime security cooperation with Mauritius and Seychelles, as well as with several other coastal African countries. India is guided by the SAGAR doctrine in maritime security and has frequently been a first responder in HADR (humanitarian aid and disaster relief) crises.
India's humanitarian assistance and disaster relief operations, such as the timely assistance and thorough professionalism of the Indian Navy during Cyclone IDAI in Mozambique in 2019, have been recognized and highly appreciated.
In February 2020, on the sidelines of the DefExpo military exhibition, the first India-Africa Defence Ministers' conference (IADMC) took place in Lucknow, Uttar Pradesh.
The establishment of the IADMC successfully institutionalized the Defence Cooperation between the two countries.
The Government of India also proposed to institutionalize the India-Africa Defence Dialogue as a side event alongside the DefExpo.
IBSAMAR is a series of naval exercises between the navies of India, Brazil, and South Africa.
Indian Navy also conducts Milan Exercise biennially. Milan 2022, which took place in March 2022 after a gap of four years, saw the participation of over 40 countries and 26 ships. Given the prevailing pandemic, many African countries withdrew. Yet, African countries like Seychelles, Mauritius and Kenya participated.
In the face of China's aggressive efforts to expand its military footprint in Africa, which is focused on resource extraction and protecting its own strategic assets, India's model of defence and security cooperation, which focuses on African counterpart empowerment through training, capacity building, and humanitarian assistance, has emerged as more organic and need-based.
In humanitarian assistance and disaster relief (HADR) efforts, India's maritime capabilities have emerged as the "new frontier."
Compared to traditional security partners of Africa, India offers a huge competitive cost advantage.
Going forward, the onus lies on both India and Africa to make the best use of these opportunities toward mutually beneficial outcomes.
Convergence of India-Africa Security Interests
African priorities drive India-Africa Defence Cooperation. Recently, African Union has launched its flagship project, "Silencing the Guns by 2030", to attain a conflict-free Africa', which is also embedded in 'Africa's Vision 2063'.
India's Defence Cooperation with countries of the eastern African coast hinges on SAGAR, announced by PM Modi in 2015 in Mauritius.
As Ministry of Defence aims for 5 billion dollars of defence export by 2025, Africa will undoubtedly have a large chunk of it.
During his visit to Mozambique in 2019, Indian Defence Minister Rajnath Singh presented the Mozambican Navy with two rapid interceptor boats. Africa could be the biggest benefactor of these indigenous Indian items as it seeks to minimise its reliance on traditional Western allies for security.
Indian industry can meet Africa's requirements much more cost-effectively, particularly in air defence, air-to-air missile systems and strategic weapon systems.
India also contributes financially to the cause of violence-free Africa. In 2011, India provided $2 million worth of support to AMISOM in Somalia.
Similar support of $1 million was provided to the UN mission in Mali in 2013.
India's flagship initiative, Sagarmala Project, has remained focused on ports. Going forward, a thriving shipbuilding industry will help attain PM Modi's Atmanirbhar Bharat goals, which will also benefit Africa. The unmanned underwater system is one such example.
Similarly, the Indian Air Force has made several helicopters per international standards that can be used in war and rescue missions in Africa.
As India believes in Vasudhaiva Kutumbakam (all is our family) and SAGAR (Security and Growth for All in The Region), India will be keen to share its military power and technological know-how with its African counterparts.
The Defence Research and Development Organization (DRDO), India has already signed an MoU with the Defence Research and Development Bureau (DRDB), Nigeria, to cooperate in Defence R&D. More African countries are expected to join DRDO in the coming days.
Military vehicle export is another area where India can collaborate with Africa. Indian military vehicle manufacturers such as Tata Motors and Ashok Leyland are already part of the network.
Finally, cyber security has become a rising concern for both sides.
With exponential growth in mobile smart device ownership and increased use of social media, Africa's adoption of new technologies is expanding.
While this technological advancement is expected to contribute to the continent's development, it will also expose millions of impoverished and uneducated Africans to the associated hazards and vulnerabilities.
India has advanced cyber security infrastructure, a dedicated National Cyber Security and a functional nodal agency, Computer Emergency Response Team (CERT-In), under the Ministry of Electronics and Information Technology (MeitY).
Skills Development
To address the shortage of skills among South Africans which is a national priority of the Government of South Africa, an MoU on the setting up of the "Gandhi-Mandela Centre of Specialisation for Artisan Skills" (GMCoS) in South Africa was signed during the Prime Minister's visit to South Africa in July 2018.
The Centre, with the collaboration of Hindustan Machine Tools Limited (HMTL) will offer technical expertise, training material, machines and equipment as well as interactive ICT equipment for video conferencing in a multi-skills formation comprising of four skills: mechanical fitter, electrician, boilermaker and millwright for all of which there is demand in South Africa.
Science and Technology
India and South Africa signed an Agreement on Cooperation in the fields of Science and Technology on 19 July 1995 and cooperation in Science and Technology between the two countries has flourished and continues to grow.
Union Minister of Science & Technology and Earth Sciences paid an official visit to South in 2017 to commemorate the 20th anniversary of India-South Africa Cooperation in Science & Technology. The Agreement was renewed for a further period of three years during the visit of Minister of Science & Technology to SA in October 2017.
Cultural Relations
With the help of the Indian Council for Cultural Relations (ICCR), an intensive programme of cultural exchanges is organised throughout South Africa including scholarships for South African nationals.
In addition to such cultural programming, a 'Shared Histories' Festival organized as a public-private partnership is also organised. It held its eleventh edition in 2017 in Johannesburg.
A Rajasthani folk music/dance group from India visited South Africa to participate in the Kalahari Desert Festival in 2018.
Activities to commemorate the 150th birth anniversary of Gandhiji was organised throughout the year (October 2018-2020) across South Africa by the Consulates and Mission which include cultural programmes, vegetarian Food Festivals, prayer meetings, organization of walks, planting of trees, painting of portraits and discourse/talks on Mahatma Gandhi.
A Festival of India in South Africa was held in September 2019 featuring dance and music troupes. An earlier version was organized during July-August 2014 commemorating 20 years of our diplomatic relations and also 100 years of Gandhiji's return to India from South Africa.
Activities to commemorate the 75 years of India's Independence (Azadi Ka Amrit Mahotsav) are being organized across South Africa by the Consulates and Mission which include 'Revisiting Gandhian Trail' following Mahatma's footsteps for promoting peace, non-violence and harmony organized in October 2021, 'Mataram' showcasing the linguistic and cultural diversity of India through cultural performances by Indian Diaspora in South Africa.
Indian Community
The South African Indian origin community numbers around 1 million and constitutes about 3% of South Africa's total population.
About 80% of the Indian community lives in the province of KwaZulu Natal, about 15% in the Gauteng (previously Transvaal) area and the remaining 5% in Cape Town.
South Africans of Indian origin are well-represented in Government, business, media, legal and other professions.
The year 2010 marked the 150th anniversary of the first arrival of Indians in South Africa.
2014 marked 100 years of Gandhiji's final departure to India from South Africa; he reached India on 9th Jan 1915; this date is now commemorated annually as Pravasi Bhartiya Divas.
Conclusion
India and South Africa share a long and prosperous relationship, with our freedom movement inspiring African nationalists in their desire for independence from colonialism.
Today, India and S. Africa desire a mutually beneficial relationship by collaborating through lucrative trade and investment opportunities.
To summarize, the key pillars of India's development partnership with Africa have been capacity-building initiatives, lines of credit, grant support, small development projects, technical consultation, disaster relief and humanitarian help, and military cooperation.
The India-Africa relationship represents a vibrant partnership between the two continents, driven by the idea of growing together as equals and concentrating on capacity building, development cooperation and economic and technological initiatives.
India and Africa will emerge as twin growth centres, transcending their multi-faceted partnership to a new level.
PRACTICE QUESTION
Q. The India-Africa relationship represents a vibrant partnership between the two continents, driven by the idea of growing together as equals and concentrating on capacity building, development cooperation and economic and technological initiatives. Elucidate.