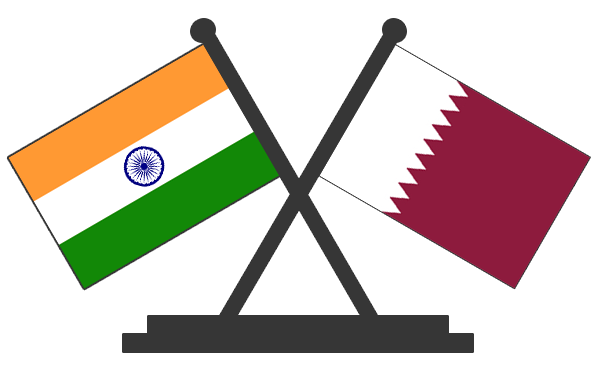 Disclaimer: Copyright infringement not intended.
Context
Eight former personnel of the Indian Navy, who were detained in Doha in 2022, have been sentenced to death by a Qatari court.
India Qatar Relations
History
Diplomatic relations between India and Qatar were established in 1973.
India maintains an embassy in Doha, while Qatar maintains an embassy in New Delhi and a consulate in Mumbai.
Political Relations
There has been a regular exchange of high-level bilateral visits. The Amir of Qatar
H. Sheikh Tamim Bin Hamad Al Thani had paid a State Visit to India in March 2015.
During this time five MoUs entailing co-operation in several fields were signed.
Additionally, an agreement on prisoner repatriation was made.
According to this agreement, citizens of India or Qatar who are convicted and sentenced for a crime can be extradited to their native country to spend the remaining years of their prison sentence.
Diplomatic visits
Emir of Qatar Hamad bin Khalifa al Thani made diplomatic visits to India in April 1999, May 2005 and April 2012.
In 2016, Prime Minister Narendra Modi arrived in Doha on a two-day visit which was focused on giving a new push to the economic ties, particularly in the hydrocarbon sector.
Defence and Military relations
During the first-ever diplomatic visit to Qatar made by Prime Minister Manmohan Singh of India in November 2008, a maritime defence agreement was approved between the two countries.
The agreement would permit mutual maritime defence training and facilitate mutual visits.
An agreement pertaining to law enforcement and national security was also signed during the meeting.
This agreement was made with the intent of exchanging classified information in order to assist in suppressing threats raised by extremist elements.
As part of these agreements, the inaugural India-Qatar Joint Committee on Defence Cooperation meeting was hosted in the Qatari capital Doha in 2008.
India regularly participates in the biennial Doha International Maritime Defence Exhibition and Conference (DIMDEX) in Qatar.
India has established two Defence Industrial Corridors, one in Uttar Pradesh and another in Tamil Nadu. Qatari companies can invest in India's defence sector through these corridors.
Bilateral Trade
India's bilateral trade with Qatar in 2022-23 was US$ 18.77 billion.
India's export to Qatar during 2022-23 was US$ 1.96 billion and India's import from Qatar was US$ 16.8 billion.
Qatar's key exports to India include LNG, LPG, chemicals and petrochemicals, plastics, and aluminium articles.
India's key exports to Qatar include cereals, copper articles, iron and steel articles, vegetables, fruits, spices, and processed food products, electrical and other machinery, plastic products, construction material, textiles & garments, chemicals, precious stones and rubber.
Qatar is the largest supplier of LNG to India, accounting for over 48% of India's global LNG imports and 15% of Qatar's export of LNG.
Logistics & Banking
The substantial increase in Qatar's imports from India was facilitated by the opening of direct shipping lines named "India Qatar Express Service" linking Indian ports with Qatar.
The line links Hamad Port in Qatar with Mundra (Gujarat) and Nhava Sheva Port (Maharashtra) in India.
India-Qatar is well connected with direct flights between various international airports in India and Doha. Air India, Air India Express, Indigo, Vistara, GoAir and Qatar Airways operate direct flights between both countries.
Qatar's two major banks are operating in India with Doha Bank having its branches in Mumbai, Kochi and Chennai; and Qatar National Bank in Mumbai.
Cultural Relations
Cultural ties between India and Qatar are deep-rooted and actively nurtured by both sides.
There are regular cultural exchanges between the two sides, under the provisions of the Agreement on Cultural Cooperation signed between the two sides in 2012. Qataris admire India's cultural diversity.
The year 2019 was celebrated as the India-Qatar Year of Culture.
India was also one of the partner countries for the Qatar-MENASA Year of Culture 2022.
Qatar has allowed the practice of complementary medicine, including Ayurveda, in Qatar.
Indian Community
There are over 800,000 Indian nationals residing in Qatar.
They comprise the largest expatriate community in Qatar and are engaged in a wide spectrum of professions including medicine; engineering; education, finance; banking; business; and media apart from a large number of blue-collared workers.
Terrorism
A bilateral Memorandum of Understanding (MoU) was signed between the two countries to facilitate the exchange of intelligence related to money laundering, terrorism financing and related crimes.
The countries reiterated their firm resolve to cooperate to mitigate the global menace that is terrorism, highlighting the need to isolate sponsors and supporters of terrorism.
Energy Sector
Qatar is India's top import partner for natural gas, and New Delhi intends to extend the partnership into renewable energy as well.
India's National Hydrogen Mission mentions that it intends to forge hydrogen partnerships with other countries, Qatar being a viable and reliable partner.
Investments
Both countries have established a startup bridge as part of the Startup India flagship initiative.
Qatar's Foreign Direct Investment (FDI) in India is in excess of $450 million, with great potential to increase those investments. Invest India and the Investment Promotion Agency of Qatar have reached an understanding on cooperation to promote two-way investments between both countries.
The recent issue: A major Foreign Policy Challenge
A Qatari court handing down the death sentence to eight former Indian navy personnel is a huge foreign policy challenge for India.
The precise nature of the charges against the Indian nationals remains unknown: various news reports suggest that they were arrested for allegedly leaking classified information related to a high-value Qatari submarine project.
The Indians were associated with a defence services company working with the Qatari navy. There is also speculation in some news reports that the receiver of the classified information was Israel.
Concern
That the whole trial was held in secrecy and that the precise nature of charges is not yet known make the death sentence appear very dubious.
A knotty geopolitical challenge for India
This is a particularly tricky case for India because Qataris have leveled espionage charges against its citizens and also this is happening in a Gulf state where India has invested a lot to improve bilateral relations.
The upgrade in India-Qatar relations has virtually coincided with Doha's own growing ambitions in the Middle East and India's greater engagement with other Gulf states.
India is one of the largest importers of Qatari gas, and 800,000 Indians live and work in Qatar.
Qatar's unethical activities
Qatar hosts a plethora of opposition and militant movement leaders from the Islamic world, including from Palestinian Hamas, Muslim Brotherhood, and Taliban. It houses American and Turkish militarybases and simultaneously has a working relationship with Iran.
Doha has an opinion influencer in the region.
Behind all this is, of course, Doha's gas-fuelled financial muscle.
Resolving the Issue
India as to tread very carefully as it tries to help the ex-navy personnel.
The added complication is regional intrigue between Gulf states, including different approaches to Israel.
This may make India's outreach even more knotty
Qatar-India relations: Way Ahead
Defence and renewable energy are two areas with the potential to forge stronger ties in the coming decades.
Emphasizing private partnerships facilitated by the government is the way to go for the two countries.
With the invention of cell electric vehicles, hydrogen energy is an emergent source of clean fuel, one that holds prospects for bilateral cooperation in the near future.
PRACTICE QUESTION
Q. In the context of their 50-year diplomatic partnership, how can future areas of collaboration between India and Qatar be examined? Explain.