GST Collections and Revisiting 47th GST Council Meeting Recommendations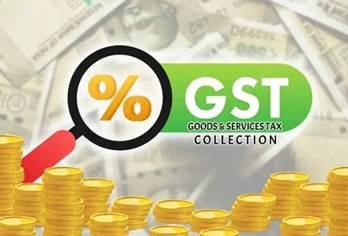 Disclaimer: Copyright infringement not intended.
Context
Gross Goods and Services Tax (GST) collections rose to Rs 1,43,612 crore for August (for sales in July). This is 28.2 per cent higher year-on-year- Data released by the Finance Ministry.
What do the improved revenues signify?
As per the decisions taken in 47th GST Council meeting, GST exemption was withdrawn from "pre-packaged and labelled" retail packs. These include include food items such as - curd, lassi, puffed rice, wheat flour, and buttermilk, but items sold loose or unlabelled continue to remain exempt.

Pre-packaged and pre-labelled food items such as grains, curd, lassi, paneer, jaggery, wheat flour, puffed rice, buttermilk and meat/ fish (except fresh and frozen) are now taxed at 5 per cent, at par with branded items.

Also, correction of inverted duty structure translated into a rate hike for household items such as LED lamps, printing/ drawing ink, power driven pumps, tetrapak to 18 per cent from 12 per cent; and for solar water heaters and finished leather to 12 per cent from 5 per cent.

These collections reflect the strength of the underlying economic factors as they have established revenue of Rs1.4 lakh crore.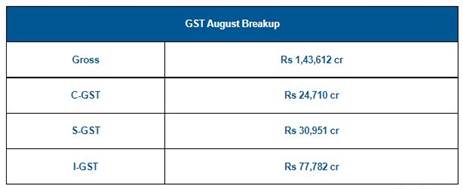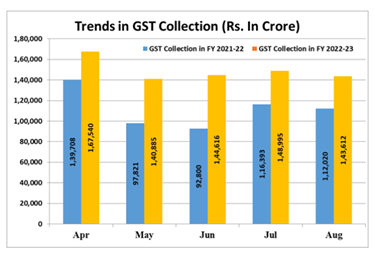 Performance of the states
At least 16 states/ Union Territories recorded a higher than 20 per cent growth in GST collections in their regions, even though most remained below the national growth rate of 28 per cent. Experts said collections are expected to overshoot the budgetary targets set for this fiscal.
End of Compensation Regime
After the end of the compensation regime for states in June 2022, the higher GST revenue growth is expected to ease the revenue concerns for some states going forward. But states with a heavy dependence on compensation may have to step up their enforcement actions to improve compliance.

Under GST, as per the Goods and Services Tax (Compensation to States) Act, 2017, the states were guaranteed compensation at the compounded rate of 14 per cent from the base year 2015-16 for losses arising due to implementation of GST taxation regime for five years since its rollout.

It came to an end on June 30 2022. The GST Council meeting held in June did not take any decision to extend the compensation mechanism despite at least a dozen states making a demand for the same.
Read about Basics of GST in detail here: https://www.iasgyan.in/daily-current-affairs/goods-and-services-tax-gst
Read about Basics of GST Compensation Scheme in detail here: https://www.iasgyan.in/daily-current-affairs/gst-compensation-38
Recommendations of 47th GST Council Meeting
I.Recommendations relating to GST rates on goods and services
Rate Rationalization to remove inverted duty structure
S. No.

Description

From

To

GOODS

1.

Printing, writing or drawing ink

12%

18%

2.

Knives with cutting blades, Paper knives, Pencil sharpeners and blades therefor, Spoons, forks, ladles, skimmers, cake-servers etc

12%

18%

3.

Power driven pumps primarily designed for handling water such as centrifugal pumps, deep tube-well turbine pumps, submersible pumps; Bicycle pumps

12%

18%

4.

Machines for cleaning, sorting or grading, seed, grain pulses; Machinery used in milling industry or for the working of cereals etc; Pawan Chakki that is Air Based Atta Chakki; Wet grinder;

5%

18%

5.

Machines for cleaning, sorting or grading eggs, fruit or other agricultural produce and its parts, Milking machines and dairy machinery

12%

18%

6.

LED Lamps, lights and fixture, their metal printed circuits board;

12%

18%

7.

Drawing and marking out instruments

12%

18%

8.

Solar Water Heater and system;

5%

12%

9.

Prepared/finished leather/chamois leather / composition leathers;

5%

12%

10.

Refund of accumulated ITC not to be allowed on flowing goods:

i.Edible oils

ii.Coal

Services

11.

Services supplied by foreman to chit fund

12%

18%

12.

Job work in relation to processing of hides, skins and leather

5%

12%

13.

Job work in relation to manufacture of leather goods and footwear

5%

12%

14.

Job work in relation to manufacture of clay bricks

5%

12%

15.

Works contract for roads, bridges, railways, metro, effluent treatment plant, crematorium etc.

12%

18%

16.

Works contract supplied to central and state governments, local authorities for historical monuments, canals, dams, pipelines, plants for water supply, educational institutions, hospitals etc. & sub-contractor thereof

12%

18%

17.

Works contract supplied to central and state governments, union territories & local authorities involving predominantly earthwork and sub-contracts thereof

5%

12%
B.Other GST rate changes recommended by the Council
S. No.

Description

From

To

Goods

1.

Ostomy Appliances

12%

5%

2.

Orthopedic appliance- Splints and other fracture appliances; artificial parts of the body; other appliances which are worn or carried, or implanted in the body, to compensate for a defect or disability; intraocular lens

12%

5%

3.

Tetra Pak (Aseptic Packaging Paper)

12%

18%

4.

Tar (whether from coal, coal gasification plants, producer Gas plants and Coke Oven Plants.

5%/18%

18%

5.

IGST on import of Diethylcarbamazine (DEC) tablets supplied free of cost for National Filariasis Elimination Programme

5%

Nil

6.

Cut and Polished diamonds

0.25%

1.5%

7.

IGST on specified defence items imported by private entities/vendors, when end-user is the Defence forces.

Applicable rate

Nil

Services

1.

Transport of goods and passengers by ropeways.

18%

5% (with ITC of services)

2

Renting of truck/goods carriage where cost of fuel is included

18%

12%
C Withdrawal of exemptions
C1. Hitherto, GST was exempted on specified food items, grains etc when not branded, or right on the brand has been foregone. It has been recommended to revise the scope of exemption to exclude from it prepackaged and pre-labelled retail pack in terms of Legal Metrology Act, including pre-packed, pre-labelled curd, lassi and butter milk.
C.2 In case of the following goods, exemption from GST will be withdrawn:
S. No.

Description of goods

From

To

GST rate changes

1.

Cheques, lose or in book form

Nil

18%

2.

Maps and hydrographic or similar charts of all kinds, including atlases, wall maps, topographical plans and globes, printed

Nil

12%

3.

Parts of goods of heading 8801

Nil

18%
C.3 In case of the following goods, the exemption in form of a concessional rate of GST is being rationalized:
S. No.

Description of goods

From

To

GST rate changes

1.

Petroleum/ Coal bed methane

5%

12%

2.

Scientific and technical instruments supplied to public funded research institutes

5%

Applicable rate

3.

E-waste

5%

18%
C4. In case of Services, following exemptions are being rationalized:
S. No.

Description

1.

Exemption on transport of passengers by air to and from NE states & Bagdogra is being restricted to economy class

2

Exemption on following services is being withdrawn.

a. Transportation by rail or a vessel of railway equipment and material.

b. storage or warehousing of commodities which attract tax (nuts, spices, copra, jaggery, cotton etc.)

c. Fumigation in a warehouse of agricultural produce.

d. Services by RBI,IRDA,SEBI,FSSAI,

e. GSTN.

f. Renting of residential dwelling to business entities (registered persons).

g. Services provided by the cord blood banks by way of preservation of stem cells

3.

Like CETPs, common bio-medical waste treatment facilities for treatment or disposal of biomedical waste shall be taxed at 12% so as to allow them ITC

4.

Hotel accommodation priced upto Rs. 1000/day shall be taxed at 12%

5.

Room rent (excluding ICU) exceeding Rs 5000 per day per patient charged by a hospital shall be taxed to the extent of amount charged for the room at 5% without ITC.

6.

Tax exemption on training or coaching in recreational activities relating to arts or culture, or sports is being restricted to such services when supplied by an individual.
D. GST on casinos, race course and online gaming
The Council directed that the Group of Ministers on Casino, Race Course and Online Gaming re-examine the issues in its terms of reference based on further inputs from States and submit its report within a short duration.
E .Clarification on GST rate
E1. Goods
Electric vehicles

whether or not fitted with a battery pack, are eligible for the concessional GST rate of 5%.

All fly ash bricks attract same concessional rate irrespective of fly ash content.

Stones even if they are ready to use and polished in minor ways [not mirror polished], attract concessional GST rate of 5%.

The GST rate on all forms of mango including mango pulp (other than mangoes sliced, dried) attract GST at the 12%. Entry Raw or fresh mangoes continue to be exempt.

Sewage treated water is exempted from GST

and is not the same as purified water. The word 'purified' is being omitted to make this amply clear.

Nicotine Polarilex Gum attracts a GST rate of 18%.

The condition of 90% fly ash content with respect to fly ash bricks applies only to fly ash aggregate, and not fly ash bricks. As a simplification measure, the condition of 90% content is being omitted.
E2 .Clarification in relation to GST rate on Services
GST rate @ 5% os applicable on supply of ice-cream by ice-cream parlours.

Application fee charged for entrance or for issuance of eligibility certificate for admission or issuance of migration certificate by universities is exempt from GST.

Ginned or baled fibre is in the category of raw vegetable fibres. The exemption under this entry is being rationalized

Services associated with transit cargo both to and from Nepal and Bhutan

are covered by exemption.

Activity of selling of space for advertisement in souvenirs published in the form of books is eligible for concessional GST at 5%.

Renting of

vehicle with operator for transportation of goods on time basis attracts GST at 18%.GST on such renting where cost of fuel is included in the consideration charged is being prescribed at 12%.

Allowing choice of location of a plot is part of supply of long term lease of plot of land. Therefore, location charge or preferential location charges (PLC) are part of consideration charged for long term lease of land and shall get the same treatment under GST.

Services provided by the guest anchors to TV channels in lieu of honorarium attract GST.

Additional fee collected in the form of higher toll charges from vehicles not having Fastag is essentially payment of toll for allowing access to roads or bridges to such vehicles and shall be given the same tax treatment as given to toll charges.

Services in form of Assisted Reproductive Technology (ART)/ In vitro fertilization (IVF)

are covered under the definition of health care services for the purpose of exemption under GST.

Sale of land after leveling, laying down of drainage lines etc. is sale of land and does not attract GST.

Renting of motor vehicles for transport of passengers to a body corporate for a period (time) is taxable in the hands of body corporate under RCM.

The expression 'public transport' which exempts transport of passengers by public transport other than predominantly for tourism purpose, in a vessel between places located in India, means that such transport should be open to public for point to point transport [e.g. such transport in Andaman and Nicobar islands].
Other miscellaneous changes
All taxable service of Department of Posts would be subject to forward charge. Hitherto certain taxable services of Department of post were taxed on reverse charge basis.

Goods transport agency (GTA) is being given option to pay GST at 5% or 12% under forward charge; option to be exercised at the beginning of Financial Year.

Service provided by Indian Tour operator to a foreign resident for a tour partially in India and partially outside India is to be subject to tax proportionate to the tour conducted in India for such foreign tourist subject to conditions that this concession does not exceed half of tour duration.
The rate changes recommended by the 47th GST Council were made effective from 18th July, 2022.
https://indianexpress.com/article/explained/august-2022-gst-collection-significance-8125104/