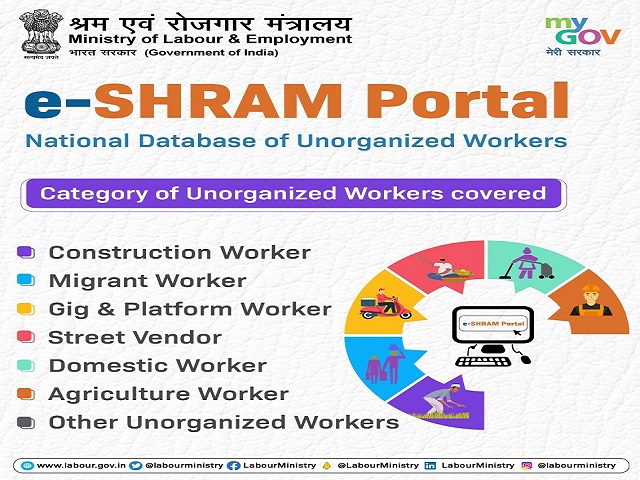 Disclaimer: Copyright infringement not intended.
Context:
Registrations on e-Shram portal, have reached 25 crore - Ministry for Labour and Employment.
About:
Ministry of Labour & Employment developed eSHRAM portal for creating a National Database of Unorganized Workers (NDUW) . The portal was launched in 2021.
Aim: Welfare of workers in the unorganized sector who are not members of the EPFO or ESIC.
Registered members will be eligible for a variety of benefits after signing up for the Shramik Yojana and receiving an e-Shram card.
Aside from that, workers will benefit from the government's adoption of social security programs.
Who is Unorganised Worker?
Any worker who is a home based-worker, self-employed worker or a wage worker in the unorganised sector including a worker in the organised sector who is not a member of ESIC or EPFO or not a Govt. employee is called an Unorganised Worker.
What is e-Shram Card?
An eShram Card will be issued to workers who successfully register for the e-Shram Portal. On that card, there will be a 12-digit UAN number.
Self-registered workers who use the e-Shram portal do not need to apply individually for any other government social welfare program.
What is a UAN number?
UAN is a 12-digit number uniquely assigned to each unorganized worker after registration on the portal.
It will be a permanent number once assigned and will remain unchanged for the worker's life.
Documents required for registration on the E-Shram portal:
Aadhaar number
Aadhar linked to an active mobile number
Bank account details
Age must be between 16-59 years
Objectives of e-SHRAM Portal:
Creation of a centralized database of all unorganized workers (UWs) including Construction Workers, Migrant Workers, Gig and Platform workers, Street Vendors, Domestic Workers, Agriculture Workers, etc., to be seeded with Aadhaar.
To improve the implementation efficiency of the social security services for the unorganized workers.
Sharing of information in respect of registered unorganised workers with various stakeholders such as Ministries/ Departments/ Boards/ Agencies/ Organisations of the Central & State Governments through APIs for delivery of various social security and welfare schemes being administered by them.
Portability of the social security and welfare benefits to the migrant and construction workers.
Providing a comprehensive database to Central and State Governments for tackling any National Crises like COVID-19 in future.
https://indianexpress.com/article/business/eshram-registrations-touch-25-crore-yadav-7805674/