Disclaimer: Copyright infringement not intended
Context: G20 delegates enjoyed day out with birdwatching, pottery at Sultanpur National Park.
Details:
About Sultanpur National Park:
Location:

Sultanpur National Park (formerly Sultanpur Bird Sanctuary) is located at Sultanpur village in Haryana.

It is a Ramsar site.

It is part of Central Asian Flyway.

For the first time, two wetlands of Haryana — Sultanpur National Park in Gurugram and Bhindawas Wildlife Sanctuary in Jhajjar — have been included in the Ramsar list.

Ramsar sites are wetlands of international importance that have been designated under the criteria of the Ramsar Convention on Wetlands, 1971.

Every year 50,000 birds of more than 100 species reach Sultanpur.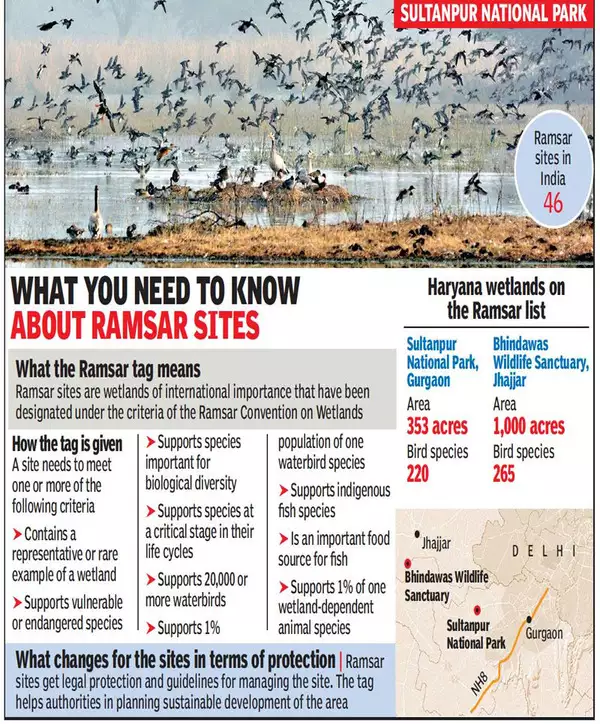 Background:
Sultanpur is named after Rajput Chauhan Sultan Singh who was the great-grandson of Harsh Dev Chauhan.

Sultanpur was the centre of salt production till the 19th century.

In 1969 at the Conference of the International Union for Conservation of Nature and Natural resources (IUCN) in New Delhi, the potential of the Sultanpur Jheel was highlighted.

On April 2, 1971, the Sultanpur Jheel with an area of 1.21 sq. Kilometres was provided with the Sanctuary status under section 8 of the Punjab Wildlife Preservation Act of 1959.

Further on 5th July 1991, the status of the park was upgraded to National Park under Section 35 of the Wildlife Protection Act, 1972.

Simultaneously the area was increased to 1.42 sq. kilometers. The National Park comprises of the land of Sadhrana, Chandu, Sultanpur and Saidpur villages.

Species of Birds at Sultanpur Bird Sanctuary:
Resident birds at the Sultanpur Bird Sanctuary include the common hoopoe, paddyfield pipit, purple sunbird, little cormorant, Indian Cormorant, common spoonbill, gray francolin, black francolin, Indian roller, white-throated kingfisher, painted stork, black-necked stork, white ibis, black-headed ibis, little egret, great egret, cattle egret, crested lark, red-vented bulbul, rose-ringed parakeet, Red-wattled Lapwing, shikra, Eurasian collared dove, red-collared dove, laughing dove, spotted owlet, rock pigeon, magpie robin, greater coucal, weaver bird, bank mynah, common mynah and green bee-eater.

Migratory Birds include Siberian crane, greater flamingo, ruff, black-winged stilt, common teal, common greenshank, northern pintail, yellow wagtail, white wagtail, northern shoveller, rosy pelican, spot-billed pelican, gadwall, wood sandpiper, spotted sandpiper, Eurasian wigeon, black-tailed godwit, spotted redshank, starling, bluethroat and long-billed pipit.

In summer about 11 species of migratory birds such as Asian Koel, black-crowned night heron, grey heron, Indian golden oriole, knob-billed duck, blue-cheeked bee-eater, blue-tailed bee-eater and cuckoos also come here.
PRACTICE QUESTION
Q) Which of the following statements is/are incorrect with reference to Sultanpur National Park?
a. It is part of Central Asian Flyway.
b. It is a Ramsar site.
I. Only a
II. Only b
III. Both a and b
IV. Neither a nor b
Answer: Option IV
https://www.hindustantimes.com/cities/others/g20-delegates-enjoy-day-out-with-birdwatching-pottery-at-sultanpur-national-park-101677954401783.html