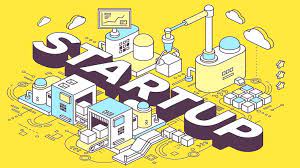 Disclaimer: Copyright infringement not intended.
Context
Prime Minister Narendra Modi launched the Madhya Pradesh Startup Policy during the Madhya Pradesh Startup Conclave. He also launched the Madhya Pradesh Startup portal.
Definition of Start-Up in India
An entity shall be considered as a startup if it satisfies all the following conditions:
If it is incorporated/registered as any of the followings:
Private Limited Company (as defined in Companies Act, 2013).
Partnership Firm (registered under Partnership Act, 1932).
Limited Liability Partnership (registered under Limited Liability Partnership Act, 2008).
One Person Company (as defined in Companies Act, 2013).
Provided that such entity is not formed by splitting up or reconstruction of a business already in existence.
It has not completed ten years since incorporation/registration as above.
Its turnover for any of the financial years has not exceeded INR 100 Crore.
It satisfies any of the following conditions:

It is working towards: Innovation/ Development/Improvement of new products/processes/services .
It is a scalable business model with a high potential of: Employment generation or Wealth creation.
A DPIIT recognized startup is eligible for exemption from the provisions of section 56(2)(viib) of the Income Tax Act.
Startups are exempted from income tax for 3 years provided they get a certification from Inter-Ministerial Board (IMB).
Controlling Body to Startups in India
Department For Promotion of Industry And Internal Trade (DPIIT) working under the Ministry of Commerce and Industry is the controlling body to startups in India.
DPIIT RECOGNITION TO STARTUPS :- Under the Startup India initiative, eligible companies can get recognised as Startups by DPIIT, in order to access a host of tax benefits, easier compliance, IPR fast-tracking & more.
Status of Start Ups in India: Economic Survey 2022 Report
India has over 61,400 startups recognised by the Department for Promotion of Industry and Internal Trade (DPIIT), with at least 14,000 recognized during fiscal 2022, according to the Economic Survey 2021-22.
Startups in India have grown remarkably over the last six years. The number of new recognized startups has increased to over 14,000 in 2021-22 from only 733 in 2016-17.
India has become the third-largest startup ecosystem in the world after the US and China.
A record 44 Indian startups achieved unicorn status in 2021, taking the overall tally of startup unicorns in India to 83, with most in the services sector.
In recent years, Delhi has replaced Bengaluru as the startup capital of India.
Maharashtra has the highest number of recognised startups.
Government Schemes to Support Startups in India
SAMRIDH( Startup Accelerators of MeitY for pRoduct Innovation, Development, and growth) Scheme to provide funding support to startups along with helping them bring skill sets together which will help them grow successful.
Startup India Seed Fund - The Startup India Seed Fund Scheme (SISFS) aims to provide financial assistance to startups for proof of concept, prototype development, product trials, market entry and commercialization.
Startup India Initiative gives tax benefits to startups under this scheme.
A Scheme for Promotion of Innovation, Rural Industries and Entrepreneurship (ASPIRE) initiative to offer proper knowledge to the entrepreneurs to start with their business and emerge as employers.
Pradhan Mantri Mudra Yojana (PMMY) provide startup loans of up to INR 10 lakhs to small enterprises, business, which are non-corporate, and non-farm small/micro-enterprises.
eBiz - the first electronic government-to-business(G2B) portal, to transform and develop a conducive business environment in the country.
"Support for International Patent Protection in E&IT (SIP-EIT)". This scheme provides financial support to MSMEs and Technology Startups for international patent filing.
Multiplier Grants Scheme (MGS): This scheme aims to encourage collaborative Research & Development (R&D) between industry and academics/institutions for the development of products and packages. Under the scheme, if the industry supports the R&D of products that can be commercialized at the institutional level, the government shall provide financial support which will be up to twice the amount provided by industry.
Venture Capital Assistance (VCA) scheme by Small Farmer's Agri-Business Consortium (SFAC) for the welfare of farmer-entrepreneurs. It intends to provide assistance in the form of term loans to farmers so that the latter can meet the capital requirements for their project's implementation.
NewGen IEDC initiative launched by the National Science and Technology Entrepreneurship Development Board under the Department of Science and Technology. The initiative aims to inculcate the spirit of innovation and entrepreneurship among the Indian youth through guidance, mentorship, and support.
Start-ups Intellectual Property Protection (SIPP) scheme was launched to encourage innovation and creativity in startups. Under this scheme, 80% rebate for patent filing fees and 50% for trademark filing is provided to startups.2
Final thoughts
The Indian start-up ecosystem is rapidly evolving driven by extremely young, diverse and inclusive entrepreneurial landscape. More than 800 start-ups are being set up in the country every year.
The exponential rise in the number of start-ups will also lead to more employment opportunities. Some of the main factors which have contributed towards this robust growth are:
A rapid growth in the software product industry in the last few years over the country (and across the globe)
Availability of capital, and
Acquisitions
The Indian startup ecosystem is today, as a result of this healthy growth and changing mindset, all set to take on the challenges in the Asian market, and become a major force to reckon with at the international level.
Scaling up, Design and Growth Hacking are the key priority for startups today.
On the innovation front, it is imperative to increase collaboration and partnerships for product companies with platform players, IT Services, Global MNCs and CIOs.