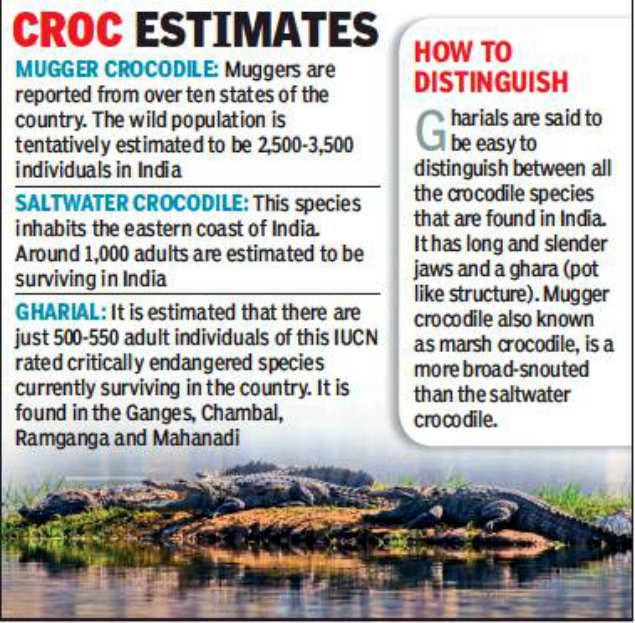 Copyright infringement is not intended
Context: A record number of saltwater crocodiles laid eggs during the nesting season this year in Bhitarkanika National Park situated in Odisha's Kendrapara district, with forest officials counting 122 nests.
Crocodiles in India:
There are three species of crocodilians—saltwater, Mugger and Gharial.
Mugger
The mugger crocodile, also called the Indian crocodile, or marsh crocodile, is found throughout the Indian subcontinent.

It is listed as vulnerable by IUCN.

The mugger is mainly a freshwater species, and found in lakes, rivers and marshes.
Gharial
The Gharial or fish eating crocodile is native to the Indian subcontinent.

It is listed as Critically Endangered by IUCN.

Small released populations are present and increasing in the rivers of the National Chambal Sanctuary, Katarniaghat Wildlife Sanctuary, Son River Sanctuary and the rainforest biome of Mahanadi in Satkosia Gorge Sanctuary, Orissa.

The Gharial is found in only some rivers of India which include:

Chambal

Girwa

Ganges

Yamuna

Kali

Kosi

Gandak
Saltwater Crocodile
It is the largest of all living reptiles.

It is listed as least concern by IUCN.

It is found throughout the east coast of India.

Odisha is the only State in India

having all three species gharial, mugger and saltwater crocodile.

The State forest department began conservation of these crocodile species in 1975 by establishing three rearing centres Tikarpada for gharials in Angul district, Ramatirtha for muggers in Mayurbhanj and Bhitarkanika for saltwater crocodiles in Kendrapara district.
https://www.downtoearth.org.in/news/wildlife-biodiversity/officials-count-122-saltwater-crocodile-nests-in-bhitarkanika-83796