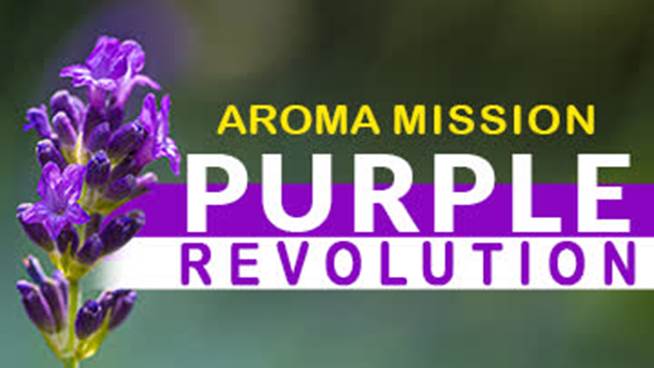 Copyright infringement not intended
In News
During a review meeting on the "Purple Revolution", the Union Government stated that the revolution has encouraged Agri-tech StartUps.

Shifting to lavender cultivation

is being called the purple revolution. It was initiated under Aroma Mission.

The aroma crop ensures high monetary returns, and therefore many farmers in hilly areas of Jammu and Kashmir are switching from traditional crops to aroma crops like lavender.

The aroma crops are both drought and pest-resistant.

The Government has also informed that they are planning to introduce the aroma crops in other hilly States with similar climatic conditions like Uttarakhand, Himachal Pradesh and the North-Eastern States.
Aroma Mission
Aromatic plants are used as natural medicines because of their medical properties

.

Aromatic Plants include lavender, damask rose, etc.

Aromatic plants are mainly used for oil extraction that is used in various industries: Cosmetics, Pesticides, flavouring and fragrance, Insect repellents and herbal beverages.

The Aroma Mission was started to promote the cultivation of aromatic crops.

The twin aim of the mission

is to increase production to meet domestic demand and also to become a global leader in production and export.

Technical support from CSIR-Central Institute of Medicinal and Aromatic Plants (CSIR-CIMAP), Lucknow.

Government to Promote cooperatives for marketing activities, promotion of cultivation and processing of high-value aromatic plants, development of agro technologies, setting up of processing facilities, promoting Skill development, infrastructure support, Credit facilities, etc.
The expected outcome of the Mission:
Bring about an additional area of 5500 ha under aromatic crop cultivation.

Promoting aromatic crops in rain-fed/degraded land across the country.

Enhance technical and infrastructural support

to farmers/growers all over the country.

Promote market buy-back mechanisms

to ensure profitable prices for the farmers/growers.

This mission also aims to promote Job Creation, Rural Development, and Women empowerment.

It will generate employment, open research opportunities and promote development for the region.

Lavender Cultivation has the potential to double farmers' income.

By increasing aromatic crop production, India could take a big step towards achieving the goal of 'Atmanirbhara Bharat'.
https://www.pib.gov.in/PressReleasePage.aspx?PRID=1836241