PREVENTION OF CRUELTY TO ANIMALS ACT 1960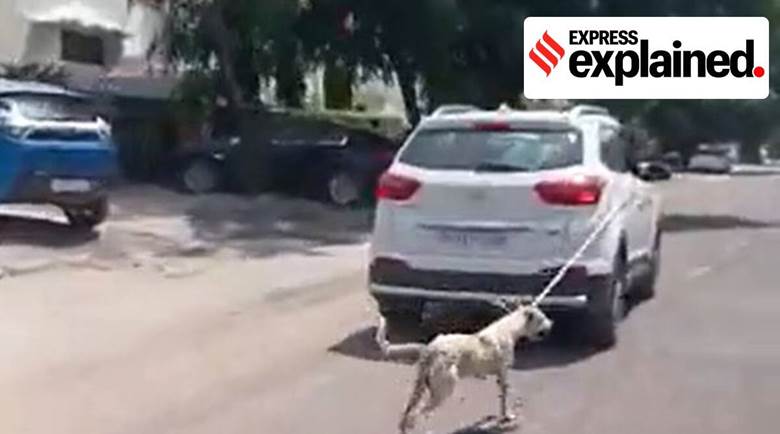 Copyright infringement not intended
Context:
A doctor in Rajasthan's Jodhpur allegedly tied a dog to his car and dragged it across the city.
Details:
If convicted under the PCA Act and found to be a first-time offender, he be punished with a fine of Rs 10 to Rs 50.

If it is found that this is not his first such crime within the past three years, the maximum punishment would be a fine between Rs 25 and Rs 100, a jail term of three months, or both.

Several cases of cruelty to animals have come to light recently, and while they provoke outrage on social media, the penalty for offenders has not been revised since 1960. The case in Jodhpur case once again highlighted the need for a revision in the penalty, and the debate around it.
What does The Prevention of Cruelty to Animals Act, 1960 say?
The Act defines cruelty to animals –– including acts of overburdening or overworking it, not providing the animal food, water and shelter, mutilating or killing an animal, etc. –– and lays down punishment as "in the case of a first offence, with fine which shall not be less than ten rupees but which may extend to fifty rupees, and in the case of a second or subsequent offence committed within three years of the previous offence, with fine which shall not be less than twenty-five rupees but which may extend to one hundred rupees or with imprisonment for a term which may extend to three months, or with both."

The Act has been criticised for being 'speciesist' (put very simply, the assumption that humans are a superior species deserving more rights), for its quantum of punishment being negligible, for not defining 'cruelty' adequately, and for slapping a flat punishment without any gradation of crimes.
Who has called for amendments and on what grounds?
Along with animal welfare organisations, several political leaders have called for the law to be amended.

In 2014, the Supreme Court, in 'Animal Welfare Board of India vs A Nagaraja & Others', had said that "Parliament is expected to make proper amendment of the PCA Act to provide an effective deterrent" and that "for violation of Section 11, adequate penalties and punishments should be imposed".

In 2021, Kendrapara MP Anubhav Mohanty also proposed a Bill,

expanding the definition of cruelty

to include events where "animals are subjected to cruelty either during the sport or activity itself", and anyone who "skins, roasts or kills for superstition or extracts parts of any live animals through a procedure which causes pain and suffering, for the purpose of getting skins, oils or other animal products; dynamites streams, rivers or other water bodies for the purpose of fishing or harming aquatic animals; or electrifies a fence, without the authority of law, whereby pain and suffering is caused to any animals."

In April 2021,

the Centre proposed changes

where the penalty can go up to "Rs 75,000 per animal or three times the cost of the animal as determined by the jurisdictional veterinarian, whichever is more, and imprisonment of three years which may extend to five years or both."

In 2021, The Supreme Court (SC) asked the Centre to either withdraw or amend rules notified in 2017 for confiscating animals of traders and transporters during the pendency of trial in cases under the Prevention of Cruelty to Animals Act, 1960.

In October 2021, the government said it would bring in a Bill to amend the PCA Act.
So who is against the amendments proposed in the PCA Act?
Some experts have pointed out that simply increasing the quantum of punishment may not be enough to stop cruelty against animals, and some already marginalised communities like 'madaris' (who perform with animals) and 'saperas' (snake charmers) may be disproportionately affected.

Others have argued that focusing on the individual act of 'cruelty' –– such as farmers putting up electric fences around their fields –– is an incomplete approach, and steps are needed to mitigate the larger issues of vanishing animal habitats and climate change exacerbating man-animal conflict.
About the Prevention of Cruelty to Animals Act, 1960:
The legislative intent of the Act is to "prevent the infliction of unnecessary pain or suffering on animals".

The Animal Welfare Board of India (AWBI) was established in 1962 under Section 4 of the Act.

This Act provides for punishment for causing unnecessary cruelty and suffering to animals. The Act defines animals and different forms of animals.

Discusses different forms of cruelty, exceptions, and killing of a suffering animal in case any cruelty has been committed against it, so as to relieve it from further suffering.

Provides the guidelines relating to experimentation on animals for scientific purposes.

The Act enshrines the provisions relating to the exhibition of the performing animals, and offences committed against the performing animals.

This Act provides for the limitation period of 3 months beyond which no prosecution shall lie for any offences under this Act.
https://indianexpress.com/article/explained/law-against-animal-cruelty-and-the-ridiculously-low-fines-for-offenders-8164339/