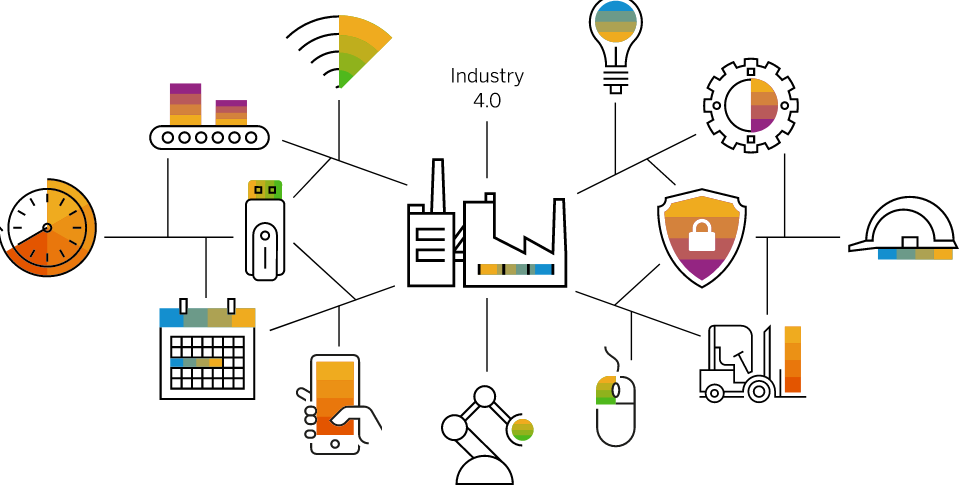 Disclaimer: Copyright infringement not intended.
Context
Union Minister of State for Commerce & Industry, has called upon the Small and Medium Enterprises (SMEs) to adopt technology towards raising productivity and promoting sustainability.
She urged them to take the 'Industry 4.0' to Tier-2 and Tier-3 cities.
What is Industry 4.0?
The term 'Industry 4.0' was coined by the German government in 2011.
Industry 4.0 refers to a new phase in the Industrial Revolution that focuses heavily on interconnectivity, automation, machine learning, and real-time data.
Industry 4.0, which encompasses IIoT and smart manufacturing, marries physical production and operations with smart digital technology, machine learning, and big data .
The aim is to create a more holistic and better connected ecosystem for companies that focus on manufacturing and supply chain management.
While every company and organization operating today is different, they all face a common challenge—the need for connectedness and access to real-time insights across processes, partners, products, and people.
That's where Industry 4.0 comes into play.
Evolution of Industry from 1.0 to 4.0
The First Industrial Revolution
The first industrial revolution happened between the late 1700s and early 1800s.
During this period of time, manufacturing evolved from focusing on manual labor performed by people.
Labor was aided by work animals to a more optimized form of labor performed by people through the use of water and steam-powered engines and other types of machine tools.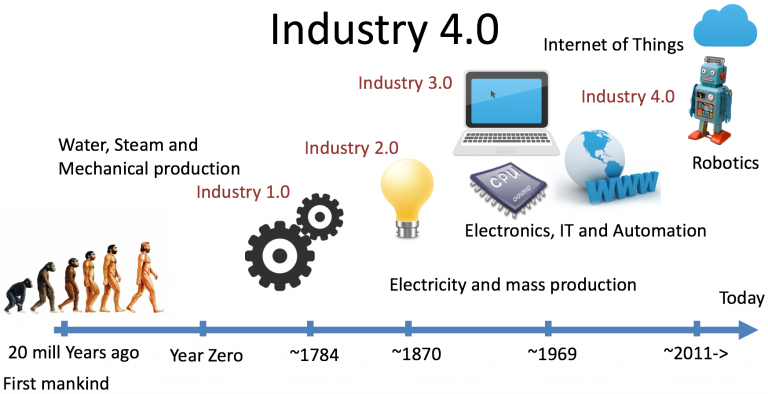 The Second Industrial Revolution
In the early part of the 20th century, the world entered a second industrial revolution with the introduction of steel and use of electricity in factories.
The introduction of electricity enabled manufacturers to increase efficiency and helped make factory machinery more mobile.
It was during this phase that mass production concepts like the assembly line were introduced as a way to boost productivity.
The Third Industrial Revolution
Starting in the late 1950s, a third industrial revolution slowly began to emerge, as manufacturers began incorporating more electronic—and eventually computer—technology into their factories.
During this period, manufacturers began experiencing a shift that put less emphasis on analog and mechanical technology and more on digital technology and automation software.
The Fourth Industrial Revolution, or Industry 4.0
In the past few decades, a fourth industrial revolution has emerged, known as Industry 4.0.
Industry 4.0 takes the emphasis on digital technology from recent decades to a whole new level with the help of interconnectivity through the Internet of Things (IoT), access to real-time data, and the introduction of cyber-physical systems.
Industry 4.0 offers a more comprehensive, interlinked, and holistic approach to manufacturing.
It connects physical with digital, and allows for better collaboration and access across departments, partners, vendors, product, and people.
Industry 4.0 empowers business owners to better control and understand every aspect of their operation, and allows them to leverage instant data to boost productivity, improve processes, and drive growth.
Industry 4.0 Technologies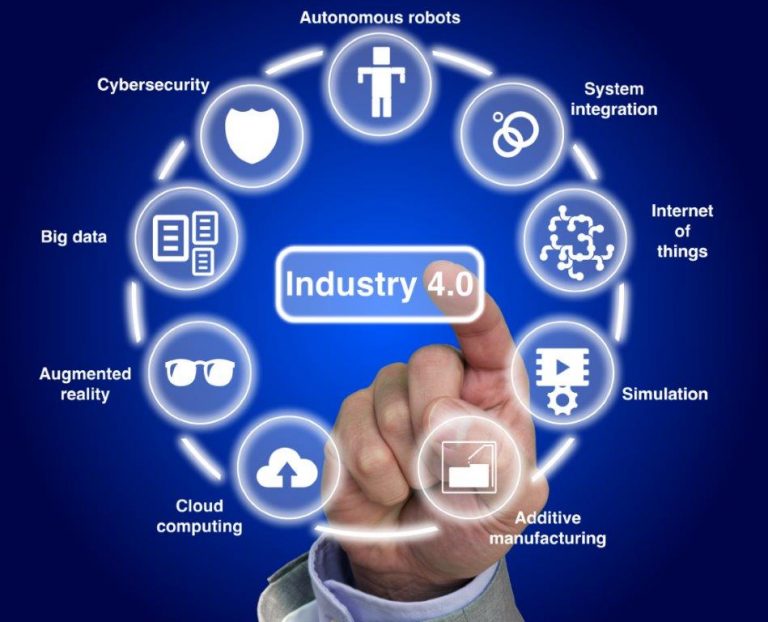 Big Data & Analytics
Big Data is massive amounts of data. Mountains of stats and numbers so huge that humans and teams could spend years sifting through it manually and still not derive a lot of real value.
Using today's advanced computing capabilities, those huge streams of pure, unadulterated data can be transformed into accurate, actionable insights that can drive decision-making for manufacturing leaders.
Data sources can include everything from IoT sensors on factory floors and lighting systems to sales data or supply chain-related factors like the weather and political climate.
Autonomous Robots
Autonomous robots are self-sufficient machines that can manage their tasks intelligently without the need for a human operator.
They quickly and accurately perform repetitive tasks, even if they are complex, while requiring little to no downtime except for maintenance.
Example: Autonomous robots are used in manufacturing to hold and move heavy items on a production line. This helps to prevent human injury for welding, assembly, and palletization.
Simulation / Digital Twins
It is creating a simulation of a real-world object, concept, or area within a digital space.
It can include a 3D representation of all of the physical assets, operational systems and structures within an entire facility. The use cases for digital twin systems are hugely broad.
Example:
Using industrial IoT sensors, a manufacturing company can "see" their entire shop floor in virtual space. They can view the location of every asset, its uptime, and maintenance needs (even those that have not yet arisen). They can even 'look' inside of machines which would be dangerous or costly to open in real life.
Additive Manufacturing
Additive manufacturing means creating items layer by layer, adding new material rather than subtracting it.
This is compared to the old way of manufacturing (subtractive manufacturing), which covers tasks like cutting and carving wood, etc.
Example of Additive Manufacturing in the Manufacturing Industry
3D printing is a form of additive manufacturing. Mainstream adopters include Adidas which 3D prints shoes, the designs of which were created based on big data.
Artificial Intelligence and Machine Learning
Artificial intelligence and machine learning refer to machines which utilize algorithms to process data and reach conclusions that were not programmed into them by human developers.
These machines learn from data in order to generate increasingly accurate predictions.
Example of Artificial Intelligence
AI works well to forecast and predict market changes for manufacturers.
Augmented Reality
Augmented reality includes extra sensory input, usually visual, overlaid onto the actual world. Common examples include Google Glass and the game Pokémon Go.
Example of Augmented Reality:
New employees can learn how to use machinery that could be dangerous in a safe, virtualized environment before entering the factory floor.
Augmented reality also allows technicians to see insidedangerous and complicated machinery before they open it up, so they know exactly what they're looking for and what to do before they start.
The Cloud
The Cloud is a nebulous term that refers to a broad number of connected systems on the internet.
The "Cloud" can be used for software and data that is stored somewhere on the internet (e.g. someone else's server) instead of on a local machine.
IoT
The Internet of Things (IoT) is a network of physical objects that are fitted with sensors, software and other technologies.
Connected to the Internet, these 'things' are able to exchange real time data with other connected devices and systems over networks.
Example:
If each machine on a production floor has an IoT device connected to it that monitors production efficiency, usage, uptime, etc., then this data can be used in conjunction with a machine learning algorithm.
This determines which piece of machinery represents the highest priority bottleneck as well as how to fix it.
Horizontal and Vertical System Integration
Horizontal and vertical integration has been called the "backbone of Industry 4.0."
Machines and companies are constantly communicating and sharing data, helping to achieve deeper analysis opportunities, greater transparency, and increased efficiency for all.
Example
If a company has within it multiple production facilities, horizontal integration can ensure seamless sharing about data issues such as inventory levels and delays.
Vertical integration in manufacturing can include breaking down interdepartmental silos so the entire organization works as a unit—from R&D to procurement, and manufacturing to sales and beyond.
Everyone shares data, everyone benefits and everyone operates dynamically.
Industry 4: Effects
On Productivity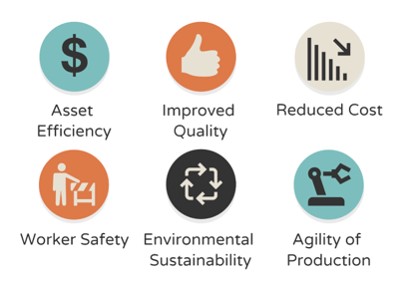 On Work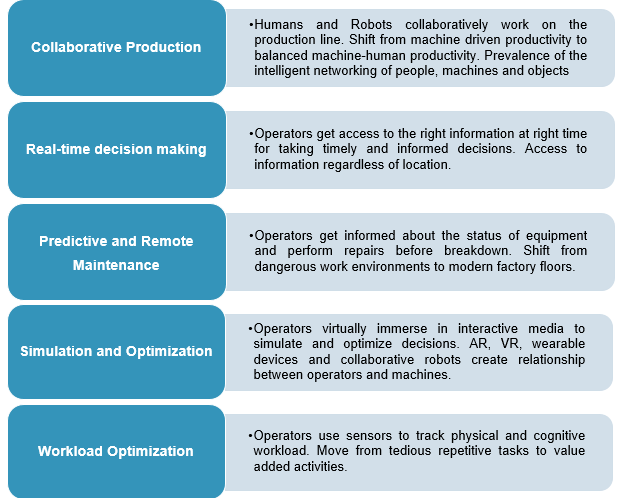 On Employment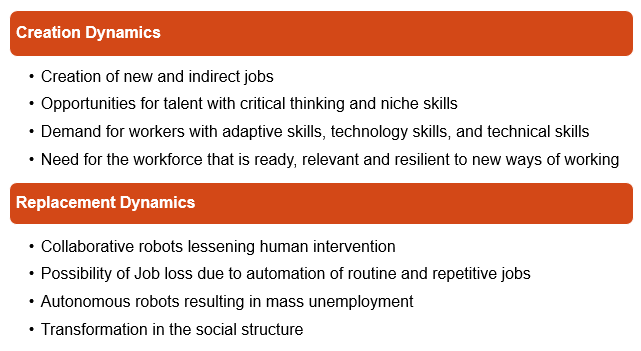 Primary focus of Undustry 4.0 is large scale machine to machine communication (M2M) and Internet of Things (IoT) deployments to provide increased automation, improved self-monitoring, as well as smart machines that can analyse and diagnose issues without the need for human intervention.
Government of India Initiative on
Industry 4.0
Government of India Initiative on
Industry 4.0
Industry 4.0 enables minimising wasteful processes and actions and optimizing use of energy and other inputs. This is achieved based on capturing data, its analysis and using the analysis to improve functioning of machines, factories and systems.
Why Should India Adopt Industry 4.0?
Advanced data analysis will help its manufacturing capacity and increase the quality of the product. Business Analytics will work on the prediction and prevention of production defects.
The implementation of automation will reduce manufacturing cycles, decrease cycle time, and will reduce wasteful use of capital.
Digitization of numerous manufacturing processes will lead to cost reduction with an improved experience for consumers.
IoT and man-machine connectivity will help supply chains to decrease lead times.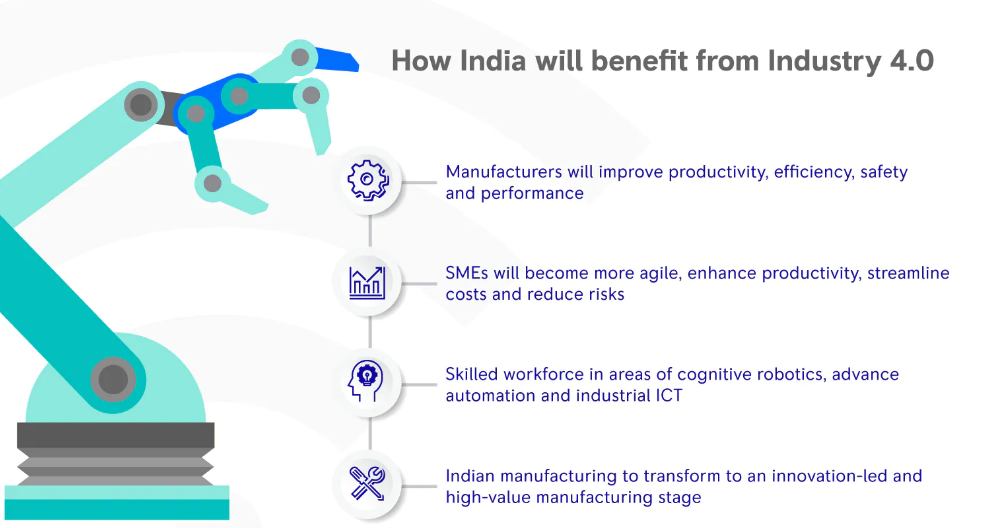 How Is India Preparing for Industry 4.0?
The Ministry of Heavy Industry and Public Enterprises is supporting the development of 4 centres across the nation to support small and medium industries to adopt Industry 4.0.
The first Smart Factory in India, which is the Centre for Product Design and Manufacturing (CPDM) has developed at the IISc, Bengaluru. This smart factory is supported by data transfer in production and the Internet of Things (IoT).
The Department of Heavy Industries (DHI), Government of India, has successfully initiated the Samarth Udyog Bharat 4.0 initiative to pioneer and adopt the best practices of Industry 4.0 for the capital goods industry.
Samarth Udyog Bharat 4.0 (Smart Advanced Manufacturing and Rapid Transformation Hubs) is the India's initiative to push for Industry 4.0 implementation with an aim to propagate technological solutions to Indian manufacturing units by 2025 through steps like awareness programme, training, demo centers etc.
India's National Manufacturing Policy (NMP) has been promulgated which aims at enhancing the share of manufacturing in GDP to 25% and Industry 4.0 is the only way ahead to achieve this task.
Government of India has established:
MSME Technology Development Centres
Software Technology Parks of India
Centre of Excellence for 4th Industrial Revolution by Work Economic Forum
NASSCOM CoE
National Productivity Council, and
Advanced Manufacturing automation by Ministry of Railways (Integral Coach Factory).
These centres has been playing a pivotal role to train the young minds on the disruptive technologies.
Sectors in India That Have Adopted Industry 4.0
FMCG: A Cobot is a type of robot with safe human-robot interaction with proximity with workers. The FMCG segment in India has recently started using Cobots. Industries with lesser infrastructure and limited human resources are using Cobots to decrease execution time with optimal use of energy.
Telecommunications Industries: Vodafone Business Services provides smart Internet of Things solutions for communications in a variety of areas, such as automobiles, smart cities, health care, etc.
Healthcare Sector: In the healthcare sector, diabetacare Smart Glucometers is the best example of how patients can monitor blood sugar, blood pressure, and other parameters to manage their diabetes with the help of the Internet of Things. Sectors in India that have adopted Industry 4.0.
With accelerated investment in foundational tech like cloud and IoT, the Indian manufacturing sector has started pivoting to digitalization, with $5.5 – $6.5 billion spent on Industry 4.0 in FY21.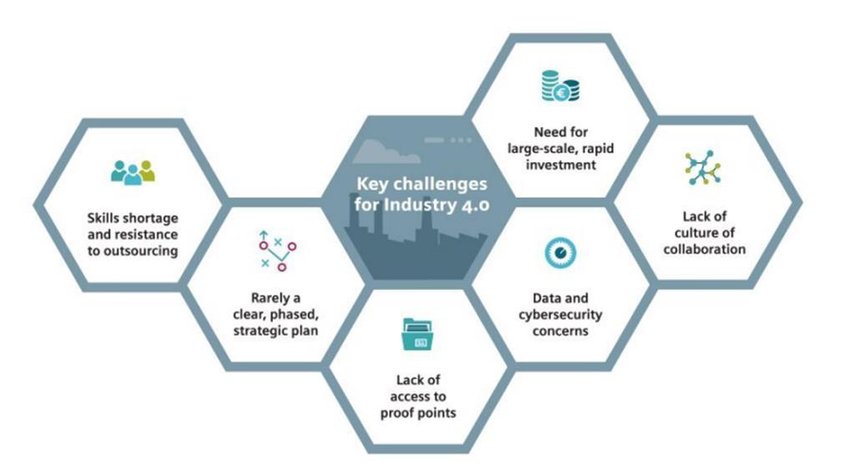 Way Ahead
Industry 4.0 has started to make an influence in manufacturing and other various sectors in India. Data-driven decision-making is getting implemented in numerous fields.
Though certain steps have already been taken, a lot of work needs to be done.
Instead of just spending more capital, the emphasis must be on increasing the current asset base.
The implementation of smart manufacturing, data analytics, and the Internet of Things will give a positive direction to Indian industries.
In addition to obstacles to policy adoption, one of the main hurdles is the lack of skilled manpower or the panic of losing jobs through automation and relevant technologies.
A practical plan to resolve this is to increase the skills of manpower in these areas and create new types of jobs.
To secure India's active involvement in the fourth industrial revolution, it will be necessary to restructure some vital domestic industries and strengthen institutional capability.
Investing in R&D is a critical aspect in allowing businesses to stay ahead of the curve in an ever-changing world.