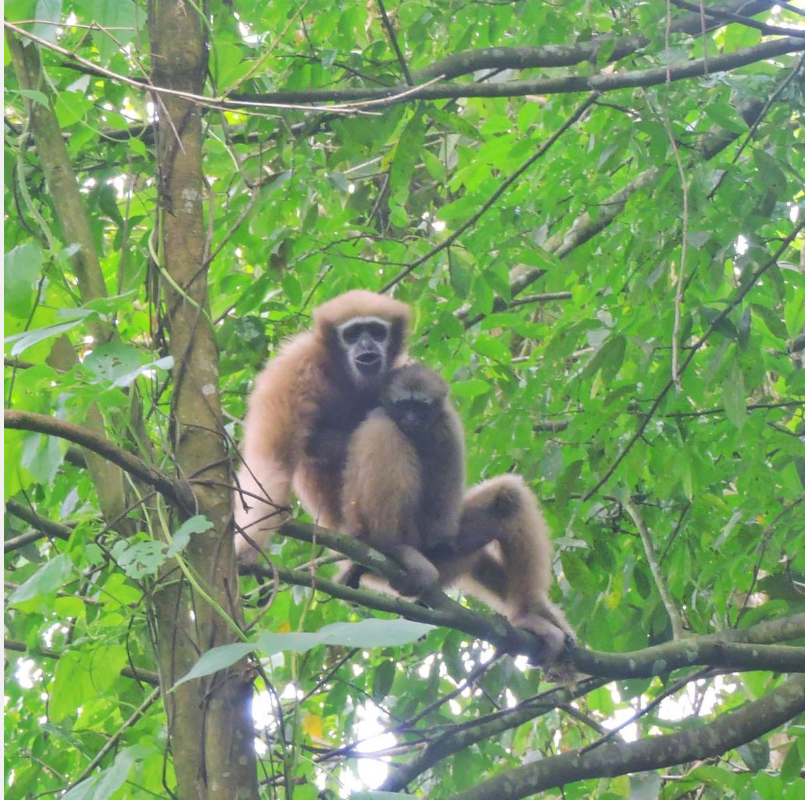 Disclaimer: Copyright infringement not intended.
Context
In an event organized in China recently, the cause of conservation of the Hoolock gibbon was raised and discussed.

The meeting was organized from 7th to 9th of July at Haikou, Hainan province of China, by Global Gibbon Network (GGN).

In earlier studies, scientists

believed that there were two ape species in India

Western

hoolock gibbon and

Eastern

hoolock gibbon

However now it is considered India's only ape in a study by Hyderabad-based Centre for Cellular and Molecular Biology.
Hoolock Gibbon
This species belong to the family of Hylobatidae.

This species of ape is

one of the 20 species of gibbons

found on this planet.

These are

characterised by their vigorous vocal displays

.

The total population of this species is

estimated to be around 12000

.

It is the smallest and the

fastest species

of apes.

They display a high level of

intelligence and strong family

bonds

.
Distribution and Habitat
Tropical, evergreen and semi-evergreen forests and subtropical moist deciduous

forests

it is native to Tropical and Subtropical forests in the south eastern part of Asia

Found in Bangladesh, Northeast India, some parts of Myanmar and Southwest China.

India – unique to Northeast reasons between the south of the Brahmaputra River and east of the Dibang River.
Threats
Cutting down of trees

for the purpose of various infrastructure projects.

Other

habitat destruction

of various forms.

Hunted for meat

.

Human encroachments

.
Conservation Efforts to be taken
More

dedicated Gibbon Wildlife Sanctuary

on the lines of the Government of Assam

In 1997 upgraded the status of the Hoollongapar Reserve Forest in the Jorhat District of Assam to a Gibbon Wildlife Sanctuary.

Legal protection

to be provided.

Only key and strategic infrastructure

works

to be taken

in their habit.

Limit human encroachment

and

poaching
Conservation Status
After 1990 there is a

significant decline

in the gibbon population.

A

high risk of extinction

hovers over all 20 species of gibbons.

Only a

small population of few thousands is surviving

in tropical rainforests.

IUCN red

list maintains the status of the previous categorization

Eastern hoolock gibbon –

Vulnerable

Western hoolock gibbon –

Endangered

Both western and eastern hoolock gibbons are

included in Schedule 1 of the Indian (Wildlife) Protection Act 1972.
Global Gibbon Network (GGN)
GGN

was founded in Haikou, south China's Hainan Province in 2022.
It has aim to safeguard and conserve

a key element of Asia's unique natural heritage — the

singing gibbon and their

habitats

.

It has a vision to promote participatory conservation policies,

legislations, and actions for the protection of gibbons.
PRACTICE QUESTION
Consider the following statements about Hoolock gibbon:
1. The species is included in the schedule 1 of the Indian (Wildlife) Protection Act 1972.
2. Out of the 20 species of gibbons found on earth, It is the only ape species found in India.
Which of the statements given above is/are correct?
A. 1 only
B. 2 only
C. Both 1 and 2
D. Neither 1 nor 2
Answer: (C)
https://epaper.thehindu.com/ccidist-ws/th/th_delhi/issues/43910/OPS/G11BG9OG0.1.png?cropFromPage=true