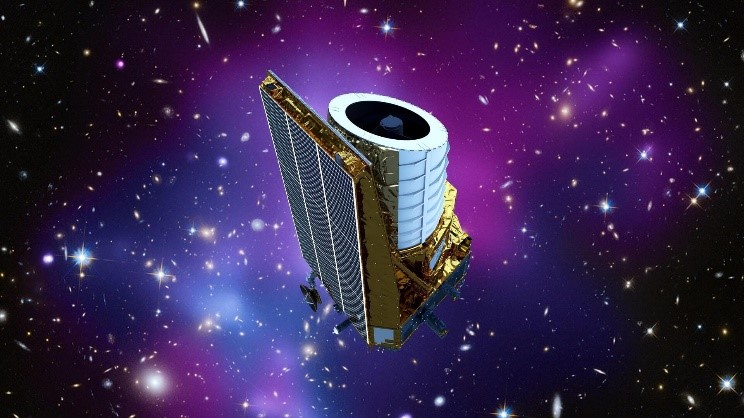 Disclaimer: Copyright infringement not intended.
Context
The European Space Agency plans to survey billions of galaxies using the Euclid Space Telescope which is due to launch on July 1 from Cape Canaveral in Florida.
Euclid Space Telescope
About
Euclid is a visible to near-infrared space telescope developed by the European Space Agency (ESA) and the Euclid Consortium.
Objective
The objective of the Euclid mission is to better understand dark energy and dark matter by accurately measuring the acceleration of the universe.
Working
Euclid will probe the history of the expansion of the universe and the formation of cosmic structures by measuring the redshift of galaxies out to a value of 2, which is equivalent to seeing back 10 billion years into the past.
To achieve this, the Telescope will measure the shapes of galaxies at varying distances from Earth and investigate the relationship between distance and redshift.
The link between galactic shapes and their corresponding redshift will help to show how dark energy contributes to the increased acceleration of the universe. The methods employed exploit the phenomenon of gravitational lensing, measurement of baryon acoustic oscillations, and measurement of galactic distances by spectroscopy.
Dark energy is generally accepted as contributing to the increased acceleration of the expanding universe, so understanding this relationship will help to refine how physicists and astrophysicists understand it.
MUST-READ ARTICLES:
DARK ENERGY AND DARK MATTER:
https://www.iasgyan.in/blogs/dark-matter
GRAVITATIONAL LENSING:
https://www.iasgyan.in/daily-current-affairs/gravitational-lensing
PRACTICE QUESTION
Q. Consider the following statements:
1.Dark matter is a mysterious substance that composes about 70% of the makeup of the universe.
2.Dark matter exhibits measurable gravitational effects on large structures in the universe such as galaxies and galaxy clusters.
3.Dark matter does not interact with the electromagnetic force.
4.Roughly 25% of the Universe is made of dark energy.
Which of the above statements is/are correct?
(a) 1 and 3 only
(b) 1, 3, and 4 only
(c) 2 and 3 only
(d) None of the above.
Correct Answer: (c) 2 and 3 only
https://www.thehindu.com/sci-tech/science/esas-newest-telescope-aims-to-unravel-the-mysteries-of-dark-energy/article67018520.ece