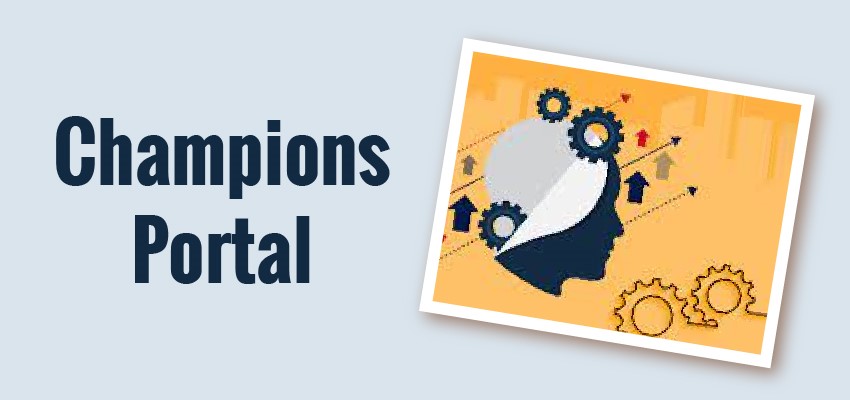 Copyright infringement not intended
Context: The Ministry of Micro, Small and Medium Enterprises (MSME) has recently launched a new portal called CHAMPIONS 2.0, which aims to provide a comprehensive platform for the MSME sector to address their challenges and opportunities.
Details
CHAMPIONS is an acronym for Creation and Harmonious Application of Modern Processes for Increasing the Output and National Strength. It is a technology-driven Control Room-Cum-Management Information System that leverages modern information and communication technology (ICT) tools to assist MSMEs in various aspects.
The CHAMPIONS 2.0 portal is a significant initiative to support the MSME sector, which contributes to about 30% of India's GDP, 48% of exports, and employs over 110 million people. The portal aims to enhance the competitiveness, productivity, and resilience of MSMEs in the post-pandemic scenario and help them achieve the vision of Atmanirbhar Bharat.
How to access the portal?
The CHAMPIONS portal can be accessed through its website https://champions.gov.in/.

The MSMEs can register themselves on the portal using their Udyog Aadhaar Number (UAN) or GSTIN.

MSMEs can also call on the toll-free number 1800-121-5566 or email [email protected] for any queries or assistance.
Features of the Portal
It uses Artificial Intelligence, Data Analytics and Machine Learning to provide real-time data and insights into the MSME sector.
It is fully integrated with the Government of India's main grievances portal Centralized Public Grievances Redress and Monitoring System (CPGRAMS) and the Ministry's other web-based mechanisms to ensure timely and effective resolution of issues faced by the MSMEs.
It has a network of control rooms in the Hub & Spoke Model, where the Hub is located in New Delhi in the Secretary MSME's office, and the spokes are in the States in various offices and institutions of the Ministry.
It has a dedicated team of officers and experts who monitor, mentor and guide the MSMEs through various channels such as telephone, internet, video conference, etc.
Objectives
The main aim is to help the Indian MSMEs march into the big league as National and Global CHAMPIONS by providing them with holistic support and guidance. The portal has three basic objectives:
Support
To help the MSMEs in this difficult situation in terms of finance, raw materials, labour, permissions, etc.

It provides a single window for the MSMEs to register their grievances and get them resolved by the concerned authorities.

It provides information on various schemes and initiatives of the Government for the MSME sector.
Explore
To help them capture new opportunities like manufacturing of medical accessories and products like Personal Protection Equipments (PPEs), masks, etc.

It identifies the potential MSMEs who can diversify their products and services to meet the emerging demands of the market.

It facilitates linkages between the MSMEs and the buyers, suppliers, investors, etc.
Promote
To identify the sparks, i.e., the bright MSMEs who can not only withstand but can also become national and international champions.

It showcases the success stories and best practices of the MSMEs who have excelled in their fields. It provides recognition and rewards to outstanding MSMEs.
Significance
It provides a single window for MSMEs to register, apply, track, and avail of various benefits under various schemes such as PMEGP, CLCS-TUS, SFURTI, SAMPARK, etc.

It enables MSMEs to connect with mentors, experts, investors, buyers, and sellers through a dedicated network of over 10,000 CHAMPIONS (Create Harmonious Application of Modern Processes for Increasing the Output and National Strength) volunteers across the country.

It facilitates MSMEs to showcase their products and services

participate in exhibitions and trade fairs, access market intelligence and business leads, and joins global value chains through the CHAMPIONS Export Promotion Council (EPC).

It empowers MSMEs to resolve their grievances, complaints, and queries related to various issues such as credit, taxation, labour, raw materials, etc. through a robust mechanism of grievance redressal and feedback.

It educates MSMEs about the latest trends, technologies, best practices, and innovations in their respective sectors through webinars, workshops, online courses, and newsletters.
Challenges
Lack of awareness and digital literacy among MSMEs about the portal and its benefits.

Inadequate infrastructure and connectivity issues in remote and rural areas.

Complexity and multiplicity of procedures and documentation

required for availing various schemes and services.

Coordination gaps among various stakeholders involved in the implementation and monitoring of the portal.

Quality and reliability of the data and information provided on the portal
To overcome these challenges, the following steps can be taken:
Conduct extensive outreach and awareness campaigns through various media channels and platforms to inform MSMEs about the portal and its features.

Providing training and handholding support to MSMEs

to register and use the portal effectively.

Simplifying and streamlining the processes and requirements for availing various schemes and services through the portal.

Establishing a strong coordination mechanism among the ministry, state governments, banks, industry associations, CHAMPIONS volunteers, EPC members, and other stakeholders to ensure timely delivery and feedback.

Ensuring regular updation and verification of the data and information on the portal
Conclusion
The CHAMPIONS 2.0 portal is a commendable initiative by the government to empower MSMEs with digital tools and platforms to grow and prosper. However, it requires constant improvement and innovation to meet the evolving needs and expectations of MSMEs. The portal can become a game-changer for the MSME sector if it is used effectively by all stakeholders with a collaborative spirit.
Must-Read Articles:
MSME Day: https://www.iasgyan.in/daily-current-affairs/msme-day
MSME SECTOR: https://www.iasgyan.in/daily-current-affairs/msme-sector-14
PRACTICE QUESTION
Q. Which ministry launched the CHAMPIONS Portal?
A. Ministry of Micro, Small and Medium Enterprises
B. Ministry of Skill Development and Entrepreneurship
C Ministry of Commerce and Industry
D Ministry of Science and Technology
Answer: A