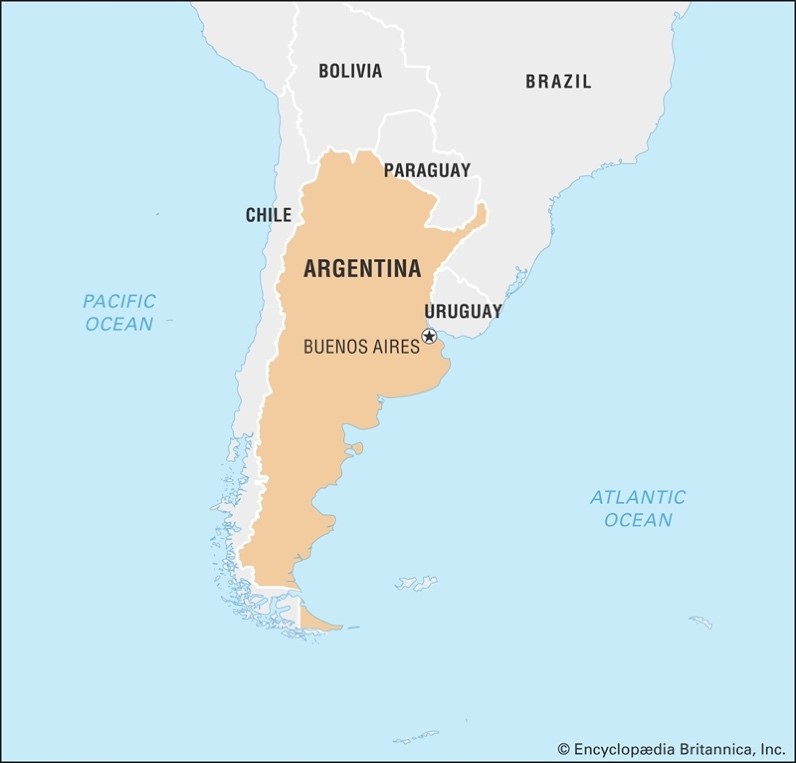 Disclaimer: Copyright infringement not intended.
Context
Argentina is heading to the polls on October 22 for a presidential election dominated by another profound economic crisis.

In September, annual inflation in Latin America's third-largest economy hit 124%, its highest since 1991.
Details
Geography
Argentina is a South American country located in the southern part of the continent.
It is the eighth-largest country in the world by land area, known for its diverse landscapes.
Argentina shares borders with Chile to the west, Bolivia to the north, Paraguay to the northeast, Brazil to the east, Uruguay to the northeast, and the South Atlantic Ocean to the east.
Capital and Major Cities
Buenos Aires is the capital and largest city of Argentina, known for its rich cultural heritage, architecture, and vibrant arts scene.
Other major cities include Cordoba, Rosario, Mendoza, and La Plata.
Population
Argentina is the second most populous country in South America, with a diverse population of over 45 million people.
The majority of the population is of European descent, primarily of Spanish and Italian origins, but there are also significant indigenous and mestizo populations.
Language
Spanish is the official language of Argentina.
Government
Argentina is a federal republic with a presidential system of government.
It has a multi-party political system and is known for its political stability despite periods of economic challenges.
Economy
Argentina has one of the largest economies in South America, known for its natural resources, agriculture, and manufacturing.
The country is a major producer and exporter of agricultural products, including soybeans, wheat, and beef.
Buenos Aires Stock Exchange is one of the most prominent financial markets in the region.
Argentina has experienced economic challenges, including high inflation and sovereign debt crises.
Culture
Argentina has a rich cultural heritage influenced by European, indigenous, and African traditions.
It is famous for its contributions to literature, with writers like Jorge Luis Borges and Julio Cortázar gaining international acclaim.
Tango music and dance originated in Argentina and are an integral part of the country's cultural identity.
Football (soccer) is a national obsession, with Argentina producing world-renowned players such as Diego Maradona and Lionel Messi.
Argentina offers a diverse range of tourist attractions, including the Andes Mountains, Patagonia's glaciers, the Iguazu Falls, and the Pampas grasslands.
The wine regions of Mendoza and Cafayate are known for producing high-quality wines.
Buenos Aires is a cultural hub with theaters, museums, and historic neighborhoods like San Telmo and La Boca.
Conclusion
Argentina is a diverse and culturally rich country known for its stunning landscapes, vibrant cities, and unique cultural contributions. While it has faced economic and political challenges, it remains an important player in South America and the global community.
PRACTICE QUESTION
Q. What major diplomatic dispute has Argentina had with the United Kingdom involving a group of islands in the South Atlantic Ocean?
A) Bermuda Triangle dispute
B) Caribbean Islands dispute
C) Falkland Islands dispute
D) Azores Islands dispute
Answer: C)