Disclaimer: Copyright infringement not intended.
Context
Air India, now a Tata Sons-owned airline, announced having signed letters of intent with aerospace majors, Airbus and Boeing, to order a mix of new single-aisle and widebody aircraft.
Air India Order
Tata Group-owned Air India (AI) placed two mega orders, adding up to a staggering 470 aircraft — for 250 planes with Europe's Airbus consortium, and 220 with Boeing Co. of the United States. This is the largest order placed by an airline in one go anywhere in the world.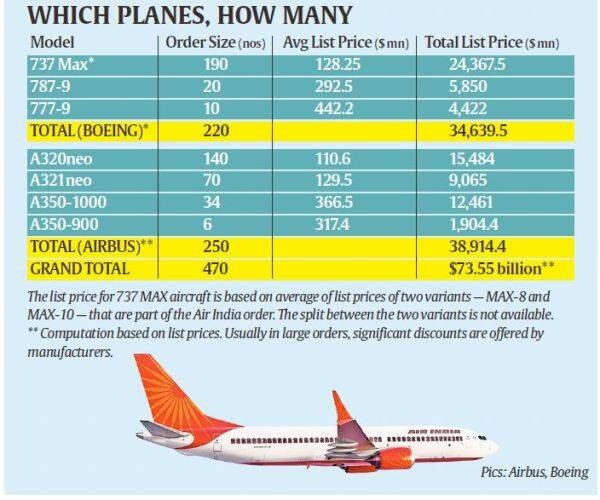 Significance
Air India's record deal for 470 planes from Airbus and Boeing has happened at a time when the carrier plans to become "a world-class proposition.

These orders - beating the American Airlines' 460-plane deal in 2011 - would modernise Air India's fleet and help it to "dramatically" expand its network.

The troubled national carrier, which was acquired by Tatas about two years ago. For years, Air India has been plagued by consumer grievances over ill-maintained cabins, dysfunctional entertainment systems and broken charging points.

It has now retired most of its older aircraft and launched a five-year plan to modernise its ageing fleet. The first new plane will go into service at the end of this year.

The sheer size of this new order indicates Air India's desire to reclaim its pole position in India's crowded aviation market and acquire a strategic edge to service the world.
Closing Thoughts
However, to make a dent globally, Air India will need to start focusing "beyond just India originating passengers and generate more connecting traffic. For this, it will need to both optimise its route network and India will need to improve infrastructure.

India is building at least 80 new airports

over the next five years as part of its focus on state-led capital expenditure on infrastructure.

India is expected to be a major driver of growth in global aviation with domestic carriers expected to place orders for 1,500-1,700 aircraft over the next two years according to Centre for Asia Pacific Aviation India (CAPA India) estimates.

https://www.thehindu.com/business/markets/explained-how-is-the-stock-market-regulated-in-india/article66526291.ece