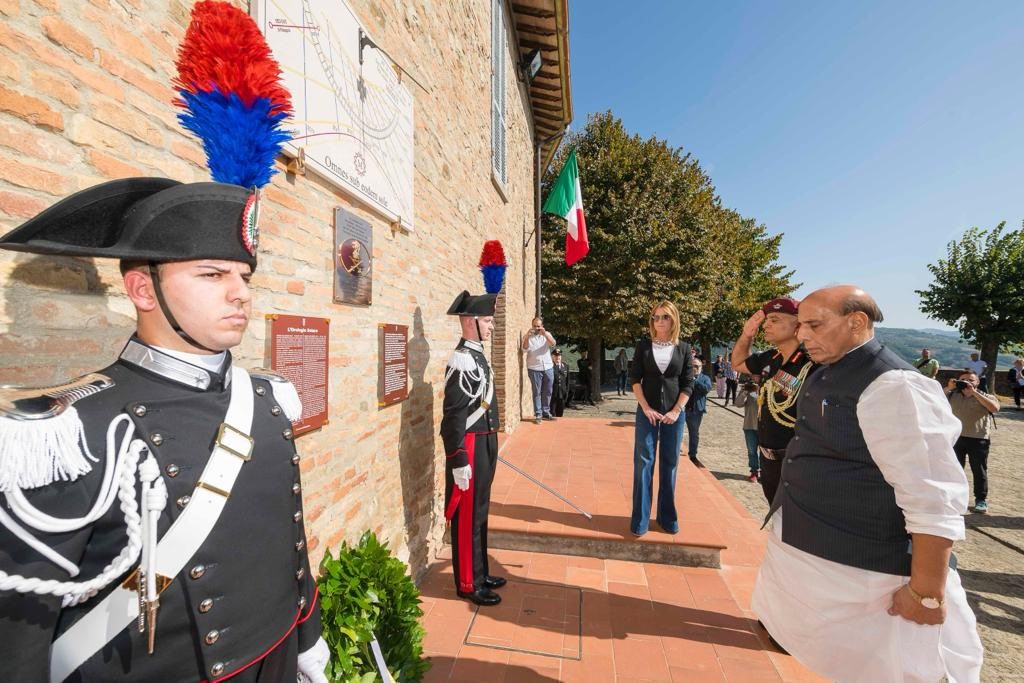 Disclaimer: Copyright infringement not intended.
Context
Defence Minister Rajnath Singh paid tributes at the VC Yeshwant Ghadge Sundial Memorial in Montone, Italy.
Details
Naik Yeshwant Ghadge's incredible act of bravery and sacrifice during World War II is a testament to the courage and selflessness displayed by soldiers in the face of extreme adversity.
Early Life and Military Service
Yeshwant Ghadge was born on 16 November 1921 and served in the 5th Mahratta Light Infantry in the British Indian Army during World War II.

He displayed commendable dedication to duty, as evidenced by his earlier mention in dispatches in 1941 when he was serving as a Sepoy.
Act of Valor and Victoria Cross Award
On 10 July 1944, during an attack on a strongly defended enemy position in the Upper Tiber Valley, Italy, Naik Yeshwant Ghadge's rifle section came under heavy machine-gun fire at close range, resulting in the loss of all members of the section except him.

Without hesitation, and fully aware of the high odds against him, Naik Yeshwant Ghadge bravely charged the machine-gun post alone. He employed a grenade to neutralize the machine gun and its operator, followed by employing his Tommy gun to eliminate one of the gun crew.

Despite being out of ammunition, he fearlessly used the barrel of his gun to bludgeon the two remaining members of the gun crew to death. Tragically, he was fatally shot by an enemy sniper in the chest and back in the post he had captured single-handedly.
Posthumous Commemoration and Legacy
His extraordinary courage, determination, and unwavering dedication to duty in the face of insurmountable odds were acknowledged through the posthumous award of the Victoria Cross, the highest and most prestigious award for gallantry in the British and Commonwealth forces.

To honor his sacrifice, a statue was erected near the tahasil office in Mangaon, Raigad District.

Additionally, the "V.C. Yeshwant Ghadge Sundial Memorial" was unveiled in Montone, Perugia, Italy, serving as a poignant tribute to the Indian soldiers who lost their lives during the Italian Campaign.
Conclusion
Naik Yeshwant Ghadge's unwavering bravery and ultimate sacrifice serve as a lasting inspiration, symbolizing the selfless devotion and valor of soldiers in the line of duty.
PRACTICE QUESTION
Q. Naik Yeshwant Ghadge, an Indian soldier, was posthumously awarded the Victoria Cross for his remarkable act of bravery during which of the following events?
a) Battle of Plassey
b) Siege of Delhi
c) Upper Tiber Valley, Italy, during World War II
d) Battle of Buxar
Answer: c)