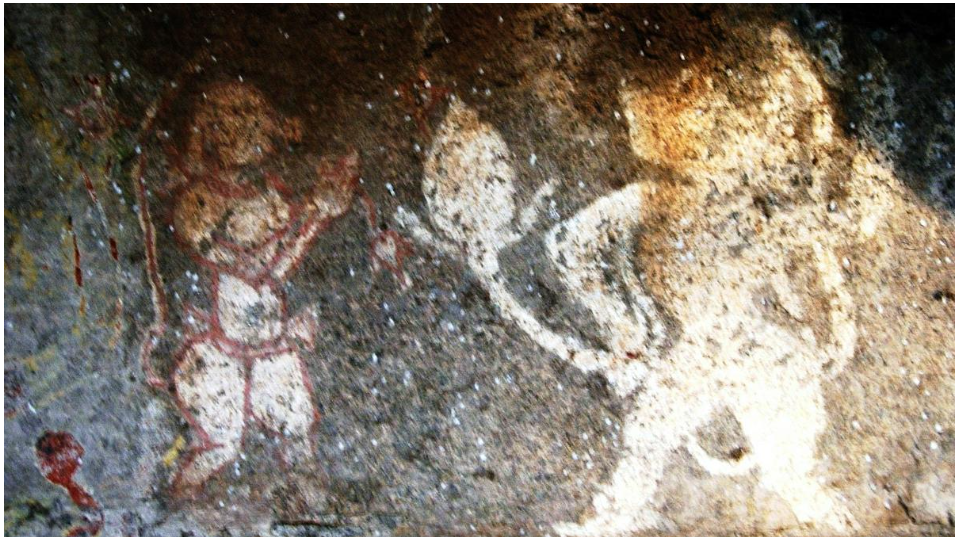 Disclaimer: Copyright infringement not intended.
Context
In

AndhraPradesh, on the Rudragiri hillock, a 1300 AD Kakatiya era Mural

was found superimposed on prehistoric Mesolithic-era artwork

.

This Ramayana mural depicts the fierce battle scene between the Vanara brothers Vali and Sugriva

.
Kakatiya Artistic Legacy and significance
The Prominent features of the fresco however have faded away with time due to exposure to the elements.

However

sketches and outlines passed the test of time

and survived.

This discovered artwork is an

excellent work from the Kakatiya dynasty depicting Ramayana

.

Such rock art depicts the rich historical and artistic legacy of India in general and Andhra Pradesh state in particular.

It combines it with

Mesolithic period prehistoric rock paintings.

In the

artworks found there is the use of

-

Variety of colors – these were derived from white kaolin and other different pigments.

They give a

peak into the times of their creation,

13th century A.D., and thus help in providing

valuable insights of that era.

Hence they

assist in understanding the artistic brilliance of Kakatiya period

.
Rudragiri hillock
It is situated in the state of Andhra Pradesh. More specific details of location are –

Village

- Orvakallu

Mandal

– Atchampet

District

– Guntur

Nestled amidst the Eastern Ghats this place has a significant historical past.

It celebrates archaeological monuments of remarkable history.

At its foothill, five westward facing naturally formed rock shelters are there.

These shelters shed a light on the life of people of Mesolithic age around 5000 B.C.

These displays luminous rock paintings of that era.

The Ganapati Deva Maharaja, an important ruler of Kakatiya dynasty, is considered to patronize the rich ancient mural heritage found at Rudragiri.
Caves
First cave
The

first cave

starts from the southern end of the hillock

Mural of Vanara brothers

, Vali and Sugriva which portrays a fierce battle between them.

Rama

, a hindu lord, is also depicted

behind Sugriva helping Sugriva

by shooting arrows at Vali.

Though

colors are

faded

over time,

outlines survived

.
Middle cave
This cave

shows murals of

Hanuman lifting the Sanjeevani hill

with his right hand

to save

Lakshmana's life.

Another prehistoric rock painting shows the

conch (Sankha) and fire altars (Yagna Vedi).
Third cave
It has rock paintings from the Mesolithic era.

A figure of Hanuman, in Anjali posture, was found superimpose in this rock shelter.

Though superimposed over Mesolithic drawings, these Ramayana murals seem complementary to it.
Similarity with Telangana
Rock shelters were found in Muppavaram and Pandavulagutta which are located in Warangal district of neighbouring Telangana.

The recent frescoes on Rudragiri's rock shelters have striking similarities with above mentioned Telangana rock shelters.

It is believed that the artwork at Rudragiri found inspiration from the artworks at Muppavaram.
Fresco Mural
Fresco painting

, method of painting water-based pigments on freshly applied plaster, usually on wall surfaces.
A mural is any large painting

on

a wall, ceiling or any other large structure.
A fresco is a technique which uses water-soluble paints on wet or limestone

to make them a permanent part of the wall.

This Mural making technique is preferred because

it is

Durable and has
A matte surface
PRACTICE QUESTION
Preservation of the unique murals at Rudragiri hillock in Andhra Pradesh will benefit the future generations in understanding the history of Kakatiya culture. In this context Justify the cultural and historic significance of these ancient artworks discovered. (150 words)
https://indianexpress.com/article/explained/how-american-bald-eagle-returned-from-brink-of-extinction-8691059/