NATIONAL MISSION ON CLEAN GANGA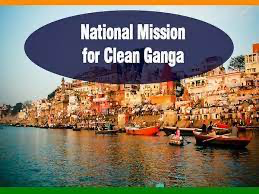 Disclaimer: Copyright infringement not intended.
Context
Namami Gange Programme, a comprehensive initiative launched by the Indian government to rejuvenate the Ganga river and its tributaries.
Details
The Namami Gange Programme was launched in June 2014 to rejuvenate the Ganga river and its tributaries.
The program encompasses a range of interventions to combat pollution and improve the health of the river ecosystem.
Interventions Under Namami Gange
Wastewater Treatment: Numerous projects focus on creating sewage infrastructure to treat domestic and industrial wastewater, a major cause of pollution in the river.

193 sewerage infrastructure projects with a cost of Rs. 30,797.24 crore.
Creation and rehabilitation of 6029.75 MLD of Sewage Treatment Plant (STP) capacity.
Laying around 5,250.98 km sewerage network.
106 sewerage projects completed; others in various stages of implementation.
05 MLD STP capacity created/rehabilitated, and 4436.26 km sewer network laid.
Solid Waste Management: Efforts to manage solid waste along the riverfront to prevent pollution.

Part of the comprehensive approach to tackle pollution sources.
Riverfront Management: Projects for the development of ghats and crematoria, enhancing the riverfront and cultural aspects.
Afforestation: Initiatives to promote afforestation and restore the natural vegetation along the riverbanks.
Public Participation: Encouraging community involvement in the cleanup and restoration efforts.
Collaborative approach for sustainable change.
Climate Action: Support provided to all States/Union Territories for climate-related actions.

Addressing environmental challenges for a holistic impact.
Progress and Funding
A total of 442 projects undertaken at an estimated cost of Rs. 37,395.51 Crore.
254 projects completed, including sewage infrastructure and other components.
14,796.46 crore released/disbursed by National Mission for Clean Ganga (NMCG) for project implementation.
National Framework for Sediment Management
The Ministry of Jal Shakti formulated a framework for holistic sediment management.
Focus on integrated river basin management plan.
Reference for existing guidelines and policies on sediment management.
Challenges and Future Focus
Erosion, movement, and deposition of sediment are natural river functions.
Rivers maintain a balance between silt load carried and deposited.
Efforts to address pollution in Ganga river and tributaries are ongoing.
Financial and technical assistance provided to state governments under the Namami Gange Programme.
Projects progressing to meet scheduled completion timelines.
PRACTICE QUESTION
Q) Analyze the challenges faced in the implementation of the Namami Gange Programme and the significance of sediment management in ensuring the sustainability of the river ecosystem. (150 words)