Twin Engine Deck Based Fighter (TEDBF)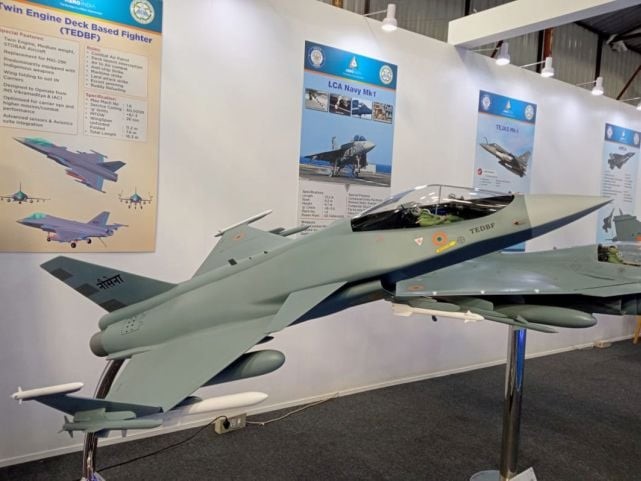 Disclaimer: Copyright infringement not intended.
Context
The TEDBF represents a pivotal leap in India's naval aviation endeavours.
About
The HAL Twin Engine Deck Based Fighter (TEDBF) is a canard delta wing, twin-engine, carrier-based, multirole combat aircraft currently under development for the Indian Navy.
Design and Manufacture
The TEDBF is being designed and developed by the Aeronautical Development Agency (ADA), and will be manufactured by Hindustan Aeronautics Limited (HAL).
Mandate
The TEDBF is intended to perform a multitude of missions, including air supremacy, air interdiction, anti-access/area denial (A2/AD), anti-ship warfare (ASW) and electronic warfare (EW) missions.

The design's twin engines are expected to allow shorter take-offs from the Indian Navy's Short Take-Off Barrier Arrested Recovery (STOBAR) aircraft carriers.

As a dedicated deck-based fighter, it will feature foldable wings for more compact storage.

The TEDBF will predominantly be equipped with indigenous weapons systems.
PRACTICE QUESTION
Q. As the Indian Navy seeks to bolster its carrier-based air power, the Twin Engine Deck Based Fighter (TEDBF's) evolving design ensures that it will meet the Navy's specific operational needs and contribute to the country's defence preparedness. Justify.