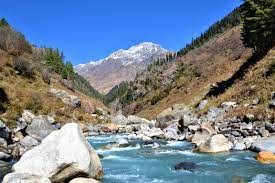 Disclaimer: Copyright infringement not intended.
Context
The body of a trekker who fell into the Parvati River in Himachal Pradesh's Kullu district was recently discovered on the river's banks.
About
The Parvati River, also known as the Parbati River, flows through Himachal Pradesh's Parvati Valley.
It is a significant tributary of the Beas River.
It is called after the Hindu goddess Parvati, Lord Shiva's wife.
Course:
It flows from the Man Talai Glacier, which is located beneath the Pin Parvati Pass.
It flows for around 150 kilometers until joining the Beas River in Bhuntar, about 10 kilometers south of Kullu.
Melting glaciers and the South West monsoons feed the river.
Tributaries: The streams of Tos, Dibibokori, and Tichi, as well as numerous others, feed this river.
The river is well-known for transporting silver ore in its sand.
The river's upper reaches have beautiful first-growth woods, which are being destroyed as a result of the development of its immense hydroelectric potential.
PRACTICE QUESTION
India is endowed with a vast and intricate network of rivers, each playing a crucial role in the country's socio-economic and ecological systems. Discuss the significance of major river systems in India and their impact on agriculture, water management, and environmental sustainability.