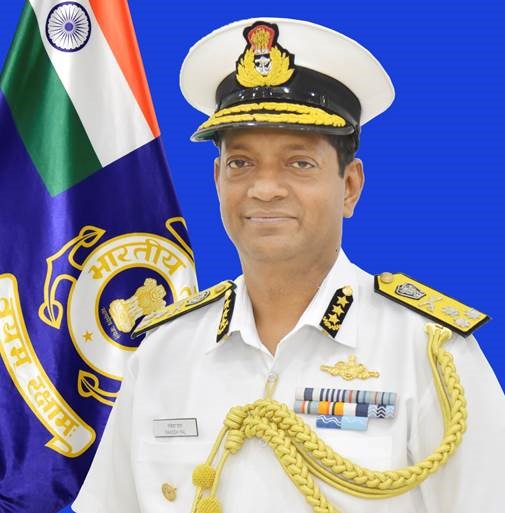 Disclaimer: Copyright infringement not intended.
Context
DG Rakesh Pal has been appointed as the 25th Director General of the Indian Coast Guard.
Details
Appointment of DG Rakesh Pal
For his illustrious service and dedication, DG Rakesh Pal has been conferred with prestigious awards such as the Tatrakshak Medal in 2013 and the President Tatrakshak Medal in 2018, highlighting his outstanding contributions to the Indian Coast Guard.
Indian Coast Guard (ICG)
The Indian Coast Guard is an armed force under the Ministry of Defence that plays a crucial role in safeguarding India's maritime interests and enforcing maritime law within its territorial waters.

It was formally established on 1 February 1977 by the Coast Guard Act, 1978 of the Parliament of India.

Its primary responsibilities include ensuring coastal security, conducting search and rescue operations, protecting the marine environment, and combating illegal activities at sea.

The Indian Coast Guard (ICG) is a maritime law enforcement and search and rescue agency of India with jurisdiction over its territorial waters including its contiguous zone and exclusive economic zone.

The Coast Guard works in close cooperation with the Indian Navy, the Department of Fisheries, the Department of Revenue (Customs), and the Central Armed Police Forces, and the State Police Services.
Strengths
Coastal Security:

The Indian Coast Guard plays a vital role in ensuring coastal security and preventing infiltration by hostile elements. Its vigilance and patrolling operations help in deterring potential threats and protecting vital assets along the coastline.

Maritime Law Enforcement:

The ICG actively combats illegal activities such as smuggling, trafficking, and piracy, thereby contributing to law enforcement efforts in the maritime domain.

Search and Rescue Operations:

The Indian Coast Guard has demonstrated its proficiency in conducting search and rescue operations during cyclones and natural calamities. Its timely response and humanitarian assistance have saved numerous lives.

Capacity Building:

Over the years, the ICG has undergone significant modernization and capacity-building efforts, acquiring modern assets and technologies to enhance its operational capabilities.

Regional Cooperation:

The Indian Coast Guard actively engages with foreign coast guards through joint exercises and cooperation initiatives, contributing to regional maritime security.
Areas for Improvement
Resource Constraints:

The Indian Coast Guard still faces resource constraints in terms of manpower and modern assets. There is a need for further investment in acquiring state-of-the-art vessels, aircraft, and surveillance equipment to effectively cover the vast maritime domain.

Technological Upgradation:

While the ICG has made progress in modernization, there is room for further technological upgradation to stay ahead of evolving threats such as cyber warfare and hybrid threats.

Personnel Training:

Continuous training and skill development are crucial for the efficient functioning of the Coast Guard. Specialized training for different roles, including search and rescue, law enforcement, and disaster response, is essential to maintain operational readiness.

Coastal Pollution and Environmental Concerns:

The Indian Coast Guard also needs to be more proactive in dealing with coastal pollution and environmental concerns. Strengthening its capabilities to respond to oil spills and other marine accidents is essential for protecting the marine ecosystem.

Coordination with Other Agencies:

There is a need for better coordination and cooperation between the Indian Coast Guard and other maritime agencies, such as the Indian Navy and state coastal police, to ensure seamless operations and response during emergencies.

Transnational Threats:

Maritime terrorism and piracy remain significant challenges for coastal security. The Indian Coast Guard needs to collaborate with neighboring countries and international organizations to address transnational threats effectively.
Conclusion
The Indian Coast Guard has undoubtedly played a crucial role in maritime security and protecting India's interests at sea. However, addressing the identified areas for improvement will be key to further enhancing its effectiveness and responsiveness. With increased investment in modern assets, advanced training for personnel, and better coordination with other agencies, the Indian Coast Guard can become an even more formidable force, ensuring the safety and security of India's maritime domain. Continuous evaluation and improvement of its capabilities will be vital in meeting the evolving challenges in the maritime domain and fulfilling its role as the first line of defense at sea.
PRACTICE QUESTION
Q. The Indian Coast Guard plays a vital role in safeguarding India's maritime interests, but it faces numerous challenges in fulfilling its duties effectively. Analyze the challenges and limitations faced by the Indian Coast Guard and suggest measures to enhance its capabilities for ensuring comprehensive maritime security. (250 words)