INDIA ARGENTINA RELATIONS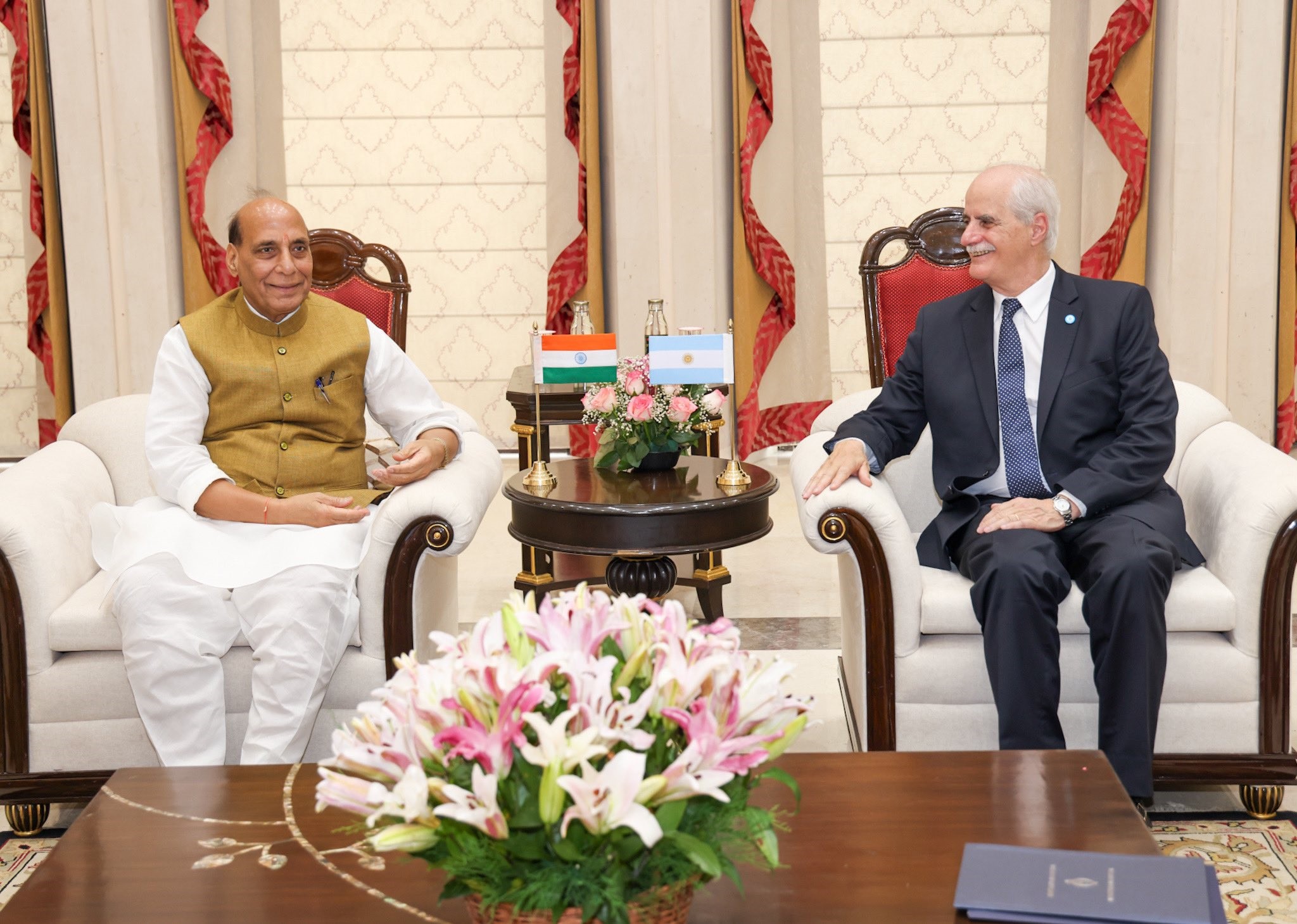 Disclaimer: Copyright infringement not intended.
Context
Defence Minister Rajnath Singh held talks with the visiting Minister of Defence of Argentine Republic in New Delhi on July 18, 2023.
Highlights
Both Ministers discussed the ongoing defence cooperation initiatives, including measures to enhance defence industrial partnership.

The Argentine Defence Minister visited the National War Memorial and laid a wreath while paying homage to the fallen heroes.

A Tri-service Guard of Honour was also presented to the visiting dignitary.

He arrived on a four-day visit to India.

The Argentine Defence Minister visited BrahMos Aerospace and is scheduled to interact with leading think-tanks in Delhi.

He will also travel to Bengaluru and visit the Hindustan Aeronautics Ltd (HAL) facilities and separately interact with the defence start-ups in an event organised by Innovations for Defence Excellence (iDEX).
Background
Political Relations
India-Argentina relations were elevated to the level of Strategic Partnership in 2019 during the State Visit of the President of Argentina.

The two countries have strengthened their ties in various areas, including political, economic, cultural, and scientific cooperation.

India established a Trade Commission in Buenos Aires in 1943, which later became one of its first embassies in South America.

Argentina also has diplomatic representations in India. The leaders of both countries have engaged in high-level visits and meetings to enhance bilateral relations.
Bilateral Exchanges
There have been significant exchanges at the highest level between India and Argentina.

Prime Minister Narendra Modi and President Alberto Fernandez had their first bilateral meeting in 2022, and earlier, President Mauricio Macri and President Cristina Fernández de Kirchner had visited India.

The foreign ministers of both countries have also held meetings and engaged in discussions to strengthen bilateral ties. These exchanges demonstrate the commitment of both nations to enhancing their relationship.
Economic and Commercial Relations
Bilateral trade between India and Argentina has witnessed steady growth.

In 2022, the trade volume reached a historic peak of USD 6.4 billion, with India becoming the fourth-largest trading partner of Argentina.

Major items of India's exports to Argentina include petroleum oils, agrochemicals, textiles, and organic chemicals, while India imports vegetable oils, leather, cereals, and chemicals from Argentina.

Several Indian companies, including TCS, Mahindra Comviva, and Infosys, have established operations in Argentina, while Argentine companies such as Globant and OLX have a presence in India.

Both countries have also signed agreements to promote cooperation in sectors like oil, energy, and defense.
Cultural Relations and People-to-People Contact
India's culture, yoga, philosophy, and spiritual practices have had a significant impact in Argentina.

Indian organizations like Brahmakumaris, Art of Living, and ISKCON have a strong following in the country.

Cultural programs, including India Weeks, India Days, and International Day of Yoga celebrations, are organized in Argentina to promote cultural exchanges.

The Indian diaspora in Argentina, consisting of NRIs and PIOs, plays an important role in fostering people-to-people contact between the two nations.
Technical and Development Cooperation
India has been extending technical and economic cooperation to Argentina through scholarships, training programs, and capacity-building initiatives.

The Indian Technical and Economic Cooperation (ITEC) program has provided opportunities for Argentine nationals to participate in various courses in India.

Additionally, an India-Argentina Center of Excellence in IT has been established in Buenos Aires to promote cooperation in the IT sector.

The two countries have also collaborated in the field of space research and agriculture.
Indian Community
Argentina is home to a significant number of NRIs and PIOs, with most of them residing in Buenos Aires.

These individuals work in various sectors, including IT, finance, and multinational corporations.

The Indian community actively contributes to the cultural vibrancy of Argentina and serves as a bridge between the two nations.
Potential of Relations
Science and Technology:

India and Argentina can collaborate in research and development in the field of science and technology, including space exploration, biotechnology, and nanotechnology. Joint projects can lead to significant advancements and mutually beneficial outcomes.

Multilateral Forums:

As founding members of G20 and participants in various multilateral forums, India and Argentina can strengthen cooperation on global issues like climate change, sustainable development, and global governance.

Defence Cooperation:

Exploring opportunities for defence cooperation can enhance the security ties between the two countries and foster mutual strategic interests.

Cultural Exchanges:

Promoting cultural exchanges, academic partnerships, and people-to-people interactions can deepen the understanding of each other's rich heritage and traditions, fostering stronger bonds.
Challenges and Obstacles:
Geographical Distance:

The geographical distance between India and Argentina poses logistical challenges and adds to the cost of trade and travel. Improved connectivity and transportation can mitigate this obstacle.

Language Barrier:

Language differences can hinder effective communication and exchange of ideas. Encouraging language training and cultural exchanges can bridge this gap.

Competing Priorities:

Both countries have diverse foreign policy priorities and engagements. Aligning their agendas and carving out shared areas of interest can be challenging.

Limited People-to-People Contact:

The lack of direct people-to-people contact and cultural understanding can hamper deeper engagement between the two societies.
Way Forward:
Economic Diplomacy:

Both countries should focus on enhancing economic diplomacy by exploring untapped sectors for trade and investment. Organizing trade fairs, business forums, and joint economic commissions can facilitate greater engagement between the business communities of India and Argentina.

Sectoral Cooperation:

Identifying specific sectors of mutual interest, such as agriculture, pharmaceuticals, information technology, and renewable energy, can provide a clear roadmap for collaboration.

Policy Coordination:

Regular dialogues between policymakers and government officials from both countries can help align their policies and priorities, ensuring better coordination on global issues.

Virtual Diplomacy:

Leveraging digital platforms and virtual diplomatic engagements can overcome the challenges of geographical distance and language barriers, promoting direct interactions between stakeholders.

Public Diplomacy:

Conducting cultural festivals, film festivals, and educational exchange programs can create a greater awareness and appreciation of each other's culture and values.

Joint Research and Development:

Encouraging joint research and development projects in areas of mutual interest can lead to technological advancements and shared expertise.

Enhanced Connectivity:

Investing in better connectivity, such as direct flights, can facilitate increased people-to-people contact and foster tourism and business ties.
Conclusion
India-Argentina relations offer ample scope for growth and cooperation, given their shared values as democratic nations committed to multilateralism and sustainable development. While there have been positive steps in various sectors, addressing the challenges and obstacles is essential to realize the full potential of this bilateral partnership. Strategic efforts, focused diplomacy, and people-to-people engagement can pave the way for a stronger and mutually beneficial India-Argentina relationship in the future.
About Argentina
Officially the Argentine Republic, it is a country in the southern half of South America.

Argentina covers an area of 2,780,400 km2 making it the second-largest country in South America after Brazil, the fourth-largest country in the Americas, and the eighth-largest country in the world.

It shares the bulk of the Southern Cone with Chile to the west and is also bordered by Bolivia and Paraguay to the north, Brazil to the northeast, Uruguay and the South Atlantic Ocean to the east, and the Drake Passage to the south.

Argentina is a federal state subdivided into twenty-three provinces, and one autonomous city, which is the federal capital and largest city of the nation, Buenos Aires.

The provinces and the capital have their own constitutions but exist under a federal system.

Argentina claims sovereignty over the Falkland Islands, South Georgia and the South Sandwich Islands, and a part of Antarctica.
PRACTICE QUESTION
Q. Despite shared membership in G20 and economic similarities, what are the key obstacles and opportunities in the India-Argentina relationship, and how can both countries enhance bilateral cooperation? (150 Words)