EU- INDIA JOINT NAVAL EXERCISE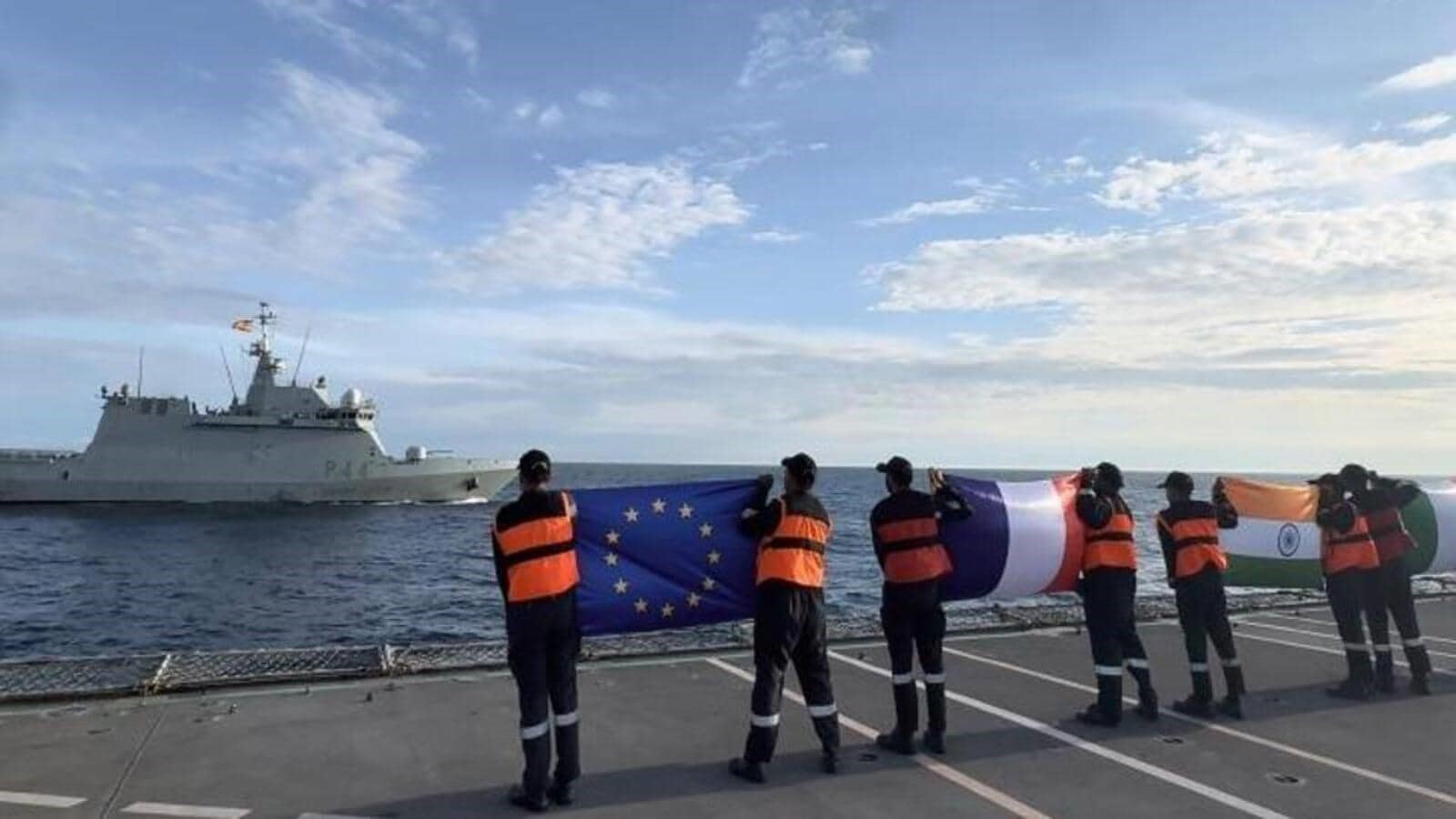 Disclaimer: Copyright infringement not intended.
Context
India and EU ships conducted joint activities in the Gulf of Guinea.
About
The European Union (EU) and India conducted their first joint naval exercise in the Gulf of Guinea.
Aim
This is an effort to reinforce naval maritime security cooperation in support of the region.
Participants
During the exercise, Indian Navy's INS Sumedha, an Offshore Patrol Vessel, was joined by three EU Member States' ships in the Gulf of Guinea: Italian Navy Ship ITS Foscari, French Navy Ship FS Ventôse, and Spanish Navy Ship Tornado.
Read about INS Sumedha: https://www.iasgyan.in/daily-current-affairs/ins-sumedha-40
Exercise inclusions
The four ships practiced a series of tactical maneuvers in international waters off the coast of Ghana, including a boarding exercise, a flying exercise using the helicopters.
This exercise was followed by a knowledge-sharing session in Accra, Ghana which built on the joint experience at sea to improve operational know-how.
Significance
These activities underlined the shared commitment of India and the EU to supporting coastal States and ensuring maritime security in the Gulf of Guinea.
They reflected the breadth and dynamism of EU-India cooperation on maritime security.
It also signalled the common determination to uphold the United Nations Convention on Law of the Sea (UNCLOS).
UNITED NATIONS CONVENTION ON THE LAW OF THE SEA (UNCLOS)
The United Nations Convention on the Law of the Sea (UNCLOS), also called the Law of the Sea Convention or the Law of the Sea Treaty, is an international agreement.
It establishes a legal framework for all marine and maritime activities.
167 countries and the European Union are parties.
The convention resulted from the third United Nations Conference on the Law of the Sea (UNCLOS III), which took place between 1973 and 1982. UNCLOS replaced the four treaties of the 1958 Convention on the High Seas.
UNCLOS came into force in 1994, a year after Guyana became the 60th nation to ratify the treaty.
Note: In 2023, agreement was reached on a High Seas Treaty to be added as an instrument of the convention, to protect ocean life in international waters. This would provide measures including Marine Protected Areas and environmental impact assessments.
Read about the High Seas Treaty: https://www.iasgyan.in/daily-current-affairs/un-high-seas-treaty-20