DRYING UP OF WATER BODIES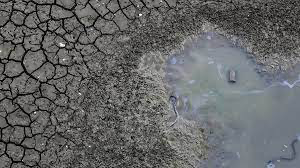 Disclaimer: Copyright infringement not intended.
Context
The government's efforts to rejuvenate water bodies in India.
Details
There are 24,24,540 water bodies in the country of which 20,30,040 water bodies are 'in use' and 3,94,500 water bodies are not 'in use'.
93,009 water bodies are reported to be not in use on account of being dried up.
Groundwater level
Central Ground Water Board (CGWB) periodically monitors groundwater levels throughout the country on a regional scale, through a network of monitoring wells.
About 61% of the wells monitored have registered a rise in ground water level.
About 39% wells have registered a decrease in water level.
Rejuvenation of water bodies
It is for the State Government concerned to take up rejuvenation of water bodies, including the dried-up water bodies.
Measures taken by Government of India
Financial assistance to the identified schemes under Repair, Renovation and Restoration of Water Bodies (RRR of WBs) component of Pradhan Mantri Krishi Sinchayee Yojana (PMKSY)-Har Khet Ko Pani (HKKP).
Focused interventions under Jal Shakti Abhiyan annual campaigns.
Mahatma Gandhi National Rural Employment Guarantee Scheme (MGNREGS).
Mission Amrit Sarovar.
Rejuvenation of water bodies is also a component under the Water Supply sector of Atal Mission for Rejuvenation and Urban Transformation (AMRUT) Scheme under Ministry of Housing & Urban Affairs.
PRACTICE QUESTION
Q) Discuss the current status of water bodies in India, including their distribution and usage. (150 words)
https://pib.gov.in/PressReleasePage.aspx?PRID=1945398