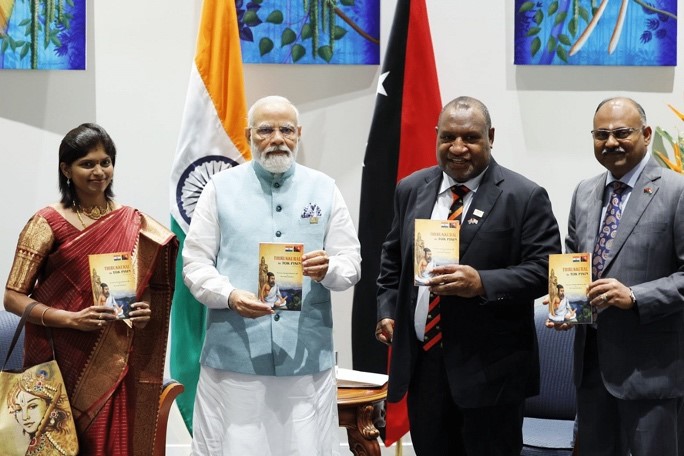 Disclaimer: Copyright infringement not intended.
Context
Prime Minister Narendra Modi along with his Papua New Guinea counterpart James Marape released the Tamil classic 'Thirukkural' in the Tok Pisin language to bring the Indian thought and culture closer to the people of this southwestern Pacific nation.
Details
PM Modi arrived in Papua New Guinea on his maiden visit to the country, becoming the first Indian prime minister to visit here.

He co-hosted with Marape a key summit between India and 14 Pacific island countries to boost bilateral ties.

Tok Pisin is the official language of Papua New Guinea.
About Tirukkuṟaḷ
Shortly the Kural is a classic Tamil language text consisting of 1,330 short couplets, or kurals, of seven words each.

The text is divided into three books with aphoristic teachings on virtue (aram), wealth (porul) and love (inbam),

Considered one of the greatest works ever written on ethics and morality, it is widely acknowledged for its universality and secular nature.

Its authorship is traditionally attributed to Valluvar, also known in full as Thiruvalluvar.

The text has been dated variously from 300 BCE to 5th century CE.
Teachings
Written on the ideas of ahimsa, it emphasizes non-violence and moral vegetarianism as virtues for an individual.

In addition, it highlights virtues such as truthfulness, self-restraint, gratitude, hospitality, kindness, goodness of wife, duty, giving, and so forth, besides covering a wide range of social and political topics such as king, ministers, taxes, justice, forts, war, greatness of army and soldier's honor, death sentence for the wicked, agriculture, education, abstinence from alcohol and intoxicants.

It also includes chapters on friendship, love, sexual unions, and domestic life.

The text effectively denounced previously held misbeliefs that were common during the Sangam era and permanently redefined the cultural values of the Tamil land.
Legacy
The Kural has influenced scholars and leaders across the ethical, social, political, economic, religious, philosophical, and spiritual spheres over its history.

These include Ilango Adigal, Kambar, Leo Tolstoy, Mahatma Gandhi, Albert Schweitzer, Ramalinga Swamigal, V. O. Chidambaram Pillai, Karl Graul, George Uglow Pope, Alexander Piatigorsky, and Yu His.

The work remains the most translated, the most cited, and the most citable of Tamil literary works.
MUST READ ARTICLES:
https://www.iasgyan.in/daily-current-affairs/thiruvulluvar
PRACTICE QUESTION
Q) Thirukkural, the Tamil classic, emphasizes non-violence and moral vegetarianism as virtues for an individual. Comment. (150 words)
https://www.ndtv.com/india-news/pm-modi-releases-tamil-classic-thirukkural-in-tok-pisin-language-of-papua-new-guinea-4054917