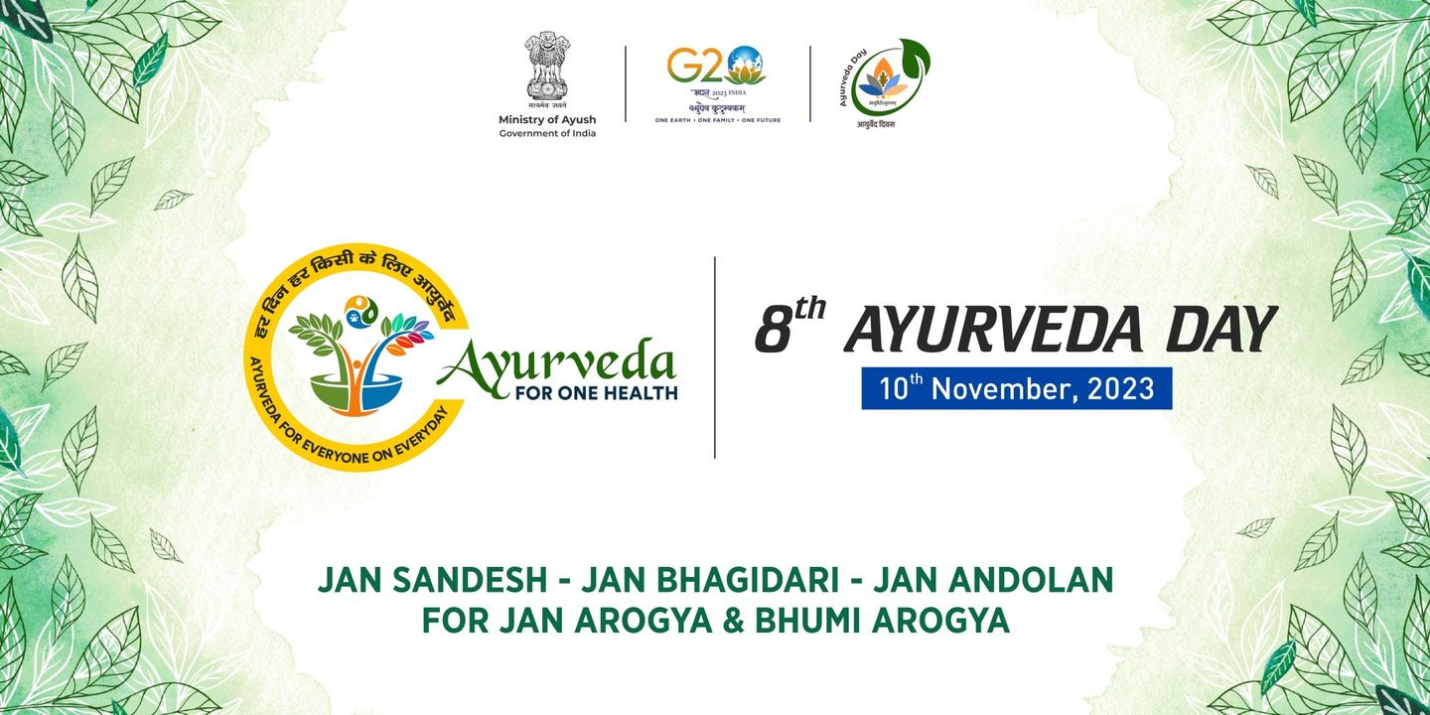 Copyright infringement not intended
Picture Courtesy: niimhccras
Context: National Ayurveda Day, observed on November 10, 2023, is a significant event organized by the Ministry of Ayush in collaboration with various national ministries.
Details
Ayurveda, one of the world's oldest healing systems, has been practised in India for thousands of years. National Ayurveda Day celebrates this rich cultural heritage, emphasizing the importance of preserving and promoting ancient knowledge.

National Ayurveda Day, celebrated annually on Dhanvantari Jayanti (Dhanteras),

is a significant event in India aimed at promoting the ancient system of Ayurvedic medicine.
The celebration of Ayurveda Day serves several objectives:
The day aims to bring Ayurveda into the mainstream and raise awareness about its effectiveness in healthcare.

Ayurveda's unique treatment principles, focusing on holistic healing and balance

, are emphasized during the celebrations.

Ayurveda's holistic approach is instrumental in preventing diseases and promoting overall health and wellness.

The event explores how Ayurveda can contribute to national health policies and programs, integrating traditional medicine into the healthcare system.

Ayurveda Day creates awareness, especially among the younger generation, about the healing principles of Ayurveda, fostering a sense of appreciation for this ancient system of medicine.
National Ayurveda Day 2023
In 2023, the theme for Ayurveda Day is "Ayurveda for One Health," aligning with India's G20 Presidency theme of 'Vasudhaiva Kutumbakam.' The focus is on the interconnectedness of human, animal, plant, and environmental health.

The theme emphasizes the symbiotic relationship between humans and nature, promoting sustainable agriculture, animal and plant health, food safety, and encouraging active participation from farmers, students, and the general public in Ayurveda-based initiatives.

The Central Council for Research in Ayurvedic Science (CCRAS) coordinates the Ayurveda Day programs, collaborating with various ministries and departments of the Government of India.

The celebrations aim to spread awareness about Ayurveda through Jan Sandesh (public messages), Jan Bhagidari (public participation), and Jan Aandolan (public movement) across the nation.

The event emphasizes the importance of Ayurveda for farmers, students, and the general public, encouraging everyone to embrace the principles of Ayurveda for a healthier and more sustainable future.
Conclusion
The National Ayurveda Day serves as a platform to celebrate India's ancient healthcare tradition, emphasizing its relevance in the modern world. Through symbolic representation, awareness campaigns, and collaborative efforts, the day promotes holistic health, disease prevention, and a harmonious relationship between humans and nature, making it a vital event in India's cultural and healthcare calendar.
Must Read Articles:
'AYURVEDA FOR ONE HEALTH' CAMPAIGN: https://www.iasgyan.in/daily-current-affairs/ayurveda-for-one-health-campaign
INTERNATIONAL CLASSIFICATION OF DISEASES: https://www.iasgyan.in/daily-current-affairs/international-classification-of-diseases
PRACTICE QUESTION
Q. What are the key components of India's traditional healthcare system, and how has it evolved over the centuries to address the healthcare needs of the population? Provide examples of traditional healing practices that are still prevalent in modern India, showcasing the enduring influence of ancient medical traditions on the country's healthcare landscape.