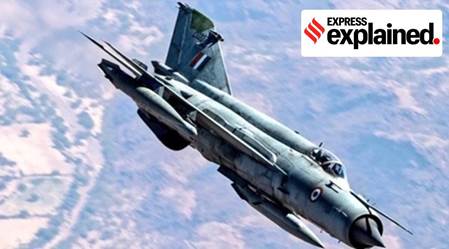 Disclaimer: Copyright infringement not intended.
Context: A MiG-21 Bison aircraft of the Indian Air Force (IAF) crashed in Barmer, Rajasthan, killing the two pilots aboard the trainer version of the fighter aircraft.
Details:
There have been six MiG-21 Bison crashes in the last two 20 months, with five crashes in 2021 and one in 2022.

There are four squadrons of MiG-21 Bison aircraft currently in service in the IAF with each squadron comprising 16-18 aircraft, including two trainer versions.

The MiG-21 Bison is an upgraded version of the MiG-21bis which had been first inducted into service in 1976. The MiG-21 FL, which was an older version of the aircraft and which joined service in the early 1960s, had been phased out of IAF in 2013.

The IAF received the first upgraded MiG-21 Bison, which had a quantum leap of upgrade of avionics, in 2001 and the last of these upgraded fighters was received in 2008.

The MiG-21 aircraft, with all its versions, formed the backbone of the fleet of fighter aircraft of the IAF, and the number of crashes that took place in the IAF were the highest in its category. Most of these versions had been licence-produced in India.

More than 20 aircraft have crashed since 2010 and 38 aircraft crashed between 2003 and 2013 in a period of ten years. The high rate of accidents earned the aircraft the nickname of 'Flying Coffin".

The MiG-21 Bison, one of India's six fighter jets, is of Russian origin. It is a single engine, single seater multirole fighter aircraft. It has a maximum speed of 2,230 km/hr and carries one 23mm twin-barrel cannon with four R-60 close combat missiles. It is described as the "back-bone" of the IAF.

This version of the MiG 21 — the last in a series of at least 15 variants — was flown for the first time in 1976. The MiG-21 Bison is described as an all-weather, multi-role fighter. It was inducted in the Indian Air Force in the early 1980s. India reportedly has 100 odd aircraft in its fleet.

MiG21 variants have been flown by nearly 40 countries. The former USSR began manufacturing these aircraft in the last 1950s. It still has a reputation as the world's best fighter jet, with some 11,000 aircraft produced. Each has a life of up to 30 years.
| | |
| --- | --- |
| Specification | Mig-21 Bison |
| Nick Name | Fish Bed |
| Generation | 3rd Generation |
| Type | Fighter |
| Range | 1210 Km |
| Missiles | R-73, R-77 |
| Speed | 2175 Km/h |
| Combat Radius | 370 Km |

https://indianexpress.com/article/explained/another-mig-21-crash-indias-fleet-past-accidents-future-phase-out-8059506/