INDIA CHINA TROOPS DISENGAGEMENT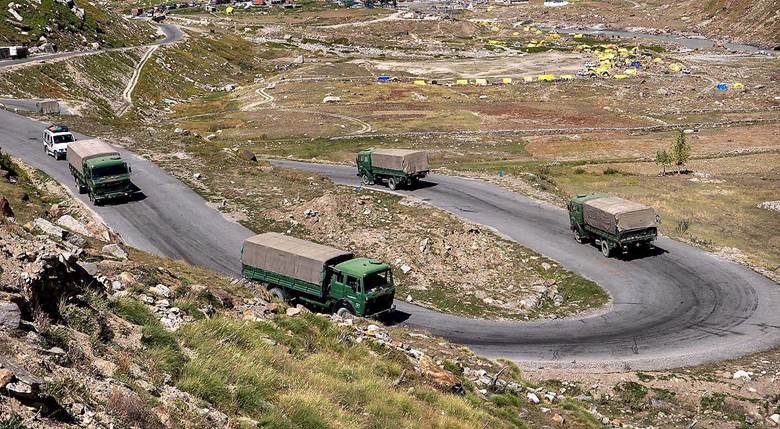 Copyright infringement not intended
Context: India and China announced that their Armies have begun to disengage from Patrolling Point-15 in the Gogra-Hotsprings area of eastern Ladakh, marking a step forward towards ending the stand-off ongoing since May 2020.
Details:
The move comes ahead of the Shanghai Cooperation Organisation (SCO) summit in Uzbekistan next week, in which Prime Minister Narendra Modi and Chinese President Xi Jinping are expected to participate.

However, neither side has, so far, confirmed if the two leaders would hold bilateral talks on the sidelines of the summit. The leaders have not spoken to each other since a November 2019 meeting during the BRICS Summit in Brasilia and the beginning of the stand-off in April 2020.

According to the consensus reached in the 16th round of India China Corps Commander Level Meeting, the Indian and Chinese troops in the area of Gogra-Hotsprings (PP-15) have begun to disengage in a coordinated and planned way, which is conducive to the peace and tranquillity in the border areas

The 16th round of talks was held on July 17 at the Chushul border personnel meeting point on the Indian side.

As per the understanding reached earlier on disengagement, a buffer zone is to be created at the friction points once troops are withdrawn by both sides and new patrolling norms are to be worked out after complete disengagement and de-escalation.

Since the stand-off began in May 2020, the two sides have so far held 16 rounds of talks, with disengagement undertaken from both sides of Pangong Tso in February 2021, and from PP-17 in the Gogra-Hotsprings area in August, in addition to Galwan in 2020 after the violent clash.

The friction points that remain now are Demchok and Depsang, which China has constantly refused to accept, maintaining that they are not a part of the current stand-off.

India will continue to press for complete disengagement and de-escalation from all the friction areas and the Corps Commander-level talks would continue, officials stated.

Earlier, both sides had undertaken partial disengagement from PP15 and 17A in July 2020 after disengagement from PP14 in Galwan, but the process was stalled after the aggressive actions on the south Bank of Pangong Tso in August 2020.
India-China border issue:
India-China-relations dates back to more than 2,000 years ago. There have been cultural and economic ties between the two countries since ancient times.

Relations between contemporary China and India have been characterized by border disputes, resulting in military conflicts like — the Sino-Indian War of 1962, the Chola incident in 1967, the 1987 Sino-Indian and the 2020 India-China skirmish.

Relations between India and China have come under "severe stress" time and again in the last decade due to multiple border stand-offs along the Line of Actual Control.
Root cause of border dispute between India & China:
The root cause lies in an ill-defined, 3,440km (2,100-mile)-long borderthat both countries dispute.Four states - Himachal Pradesh, Uttarakhand (erstwhile part of UP), Sikkim and Arunachal Pradesh and Union Territories of Ladakh (erstwhile state of Jammu & Kashmir) share a border with China.

The Sino-Indian border is generally divided into three sectors namely: Western sector, Middle sector, and Eastern sector.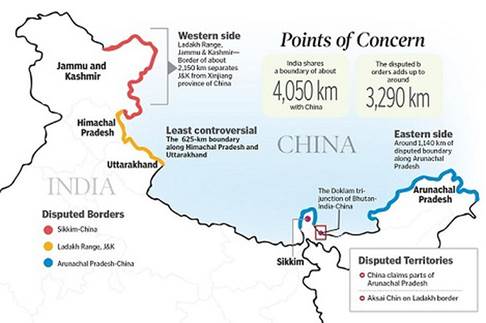 Western Sector
In the western sector, India shares about a 2152 km border with China.

It is between the union territory of Ladakh (erstwhile state of Jammu and Kashmir) and the Xinjiang province of China.

The territorial dispute in the western sector is over Aksai Chin. India claims it as part of erstwhile Kashmir, while China claims it is part of Xinjiang.

The dispute is said to be due to the failure of the British empire as it failed to demarcate a legal border between both countries. During the British rule in India two borderlines were proposed – Johnson's line and McDonald line in 1865 and 1893 respectively.

The Johnson's line shows Aksai Chin in Ladakh i.e. under India's control whereas McDonald Line places it under China's control. India considers Johnson Line as a rightful national border with China, while on the other hand, China considers the McDonald Line as the correct border with India.

The different claims and perceptions of LAC have led to an overlapping area, within that area lies a small zone which both the sides patrol causing clashes of the Indian and the Chinese army.

At present, Line of Actual Control (LAC) is the line separating Indian areas of Ladakh from Aksai Chin. It is concurrent with the Chinese Aksai Chin claim line.
Middle Sector
In the middle sector, India shares about 625km of the border with China. This is the only sector where the both countries have less disagreement. The border runs from Ladakh to Nepal.

The states of Himachal Pradesh and Uttarakhand touch the border with Tibet in this sector.
Eastern Sector
In the eastern sector, India shares a 1140km boundary with China. The boundary line is called McMahon Line runs from the eastern limit of Bhutan to a point near the Talu Pass at the trijunction of Tibet, India, and Myanmar.

The majority of the territory of Arunachal Pradesh is claimed by China as a part of Southern Tibet.

China considers the McMahon line illegal

. McMahon proposed the line in the Simla Accord in 1914to settle the boundary between Tibet and India, and Tibet and China. Though the Chinese representatives at the meeting initialed the agreement, they subsequently refused to accept it.
Disputed areas along the LAC
China claims about 90,000 sq km of India's territory in the northeast, including Arunachal, while India says 38,000 sq km of land in China-occupied Aksai Chin should be a part of Ladakh.

There are several disputed areas along the Line of Actual Control (LAC), including in Himachal, Uttarakhand and Sikkim.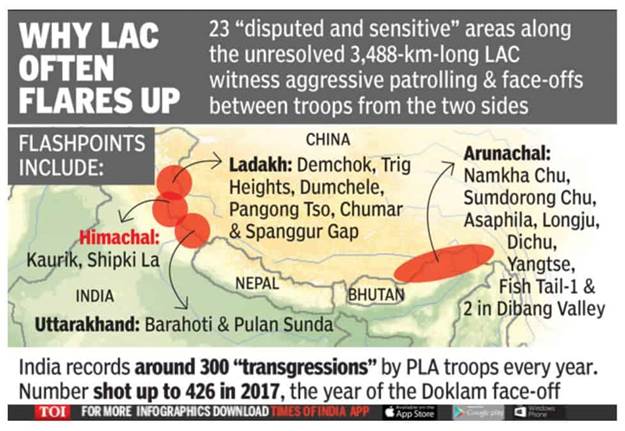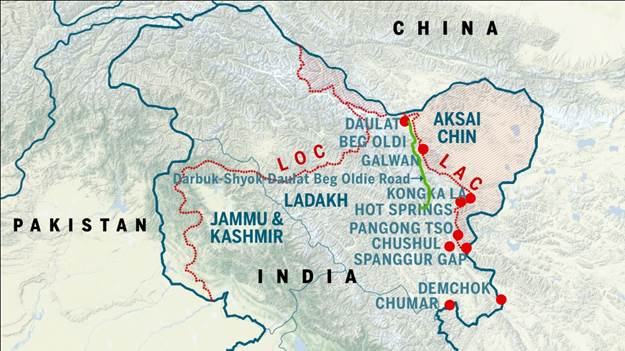 In Ladakh, the disputed areas include:
Pangong Tso lake

Galwan Valley, where Shyok and Galwan rivers meet

Daulat Beg Oldi (DBO), a key northern region close to the Karakoram Pass.

The Hot Springs-Gogra area of the LAC

Demchok which is close to the southernmost part of the LAC in Ladakh.

Chushul , located on the southern bank of Pangong Tso Lake, has an airstrip and is near Rezang La pass on the LAC.

Spanggur Gap along the LAC has roads leading to it from either side. India's Chushul-Demchok road in the area is a critical communication link.

Samar Lungpa

Trig Heights

Chumar

Dumchele

Kongka La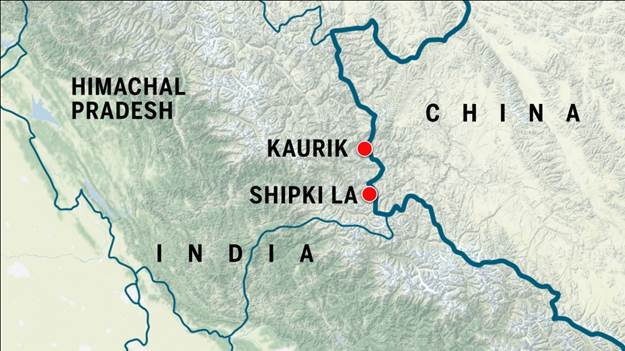 In Himachal Pradesh , the disputed areas are
Kaurik

Shipki La, an ancient trade route.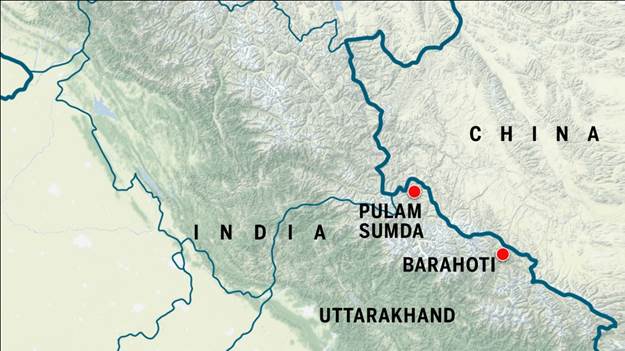 In Uttarakhand, the disputed areas are-
Pulam Sumda

Barahoti Plains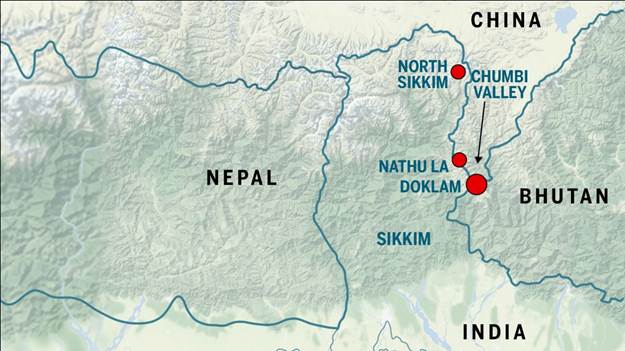 In Sikkim, the disputed areas include:
North Sikkim, a high-altitude plain area that is snowbound.

Chumbi Valley – It is a Tri-junction between India, China and Bhutan. Doklam is located in this region.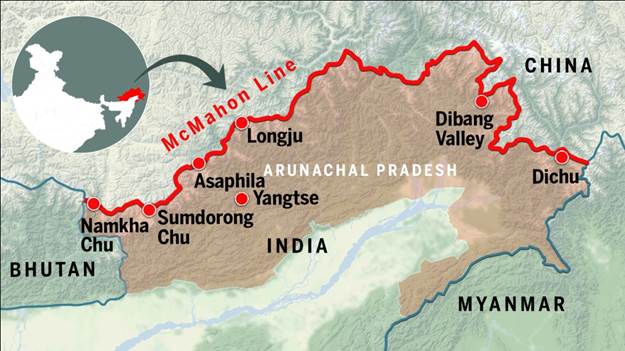 Disputed areas in Arunachal Pradesh include:
Namkha Chu

Sumdorong Chu

Asaphila

Longju

Dichu

Yangtse

Fish Tail-1 & 2 in Dibang Valley

Lamang
The 2020 China–India skirmishes are part of an ongoing military standoff between China and India.

Since 5 May 2020, Chinese and Indian troops have engaged in aggressive face-offs and skirmishes at locations along the Sino-Indian border.

This includes Pangong Tso Lake in Ladakh and the Tibet Autonomous Region; near the border between Sikkim. Additional clashes also took place at locations in eastern Ladakh along the Line of Actual Control (LAC).

The 2020 Galwan incident was the first military casualty after 1975 at the LAC between India and China. The incident represents a watershed in India's relations with China and marks the end of a 45-year chapter which saw no armed confrontation involving loss of lives on the Line of Actual Control (LAC).
Disengagement efforts:
The military talks to ease tensions between India and China are still underway. Recently, Five points of agreementwere set forth after the sixth round of talks between the senior military commanders.
India-China Five-point Agreement:
Both sides should take guidance from the series of consensus of the leaders

Current situation in the border areas is not in the interest of either side.

Both sides shall abide by all the existing agreements and protocol on china-india boundary affairs,

Both sides have agreed to continue to have dialogue and communication through the special representative mechanism on the India-China boundary question.

Both have decided to conclude new confidence-building measures to maintain peace and tranquility.
Though the two sides have inked towards a quick disengagement, there is no clear mention of final restoration of status quo in the five points.
Issue of convergence in India-China relations:
India-China relations have now acquired a strategic and global dimension and their cooperation is critical for tackling global issues such as Climate Change, terrorism, protectionism, free trade, global financial order etc.

Both countries should work together

To safeguard the legitimate rights and interests of developing countries

Safeguard multilateral trading system and advancing the WTO reforms

Speed up negotiations on the Regional Comprehensive Economic Partnership Agreement (RCEP).

China stated that "Sino-Indian ties" could be the most "important bilateral partnership of the century

T

wo countries agreed to coordinate their development programmes in Afghanistan in the areas of health, education and food security

India is critical for global success of 5G, where China's Huawei is the leader.
Issue of concerns in India-China relations:
Belt Road Initiative

: India has objected this, since its inception on grounds of violating its sovereignty pointing to China Pakistan Economic Corridor.

India's support to China on global issues has not led to Beijing's reciprocation for instances:

China opposed India's permanent membership to UN Security Council and entry into NSG.

India faces trade imbalance heavily in some favor of China. In 2017-18, trade deficit has gone wide to US$62.9 billion in China's favor.

Two countries failed to resolve their border dispute and steadily established military infrastructure along border areas Indian media outlets have repeatedly reported Chinese military incursions into Indian territory

China has expressed concerns about Indian military and economic activities in the disputed South China Sea. Same way India is also concerned about rising Chinese activities in Indian Ocean.

China's strong strategic bilateral relations with Pakistan and other neighboring countries like Nepal and Bhutan is cause of concern as these countries act as buffer states.
Measure taken so far:
Political Relations:
In 1993, Agreement on the Maintenance of Peace and Tranquility along the Line of Actual Control (LAC) on the India-China Border Areas was signed to bring stability and substance in bilateral ties.

In 2008, two countries have also extended their strategic and military relations.

MoU was signed to open an additional route for Kailash Mansarovar Yatra through Nathu La.

India and China have also established a High Level Dialogue Mechanism on Counter Terrorism and Security

To facilitate exchanges between Indian states and Chinese provinces, States/Provincial Leaders Forum was established
Commercial and Economic Relations:
China will establish two Industrial Parks in India and expressed their intention to enhance Chinese investment in India

India extended e-visa facility to Chinese nationals

Trade and Economic Relationship are shaped through various dialogue mechanism

Joint Economic Group led by the Commerce Ministers of both sides

Strategic Economic Dialogues led by the Vice Chairman of NITI Aayog and the Chairman of National Development and Reform Commission of China.
Cultural Relations:
India and China have entered into an agreement on co-production of movies

Yoga is becoming increasingly popular in China. China was one of the co-sponsors to the UN resolution designating June 21 as the International Day of Yoga.
Education Relations:
India and China signed Education Exchange Programme (EEP), which is an umbrella agreement for educational cooperation between the two countries.

Chinese students are also annually awarded scholarships to study Hindi at Kendriya Hindi Sansthan, to learn Hindi.
Indian Community:
Presently around 35,500 Indians are staying in China, students and working professional form a major part of it.

PICFA" Pondicherry India China friendship association is an NGO dedicated for developing people-to-people relation between India and China in areas of education, culture and tourism.
Way Forward:
Managing relationship with China has become the biggest test for Indian foreign policy
Trust deficit

is a critical issue in Sino-Indian bilateral relations. In order to solve this problem, track II diplomacy can play a more active role. For e.g. BCIM (Bangladesh–China–India–Myanmar) economic corridor is an outcome of track II dialogue.

There is a need to control negative publicity in the relationship. Deeper engagements between the media persons of the two countries can help in improving image of the two countries.

Improvement of the India-China relations require rational voices, A comprehensive and substantial study of each other's national and social conditions is need to be done by scholars to strengthen cooperation.

Cultural industry, including tourism, entertainment, publications, internet service sectors, needs to be targeted to reduce the trade deficit.

There is need to increase the frequency of talks at highest levels multilateral meets such as East Asia Summit (EAS), the Shanghai Cooperation Organisation (SCO), Conference on Interaction and Confidence-Building Measures in Asia (CICA), BRICS and G-20.

India and China should seek an early settlement of the border issue, before the final settlement of the boundary question is reached we should jointly maintain peace and tranquillity in the border areas.
Conclusion: India-China should stick to ethics of the Panchsheel (Five Principles of Peaceful Coexistence) and must strengthen coordination on international and regional affairs through more regular and high-level political engagement. Through enhanced physical connectivity and economic integration, both countries can act as an engine of growth for the entire subcontinent.
https://epaper.thehindu.com/Home/ShareArticle?OrgId=G3UA8LBO6.1&imageview=0