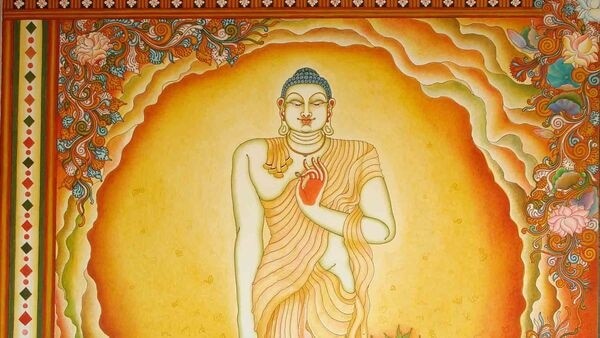 Disclaimer: Copyright infringement not intended.
Context
International Buddhist Confederation, on the occasion of Guru Purnima day 2023, organise a programme at the National Museum, Delhi, a place where Sakhyamuni's Holy relic is enshrined.

The IBC will

celebrate Ashadha Purnima

, an annual flagship event of the IBC, as

Chakra Pravartana Divas.
Other Details
President Draupadi Murmu will address the audience through a video message.

His Holiness 12th Chamgon Kenting Tai Situpa will deliver a Dhamma talk on the significance of Ashadha Purnima.

A film

, India International Centre for Buddhist Culture and Heritage, on IBC's special project in Lumbini will be screened.

After Buddha Purnima or the Vaishaka Purnima, this

day is most important for Buddhists

.

Organization IBC is subordinate to the Ministry of Culture.
Ashadha Purnima
Guru Purnima is also referred as Ashadha Purnima.

As per the Indian lunar calendar it is

celebrated on the full moon day of the Ashadha month

.

In

Sri Lanka

it is celebrated as

Esala Poya

and in

Thailand as Asanha Bucha

.

On this day, it is believed that

after attaining Enlightenment

,

Gautam Budha gave first teaching to first five ascetic disciples

(

pancavargiya

) at 'Deer Park',

in Sarnath

, near Varanasi.

This day

marks the rainy season

, July to October,

retreat for Monks and Nuns

where they

remain in a single place doing intensive meditation

.
Must Read Article:
https://www.iasgyan.in/daily-current-affairs/ashadha-purnima-dhamma-chakra-day-programme
PRACTICE QUESTION
Consider the following statements about Ashadha Purnima:
1. This day is also celebrated as Asanha Bucha in Thiland.
2. Gautam Budha gave first teaching to pancavargiya on this day.
Which of the statements given above is/are correct?
A. 1 only
B. 2 only
C. Both 1 and 2
D. Neither 1 nor 2
Answer: (C)
https://www.livemint.com/news/india/guru-purnima-2023-ibc-to-celebrate-ashadha-purnima-in-national-museum-today-international-buddhist-confederationdelhi-11688346786529.html