GOI'S REPORT ON ROAD ACCIDENTS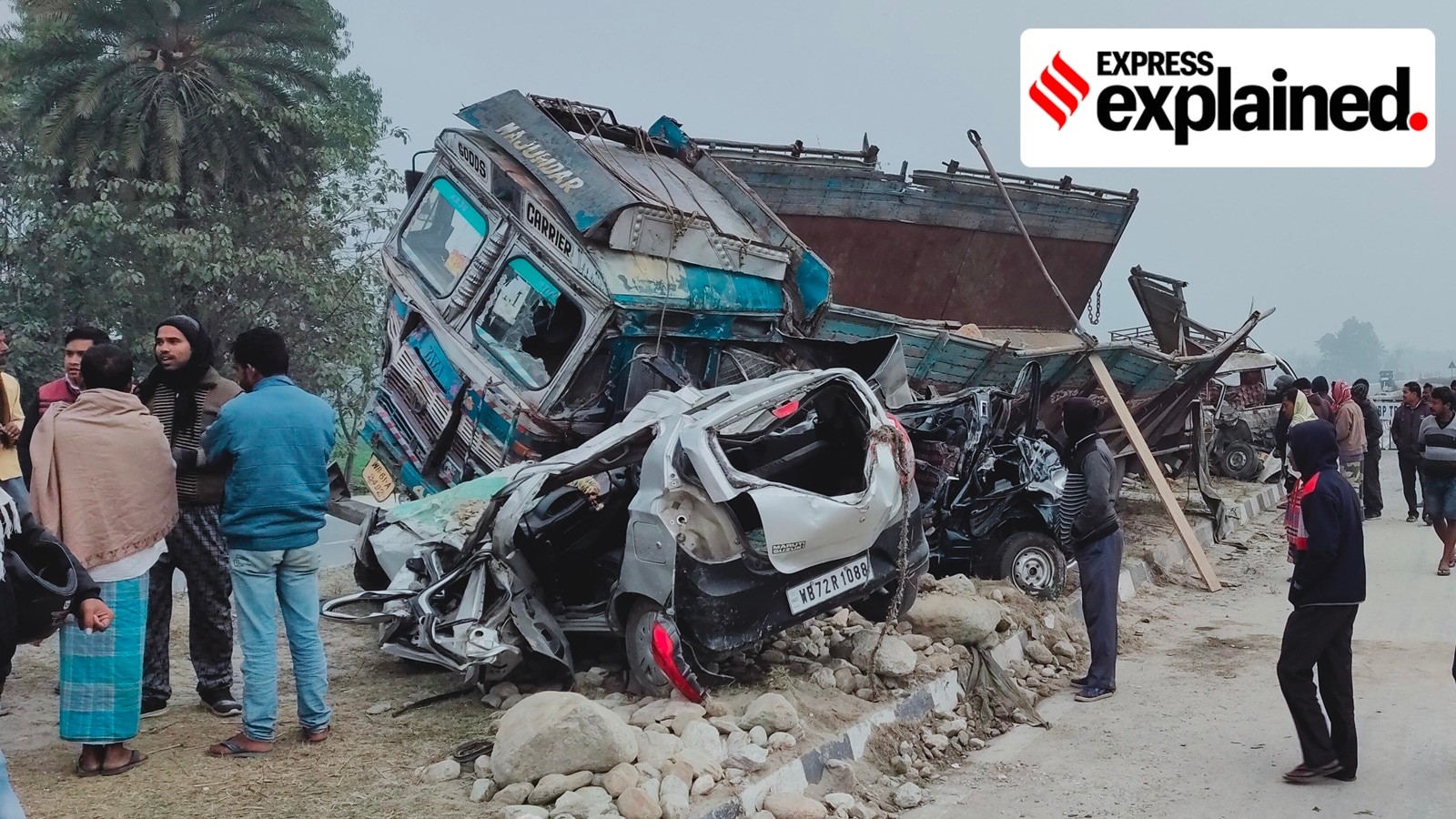 Copyright infringement not intended
Picture Courtesy: Indian Express
Context: The Union Ministry of Road Transport and Highways released the annual report titled 'Road Accidents in India - 2022,' providing insights into road safety and accident statistics.
Key Highlights of the report on road accidents in India in 2022:
Overspeeding is the biggest killer
In 2022, over-speeding accounted for 72.3% of total road accidents, 71.2% of total deaths

, and 72.8% of total injuries. This marked a significant increase compared to the previous year, with a 12.8% rise in accidents, 11.8% rise in deaths, and 15.2% rise in injuries.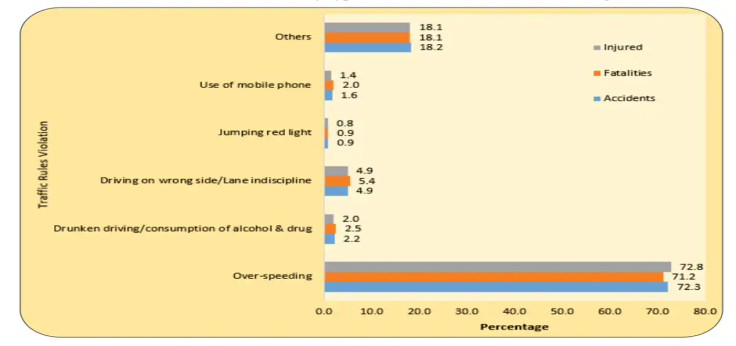 Most accidents occurred on straight roads
Approximately 67% of all accidents took place on straight roads,

which was over four times the total number of accidents on curved roads, roads with potholes, and roads having a steep gradient combined (13.8%).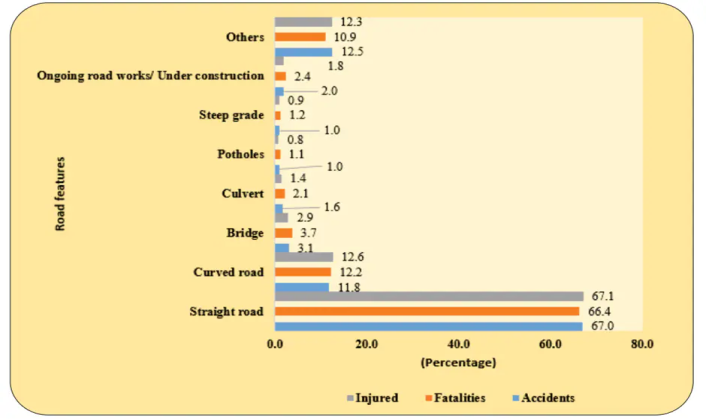 'Hit from back' collisions were the most common
More than 21% of all collisions were classified as 'hit from back' incidents

, followed by 'head-on collisions' which accounted for 16.9% of all collisions.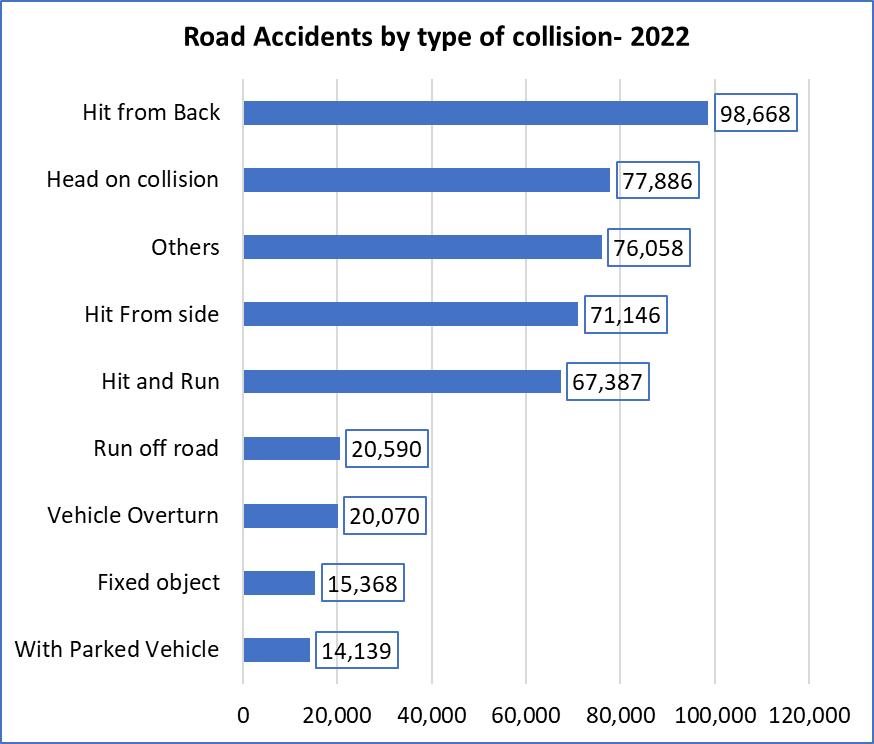 Most road accidents occurred on clear days
Nearly three-fourths of all accidents and fatalities happened under 'sunny/clear' weather conditions

. Accidents under adverse weather conditions like rain, fog, and hail accounted for only about 16.6% of total road accidents.
Two-wheelers accounted for the highest number of accidents and deaths
In 2022, there were 63,115 accidents involving two-wheelers, leading to 25,228 deaths

. Cars and pedestrians were the next highest categories in terms of accidents, with 29,005 accidents (10,174 deaths) and 20,513 accidents (10,160 deaths) respectively.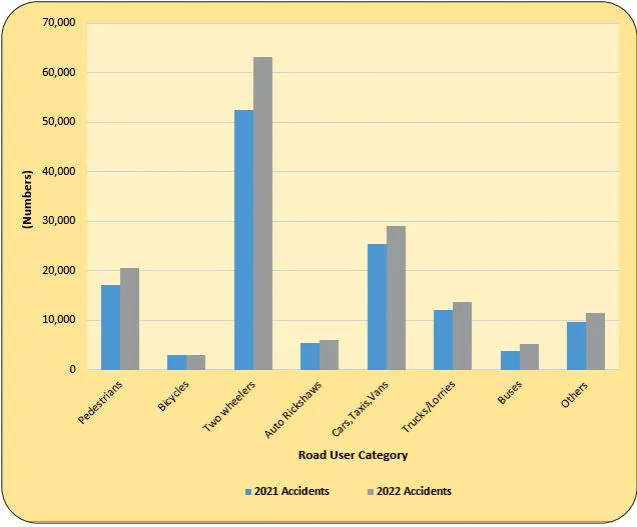 Highest fatality rate is in Sikkim, and the lowest in Ladakh, Daman & Diu
Sikkim reported the highest fatality rate at 17 (number of fatalities per 10,000 registered vehicles

), while Ladakh and Daman & Diu had the lowest fatality rate at 0. The all-India rate stood at 5.2.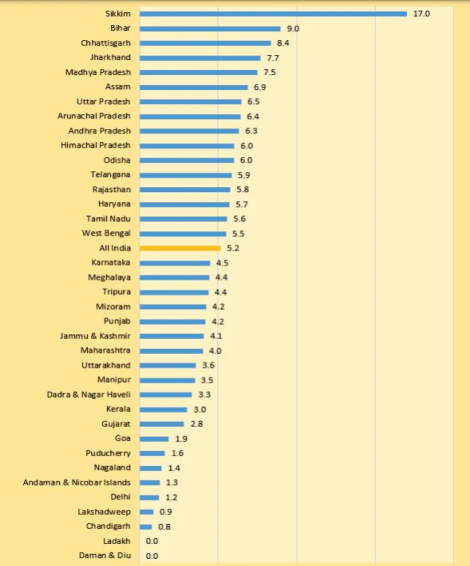 Tamil Nadu reported the highest number of accidents
Tamil Nadu reported 64,105 total accidents in 2022, representing a 15.1% increase from the previous year

. This accounted for over 13% of the total accidents reported in India. Madhya Pradesh followed as the state with the second-highest number of accidents, reporting 54,432 incidents.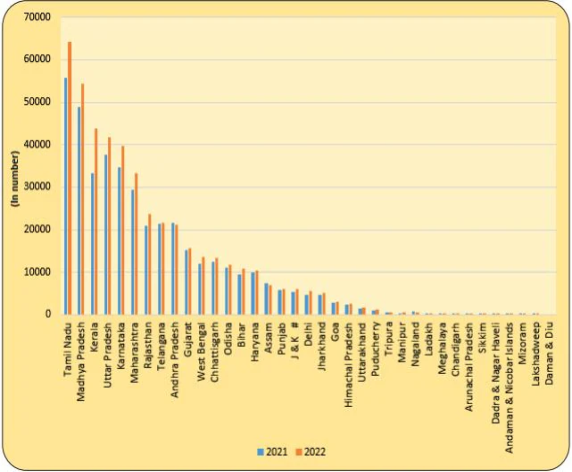 Must Read Articles:
Road Accidents in India: https://iasgyan.in/daily-current-affairs/road-accidents-in-india
Road Accidents And Road Safety In India: https://www.iasgyan.in/daily-current-affairs/road-accidents-and-road-safety-in-india
PRACTICE QUESTION
Q. What are the key factors contributing to road accidents in India, as highlighted in the Ministry of Road Transport and Highways' annual report for 2022, and what measures can be taken to improve road safety in the country?