ENDO-ATMOSPHERIC INTERCEPTOR MISSILE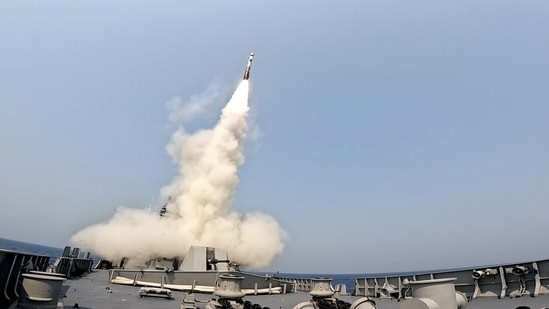 Disclaimer: Copyright infringement not intended.
Context
The Defence Research and Development Organisation (DRDO) and Indian Navy successfully conducted a maiden flight trial of a sea-based endo-atmospheric interceptor missile off the coast of Odisha in the Bay of Bengal.
What is the purpose?
The purpose was to engage and neutralize a hostile ballistic missile threat, thereby elevating the country into the elite club of nations having Naval Ballistic Missile Defence (BMD) capability.
Background
DRDO has successfully demonstrated land-based BMD system with capability to neutralize ballistic missile threats, emerging from adversaries.

India has achieved self-reliance in developing highly-complex network-centric anti-ballistic missile systems.
India's Ballistic Missile Shield
India's Nuclear Weapon Policy has always been a No First Use against Nuclear Nations and No Use against Non-Nuclear countries.

But with such hostile neighbors and their threats of using nuclear weapons whenever a tensed situation escalates.

The Indian Ballistic Missile Defence Program is an initiative to develop and deploy a multilayered ballistic missile defence system to protect our country from ballistic missile attacks.
Phases
The work for its development started with two phases. Phase 1 has been successfully tested and completed and deployment awaits final official permission. Phase 2 is under development.

Phase 1

focuses on intercepting missiles with a range of upto 2000 km (basically focusing Pakistan's missile arsenal). It includes three things PRITHVI AIR DEFENCE (PAD), ADVANCED AIR DEFENCE (AAD) and SWORDFISH RADAR.

Phase 2

will be capable of Intercepting missiles upto 5000 km and it is under development.
PRITHVI AIR DEFENCE (PAD)
This missile is an EXO-Atmospheric Anti-Ballistic missile.

It means it can intercept a missile out in the atmosphere, with a Flight Altitude of 80 Km and Range from 300 to 2000 km.

It has a two stage rocket booster with first stage: Dual propellant liquid fuel and oxidizer and second solid fuel.

It has a Maximum speed of Mach 5-8.
ADVANCED AIR DEFENCE (AAD)
This is an Endo atmospheric Anti-Ballistic missile and can intercept and destroy a target in lower atmospheric layer.

It's a single stage solid fueled missile with a maximum range from 150 to 200 km and Maximum altitude of interception range is 30 km.

Maximum speed is nearly about 4.5 Mach.
PRITHVI DEFENCE VEHICLE
This missile is also an EXO-Atmospheric Anti-Ballistic missile.

It means it can intercept a missile out in the atmosphere and has the same range as PAD (300- 2000 km) but its Flight Altitude is enhanced to 150 km with a more accurate Guidance system using Ring Laser Gyro based inertial navigation system.
PRITHVI DEFENCE VEHICLE Mk-2 or ASAT
This missile is an EXO-Atmospheric Anti-Ballistic missile too and will intercept a missile/satellite out in the orbit.

With a Maximum Flight Altitude of 1200 km.

It has two stage rocket motor with a third stage added as a kinetic kill vehicle
SWORDFISH RADAR
Swordfish is an Indian active electronically scanned array (AESA) long range tracking radar based on Israeli EL/M-2080 Green Pine long range radar and it works on L Band frequency.

It is made by Bharat Electronics Limited and Electronics & Radar Development Establishment with a range of 1500 km and can track upto 200 targets with maximum speed of Mach 12.
PRACTICE QUESTION
Q) India has achieved self-reliance in developing highly-complex network-centric anti-ballistic missile systems. Discuss. (150 words)
https://www.hindustantimes.com/india-news/drdo-indian-navy-test-odisha-india-successfully-tests-sea-based-ballistic-missile-interceptor-joins-elite-club-101682168564539.html