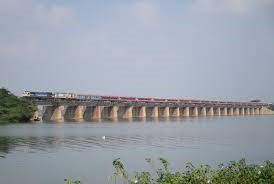 Disclaimer: Copyright infringement not intended.
Context
The Bhima River has dried up, putting 100 villages that rely on it in jeopardy.
About
The Bhima River (the Chandrabagha River) flows through southwest India.
It is a significant tributary of the Krishna River.
Course:
It comes from the Bhimashankar hills near Karjat on the western side of the Western Ghats in Maharashtra's Pune district.
The Bhima River flows southeast through Maharashtra, Karnataka, and Telangana.
The Bhima River joins the Krishna River in Karnataka at Kadlur (Raichur).
The Western Ghats border the river on the west, the Balaghat Range on the north, and the Mahadeo Hills on the south.
It flows through a densely populated valley.
The river's overall basin area is 48,631 square kilometers, with 75 percent of it being in Maharashtra.
The river is rain-fed, and its volume varies according to monsoonal variations.
The Sina and Nira rivers are major tributaries.
Pandharpur is a significant pilgrimage site on the right bank of the Bhima River.
PRACTICE QUESTION
The river system in India is not only a geographical feature but also a crucial aspect influencing the socio-economic and cultural life of the country. Discuss the significance of major river systems in India and their impact on the diverse regions they traverse.