PROHIBITION OF CHILD MARRIAGE (AMENDMENT) BILL, 2021
RSTV SUMMARY: AN INSIGHT - PROHIBITION OF CHILD MARRIAGE (AMENDMENT) BILL, 2021
Context:
The Prohibition of Child Marriage (Amendment) Bill, 2021, which seeks to raise the age of legal marriage for women from 18 to 21, will apply to all communities in the country and, once enacted, will supersede existing marriage and personal laws.
Introduced in Lok Sabha, the Bill which proposes amendments to the 2006 law was sent to a Parliamentary Standing Committee for further discussion.
Background:
In India, the minimum age of marriage was prescribed for the first time by the law known as the Sarda Act, 1929. It was later renamed as the Child Marriage Restraint Act (CMRA), 1929.
In 1978, the law was amended to raise the minimum age of marriage to 18 years for girls and 21 years for boys.
This position remains the same even in the new law called the Prohibition of Child Marriages Act (PCMA), 2006, which replaced the CMRA ,1929.
What do marriage laws in India say?
The Hindu Marriage Act, 1955 , and the Indian Christian Marriage Act, 1872 , prescribe the age of 18 years for the bride and 21 years for the groom.
The Muslim Personal Law (Shariat) Application Act, 1937 , allows marriage if the boy and the girl have attained puberty.
The Special Marriage Act, 1954 , which governs inter-faith marriages also lays down 18 years for women and 21 years for men as the age of marriage.
There is also the Prohibition of Child Marriage Act, 2006, which prohibits marriage below 18 years for women and 21 years for men.
What is the purpose of raising the age of marriage?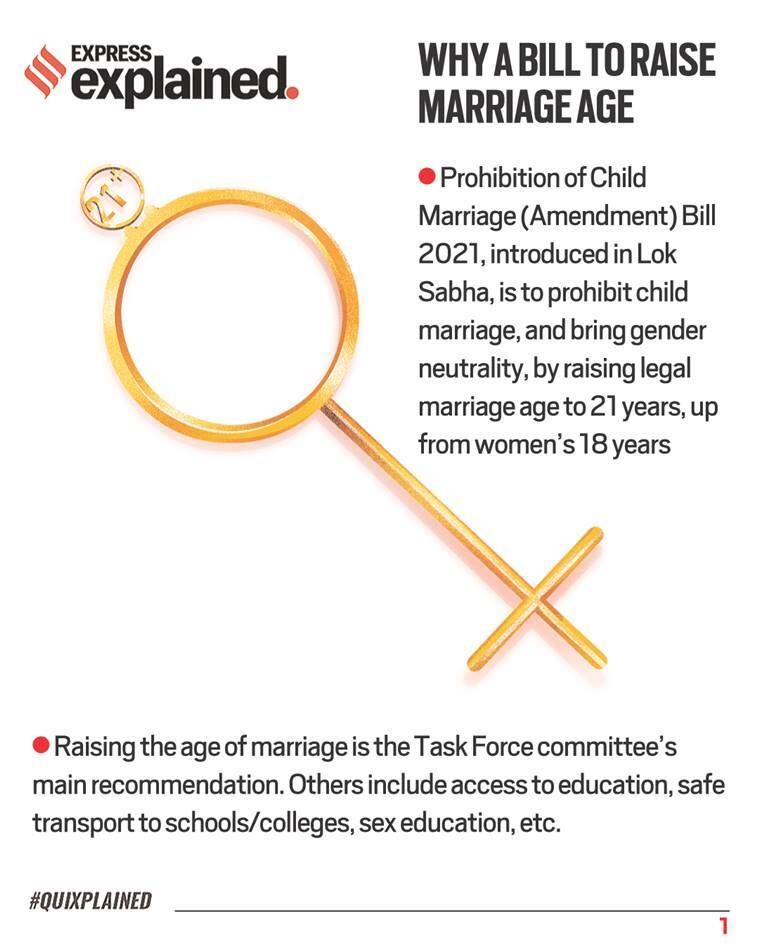 In 2020 Budget speech, Finance Minister announced that the Government would set up a task force to look into the "age of a girl entering motherhood" with the aim to lower maternal mortality rates, improve nutrition levels as well as to ensure opportunities for women to pursue higher education and careers.
These were also the terms of references for a 10-member panel headed by Jaya Jaitly. The panel submitted its report and raising the age of marriage is one of its many recommendations, which include a strong campaign to reform patriarchal mindsets, improving access to education by providing girls safe transport to schools and ensuring toilets and sanitary napkins so girls don't drop out, providing sex education, as well as vocational training and livelihood options.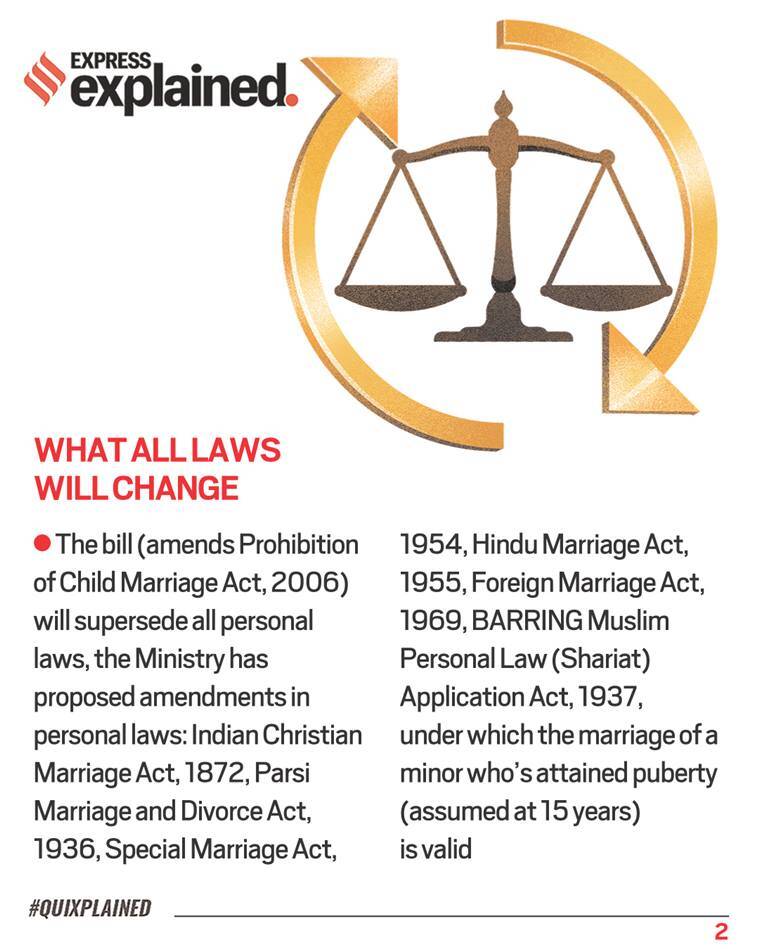 Pros of Raising Minimum Age for Marriage For Women:
The poverty of the mother plays the greatest role of all by far — both in relation to her undernourishment and that of her child. An early age of marriage, and consequent early pregnancies, also have impacts on nutritional levels of mothers and their children, and their overall health and mental wellbeing.
The mother's age at childbearing affects educational level, living conditions, health conditions, decision-making power of women.
India is home to the largest number of underage marriages in the world. The law will help to curb the menace of Child Marriage.
Children born to adolescent mothers have higher prevalence of stunting and low weight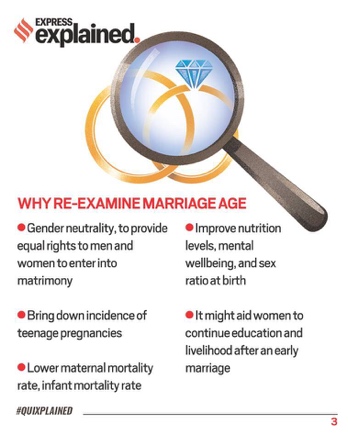 Will the new proposal make women more vulnerable?
According to National Family Health Survey-5 (2019-2021), 3% of women aged 20-24 years married before the age of 18, which shows that the Prohibition of Child Marriage Act (PCMA), 2006, has not been successful in preventing child marriages and increasing the legal age at marriage for girls will expand the number of persons deemed underage and render them without legal protection.
According to an analysis of NFHS-4 (2015-2016) data, 56% girls were married below the age of 21 and this figure was as high as 75% among the poorest category of population.
This is also worrisome when one looks at evidence on how PCMA is used largely by parents to punish their daughters who marry against their wishes or elope to evade forced marriages, domestic abuse and housework.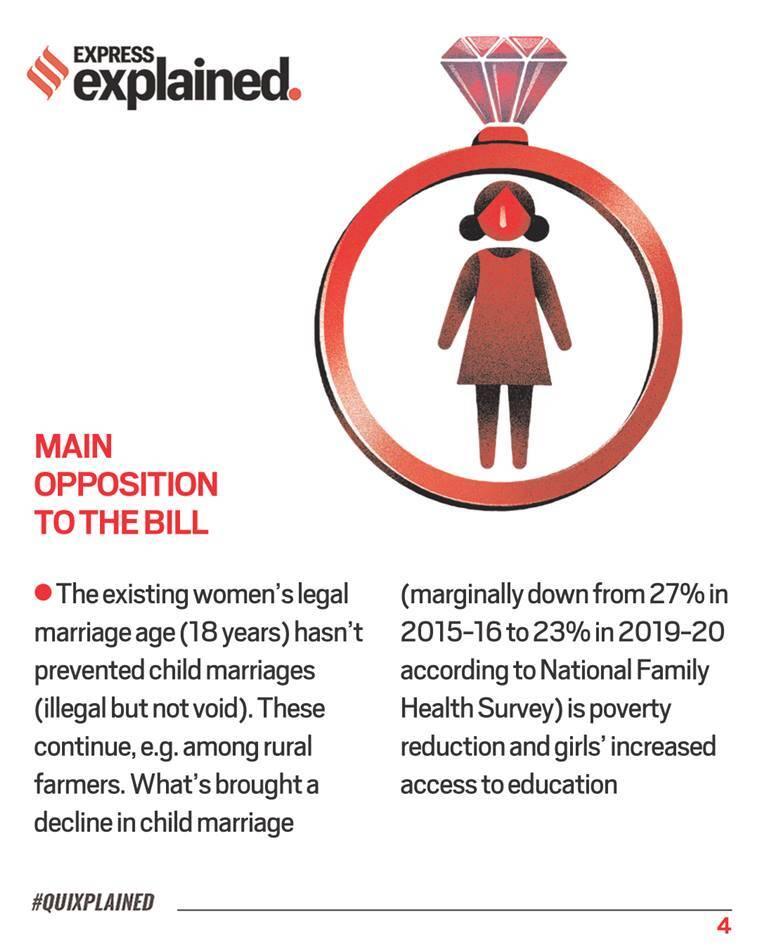 Reaction to the bill:
Members of Opposition parties opposed the Bill and questioned the "haste" with which it had been brought to the House.
While most minority communities have not opposed the raising of the age of marriage, they point out that personal laws have protection under the Constitution.
Experts have been opposing a raised age of marriage on two broad counts. First, the law to prevent child marriages does not work. While child marriage has declined, it has been marginal: from 27% in 2015-16 to 23% in 2019-20, according to National Family Health Survey (NFHS) 5. The decrease was, however, dramatic in NFHS 4, from 47% in NFHS 3.
The experts said girls being taken out of school to be married off is a reasoning blown out of proportion; often the girl child drops out after primary school simply because she has no access to higher education, and is then married off.
The second objection being raised is the criminalisation of a large number of marriages that will take place once the law comes into effect. While 23% of marriages involve brides under age 18, far more marriages take place under age 21. The median age at first marriage for women aged 20-49 increased to 19 years in 2015-16 from 17.2 years in 2005-06, but remained under 21 years.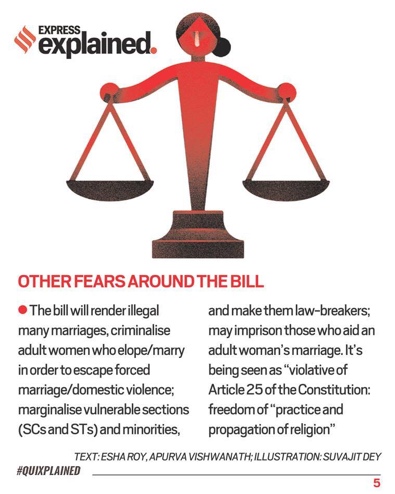 Who will be affected?
Experts noted that 70% of early marriages take place in deprived communities such as SCs and STs, and said the law will simply push these marriages underground instead of preventing them.
According to NFHS 4 (2015-16), the median age at first marriage for women aged 25-49 is higher among the social categories of Others (19.5 years), OBC (18.5), ST (18.4) and SC (18.1).
The experts said rural women will be affected more than urban women. According to NFHS 4, the median age at first marriage (age 25-49) for urban women (19.8) is 1.7 years more than that for rural women (18.1).
A study by the International Centre for Research on Women has found that girls out of school are 3.4 times more likely to be married or have their marriage already fixed than girls who are still in school.
According to the State of the World Report 2020 by UNFPA, in India, 51% of young women with no education and 47% of those with only a primary education had married by age 18, compared to 29% of young women with a secondary education and 4% with post-secondary education.
Way Forward:
There is a need to improve access to education, skill training and employment opportunities which are some of the barriers for girls in pursuing higher education.
It is also important to ensure a safe environment free from the constant threat of rape and sexual assault which is why girls are married off early.
A legislation to increase age of marriage is not needed for this purpose. This measure is superficial and does not go to the root of the problems faced by young women.
Steps must also be taken to address early pregnancies instead of focusing on age of marriage by extending family planning and reproductive health support which focus on preparation for pregnancy and delaying the first birth.
Activists say the answer to delaying child marriages lies in ensuring access to education since the practice is a social and economic issue.
Skill & business training and sex education in schools, will also help.
The government needs to look into increasing access to schools and colleges for girls, including their transportation to these institutes from far-flung areas.
An awareness campaign is required on a massive scale on the increase in age of marriage, and to encourage social acceptance of the new legislation, which they have said would be far more effective than coercive measures.
https://indianexpress.com/article/explained/quixplained-raise-marriage-age-of-women-7694084/
https://timesofindia.indiatimes.com/blogs/legally-speaking/prohibition-of-child-marriage-amendment-bill-2021-a-critique/
https://prsindia.org/files/bills_acts/bills_parliament/2021/The%20Prohibition%20Of%20Child%20Marriage%20(Amendment)%20Bill,%202021.pdf
https://scroll.in/article/1017533/interview-laws-alone-are-not-sufficient-to-end-child-marriage-theres-a-need-for-social-change
https://www.thehindu.com/news/national/explained-is-raising-marriage-age-enough-to-help-girls/article37988102.ece