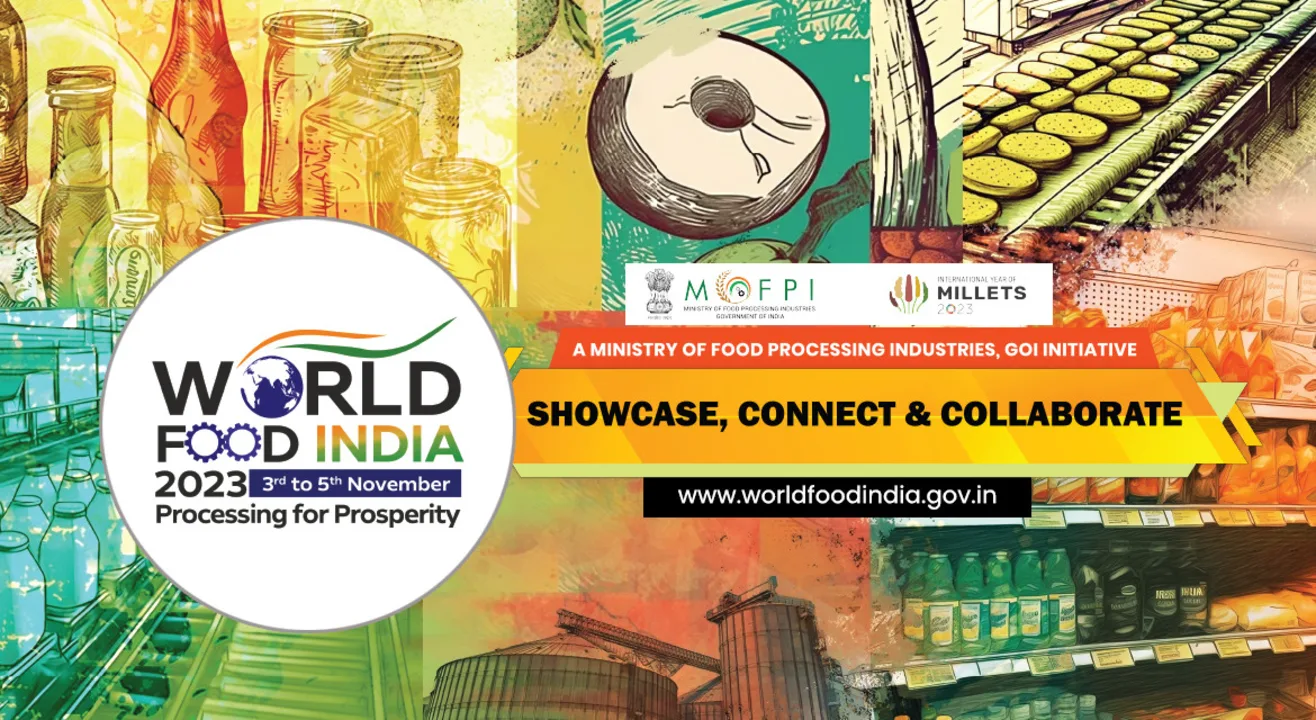 Copyright infringement not intended
Picture Courtesy: insider.in/world-food-india-2023-nov3-2023/event
Context: The second edition of the Mega food event 'World Food India 2023' was inaugurated by the Prime Minister at Bharat Mandapam, Pragati Maidan, New Delhi.
Details
The Prime Minister inaugurated the second edition of the Mega food event 'World Food India 2023' at Bharat Mandapam, Pragati Maidan, in New Delhi. This event served as a platform to highlight India's potential in the global food market.

It was first launched in 2017 by the Ministry of Food Processing Industries with the theme "Transforming the Food Economy."

During the event, the Prime Minister dispersed Seed Capital Assistance to support over one lakh Self Help Group (SHG) members. This initiative aimed to strengthen these groups, empowering local communities and fostering self-reliance.
The event also had a significant focus on celebrating 2023 as the International Year of Millets, emphasizing the importance of these nutritious grains and promoting their cultivation and consumption on a global scale.
Highlights of the Prime Minister's speech
He highlighted the challenges of food security in a rapidly changing world. World Food India 2023 serves as a platform to address these challenges by promoting sustainable agricultural practices, technological advancements, and international collaborations in the food sector.

He underscored the remarkable growth of India's food processing sector, citing it as a 'sunrise sector.' Over the past nine years, the sector has attracted substantial foreign direct investment (FDI), exceeding Rs 50,000 crores.

He highlighted the impact of the Production-Linked Incentive (PLI) scheme in the food processing sector. This scheme provides significant assistance to new players in the industry, encouraging their participation and fostering innovation.

By supporting budding entrepreneurs, the government aims to promote entrepreneurship and create employment opportunities.

The government has prioritized infrastructure development in the agricultural and food processing sectors. Projects under the Agri-Infra Fund are underway, with an investment exceeding Rs 50,000 crores.

Investments in processing infrastructure in fisheries and animal husbandry sectors are being encouraged. These initiatives aim to enhance post-harvest infrastructure, ensuring the quality and freshness of agricultural produce.

He highlighted the significant increase in the share of processed foods in India's agricultural exports. Over the years, this share has grown from 13% to 23%, marking a 150% overall increase in exported processed foods. This expansion in exports contributes to India's position as a global food processing hub.

He emphasized the importance of empowering small farmers, small industries, and women in the food processing sector. Initiatives such as Farmer Produce Organizations (FPOs) play a crucial role in increasing the participation and profits of small farmers.

The government is promoting women-led development by supporting cottage industries and self-help groups. Women are recognized for their natural leadership in the food processing industry, and efforts are made to enhance their participation.

Recognizing the importance of millets, the Prime Minister discussed the celebration of 2023 as the International Year of Millets.

Millets are part of India's 'superfood bucket,' and the government has identified them as Shri Anna.

Millets' inclusion in the global food conversation is significant, given their nutritional value and sustainable cultivation practices.

India is actively promoting millet both domestically and internationally.

He emphasized the need for the food processing industry to understand and implement ancient knowledge related to sustainable and healthy food habits. By incorporating traditional wisdom, the industry can contribute to global food security and nutrition security.

The government encourages the adoption of balanced diets and healthy foods based on India's scientific understanding, including concepts from Ayurveda.

Striking a balance between the interests of farmers and consumer satisfaction is crucial.

The Prime Minister stressed the need for policies and practices that ensure fair returns to farmers while meeting the diverse demands and preferences of consumers. This balance is essential for creating a sustainable and equitable food ecosystem.
World Food India 2023
It is a significant event that serves as a gateway to the Indian food economy, fostering collaboration between Indian and foreign investors. It brings together a diverse range of stakeholders, including manufacturers, producers, food processors, investors, policymakers, and organizations from across the global food ecosystem.

The primary focus of the event is to showcase, connect, and collaborate in various aspects of the food industry, such as retail, processing, technology transfer, manufacturing, and cold chain logistics along the global food value chain.
Focus Pillars
Shree Anna (Millets)

●Highlights the importance of millets, ancient grains rich in nutrition and eco-friendly qualities.

●Addresses global challenges like climate change, population growth, and malnutrition.

●Aligns with the United Nations' International Year of Millets (IYM 2023) initiative.

Exponential Food Processing

●Aims to position India as a global hub for food processing.

●Focuses on enablers such as financing agri-food value chains, especially for MSMEs in the sector.

Strategic Segments

●Recognizes diverse sub-sectors in India's food processing industry, including marine products, fruits and vegetables, meat and poultry, packaged foods, and dairy products.

●Emphasizes growth potential in production, consumption, exports, and value addition within these segments.

Efficient Ecosystem

●Advocates for the creation of an efficient and inclusive ecosystem.

●Involves removing barriers, establishing coordinated frameworks, and promoting knowledge sharing.

●Offers 100% foreign direct investment to attract foreign investments and enhances the Ease of Doing Business index.

Sustainable Development

●Focuses on sustainable technologies such as renewable energy sources and eco-friendly agricultural and food processing practices.

●Reflects a global shift towards a more sustainable future.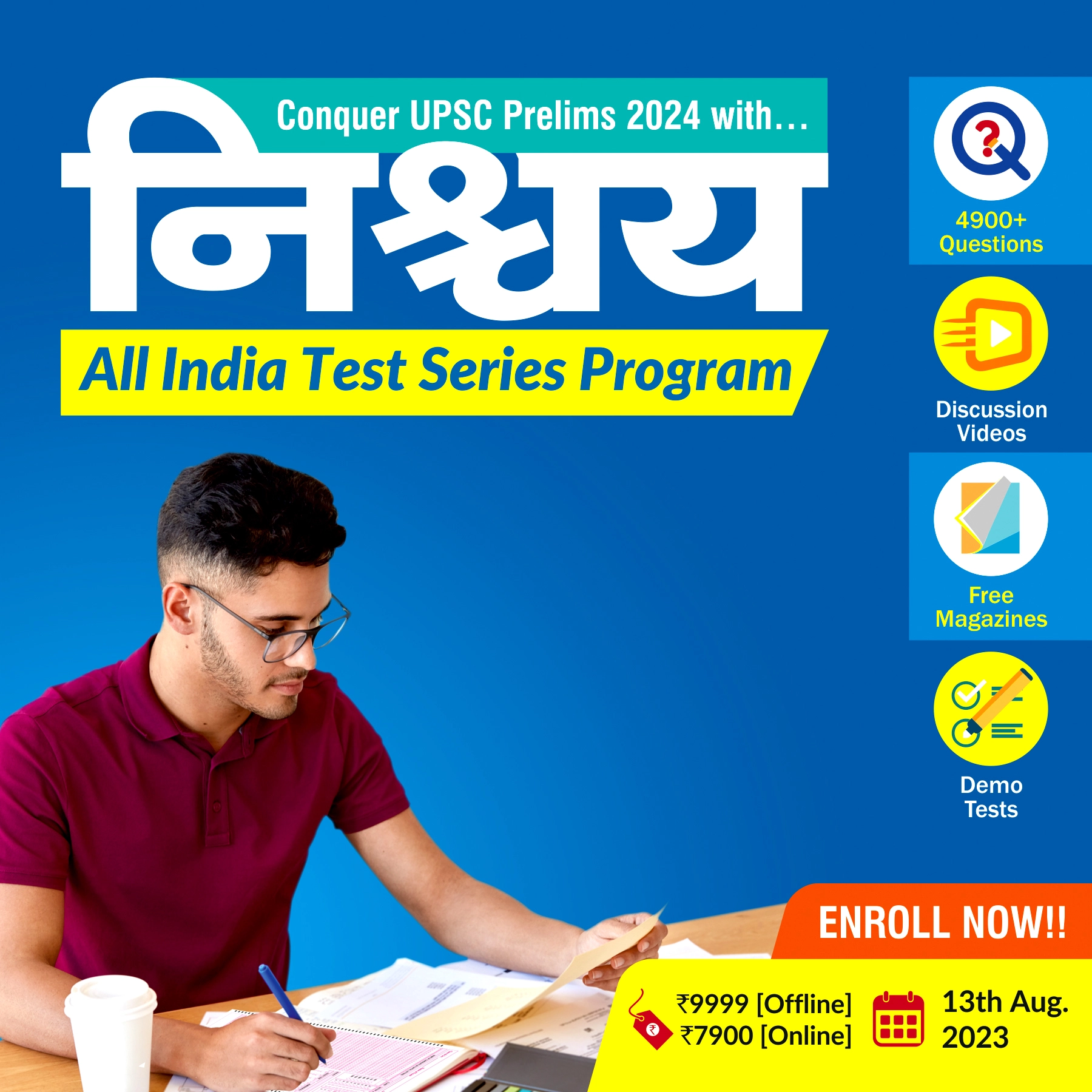 Conclusion
The event showcased India's achievements and potential in the food processing industry, providing a platform for stakeholders to collaborate, establish partnerships, and explore investment opportunities. The Prime Minister's address highlighted the government's commitment to the sector's growth and sustainability, focusing on innovation, technology, and inclusive development.
Must Read Articles:
MILLETS: https://www.iasgyan.in/daily-current-affairs/millets-38
GLOBAL FOOD POLICY REPORT 2023: https://www.iasgyan.in/daily-current-affairs/global-food-policy-report-2023
PRACTICE QUESTION
Q. What are the key challenges and opportunities faced by the food processing sector in India, and how are government policies and technological advancements shaping its growth and sustainability in the current market scenario?